Yesterday, I told you about the three type of opportunity we have right now in Uruguay:
A farmland play: With increasing pressure on food production worldwide, owning farmland in a country as fertile and secure as Uruguay becomes a no-brainer.
Crisis deals in Punta del Este: Because of the crisis, some of the well-heeled folk from Argentina and Brazil who own second homes in the ritzy beach town of Punta del Este will try to sell. As a result, we could see $1 million condos on the market at a 50% discount.
Buying ahead of a Path of Progress: The jet-set who drove real estate values sky-high in Punta del Este are venturing farther east along Uruguay's coast, in search of privacy and exclusivity. We can buy ahead of them, locking-in profits. And because of the current crisis, Real Estate Trend Alert members can lock down lots at a heavy discount.
In times like this, RETA's group buying power comes into its own. And Uruguay is the perfect place for us to play our hand.
It's one of the most overlooked safe havens in the world today. A country that's steady, stable, and welcoming. And in uncertain times, it's one of the safest places for you and your money.
Why overlooked?
Simple. Uruguay is small. It's tucked between Argentina and Brazil, two regional giants. And it doesn't make headline news. An international media obsessed with conflict, disaster, and political strife will never have much to say about Uruguay.
And that's all good news for us. The longer it's kept quiet, the more time we have to lock down truly undervalued real estate.
My last trip to Uruguay kicked off in Punta del Este—a ritzy beach town just a couple of hours' drive from the capital city, Montevideo.
Punta del Este is an established destination for Latin America's mega-rich—particularly those from Argentina and Brazil. The beautiful people that flock there are a mix of super-wealthy businessmen, the movers and shakers in the worlds of politics and finance, royalty, fashion models, and movie stars. In its summer months, you'll see multi-million-dollar yachts in the marina…and supercars cruising the streets.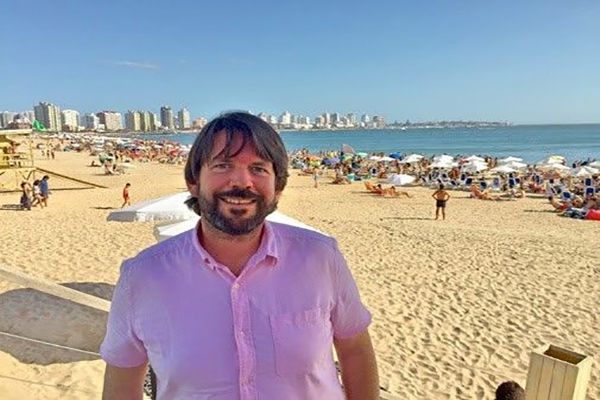 It's a seriously high-end destination with luxury skyscrapers, lavish villas, expensive stores, and fancy restaurants. Yet all the beaches are public and attract people from miles around, so it doesn't feel cold or detached like some high-end spots I've been to. Young surfers rub shoulders with celebrities and millionaires in a chatty, relaxed way.
But money like you see in Punta rarely stays confined in one place. As Punta became established, and visitor numbers soared, it got too crowded in high season, and its wealthy visitors (who look for exclusivity and privacy) started looking for someplace new…the next big thing.
This created a Path of Progress heading east along the coast. In 1965, a new bridge opened up the resort towns of La Barra and Manantiales, surfer havens just outside Punta. The arrival of the jet-set turned them into a boho-chic getaway, where models pose on Bikini Beach.
You'll get a sense of the low-key but moneyed vibe from these pictures from my last trip that I posted on Instagram:
View this post on Instagram
As La Barra and Manantiales got busier, the jet-set moved farther east again, this time to the fishing village of Jose Ignacio. Jose Ignacio is 40 minutes from Punta. It is low-rise and low density, with the focus on the endless cream-colored beach, gentle dunes, and Atlantic views.
The vibe is very Hamptons; shabby chic with clapboard homes, sand streets, and everyone dressed down in flip-flops and beach attire. But don't let that fool you. Nice homes in Jose Ignacio cost millions of dollars. Stores sell expensive antiques and the restaurants serve up delicious, locally-produced fare at prices that often wouldn't look out of place in upscale Manhattan.
As Jose Ignacio got busier…and real estate prices spiraled…the jet-set looked east again, this time to the province of Rocha.
However, there was one issue: Natural lagoons acted as a barrier to development. If you wanted to get to Rocha, you had two options: to take the inland road away from the coast, going on a detour to get round the lagoon; or take a little ferry. As a result, development stalled just outside Jose Ignacio.
That was until an $11.6-million bridge over Laguna Garzón opened just over four years ago, cutting the drive time from Jose Ignacio (and Punta) to Rocha.
You might even recognize it. The bridge made the news around the world for its unusual circular shape. The idea was to kick off this latest stretch of the Path of Progress with an iconic piece of architecture.
But the true treasure of Laguna Garzón Bridge is what it has opened up on the other side…
Rocha is an amazing place…with seemingly endless beaches, huge nature reserves, and a slow and sleepy charm for much of the year. In the summer season it gets busy with surfers, young couples, and families on vacation.
The top beach towns in Rocha are La Paloma, La Pedrera, and Cabo Polonio. Cabo Polonio is an off-grid hamlet that's popular with an arty set. La Paloma is the largest of the three, with a bank and supermarkets, a bus terminal, boutique hotels, and restaurants and cafés. La Pedrera slopes down to an unspoiled beach that fills with surfers on summer weekends.
The vibe in all three towns is understated and unpretentious. The rich and famous vacation in Rocha and some own homes in the area, but they blend in…they're there to unwind and relax.
On my last visit, I noticed it was already getting expensive to stay in this area in peak season. It's hard to imagine right now, but all the nice boutique hotels were full. I ended up paying $180 a night for a hotel that was really a $60-a-night kind of place.
Rocha is Uruguay's next big thing—taking the crown that passed from the established Punta del Este to the fishing village of Jose Ignacio, transforming it into a mini-Hamptons…now, the crown is passing to Rocha.
And RETA members can profit by getting in now, before Rocha goes mainstream.
Like I say, the rich are already arriving. I found one top-notch community on the far side of Laguna Garzón in Rocha where 3/4-acre lots list for up to $400,000, and larger lots have sold for up to a million bucks.
But we can do much better. In fact, I've found ocean-view lots, just a short stroll to a beautiful beach—one of the nicest in Uruguay—that we can lock down from just $31,356. These are lots that retail at $37,778. But I've managed to negotiate the developer down. There's also finance on the table so you can buy with a manageable down-payments and monthly payments of $490.
And, there's a sweetener. Cash buyers get an additional 15% discount. That cuts the price of the $37,778 lot to an incredible $26,652—a total savings of $11,126.
The current crisis has all but stopped sales for the developer…and with the strength of our group buying power, he was willing to negotiate a deal that gives us significant discounts on retail prices.
Once the current crisis passes and the world gets back to a new normal over the next few years, I expect these $31,356 lots will be worth $50,000.
These lots are just a short stroll from a stunning beach. The community is best-in-class and close to two of the nicest beach towns in Rocha, La Pedrera, and La Paloma. It's less than a mile from a huge national park that's home to otters, capybaras (like a giant guinea pig), and flamingos. On the laguna, you can kayak, canoe, and windsurf. The fishing is good too.
Over on my Instagram you can check out this short video I shot at the national park on my last trip…
View this post on Instagram
Rocha is the kind of dreamy destination where you can enjoy a laidback beach lifestyle topped off with plenty of outdoor activities, great local dining, and a warm and temperate climate.
But with these lots that RETA members can lock down, there's no obligation to build. We can simply sit on the land and wait for the Path of Progress driving development in Rocha to push values higher.
And there's no better place to do that than Uruguay. Safe, stable, and welcoming, it's a place where you can park your money and assets in uncertain times. Not just to store value, but to see it boom once the world recovers…
Like the locals say: "Todo tranquilo." It's all good!
Get Your Free Real Estate Report Now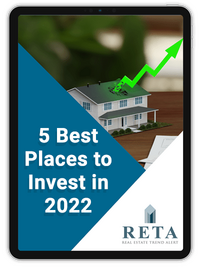 Sign up for our free daily Postcard e-letter and get a valuable free report on the The 5 Best Places to Buy Real Estate In 2022.
Related Articles
The 10 Best Places to Invest in Real Estate
3 Ways To Profit In South America's Best-Kept Secret
The First Wave of Deals is Upon Us