I'm single. And you wouldn't believe all the questions I get about living abroad on my own. "How do you do it?" people ask, as though there was some secret formula. And, yes, "What's the secret?" is another question I get.
In part I get so many questions because so many singles are thinking of moving abroad. And to them I have one short, sweet piece of advice: Just do it.
First, because you'll certainly not be alone. Thousands of singles, women as well as men, have already moved abroad. Every expat haven I know—in Ecuador, Mexico, Panama, Uruguay…in many parts of Asia…in Europe and beyond—has plenty of singles.
Another question I'm asked a lot is "why doesn't International Living write about moving as a single? Everything you say is geared toward couples." My response: That's because what we say is equally valid for you, Mr. or Ms. Single.
So my second piece of advice is: Read International Living's tips on moving abroad, and take them to heart. They likely are doubly valid for you. Do rent before you buy. Do learn—or at least start learning—the language before you go. Who ya gonna call to translate the first time the meter-reader shows up, for instance? Or the plumber to fix that leaking pipe? That's right…it's you. Knowing the language—and being able to deal directly with day-to-day life abroad—goes a long way toward enabling you to remain the independent person you've always been at home.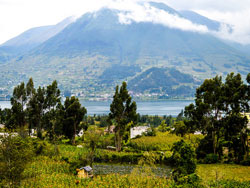 Which brings me to my next bit of advice—and it's especially valid for single ladies: Move to a place with other expats.
No, I'm not saying to live in some American bubble. Far from it—the more you can interface with the local culture, the more fulfilled and exciting your life abroad can be. But there's no sense in reinventing the wheel…you have better things to do with your time. So go someplace where at least a few expats have already done the ground work. A place where they've already found the best plumbers and carpenters—and can give you their names and rates…where they can tell you how to sign up for city services (water, electricity, phone, and more)… Maybe even someplace where they already have a local hangout…
Because—let's face it—you'll want to invest your time in getting settled in the community…in meeting like-minded people, and in finding activities and interest-groups for your ample leisure time. And, if your new overseas home is like most expat communities I've seen, the expats will be eager to meet you, too. You may be a prospective golfing buddy, a new volunteer for the dog-rescue group, a part-time usher for the local symphony group, a volunteer English teacher…the possibilities are endless.
And, in the end, that's your reward for taking this big, solo leap into the unknown… You're likely to find more interesting, adventurous people than you've ever met before…and a big, exciting world to spend your time in.
Free Report:
There are still numerous countries around the world where unspoiled natural beauty, secluded beaches, friendly people, and a relaxed way of life are waiting for you. Sign up for IL's free daily postcard e-letter below to find out more. You'll also receive a free report: Find Your Perfect Place to Live Overseas.
Get Your Free Report Here