It is ironic how the universe often comes full circle. When I first subscribed to International Living in the early 1990s, I never dreamed I would actually have the opportunity to write for them as a contributor several decades later.
I endured the brutal Chicago winters of my childhood and spent most of my adult years working as a sales executive in Austin, Texas. The latter years I imagined leaving the proverbial "corporate rat race" and slowing down my lifestyle in an exotic country on a beautiful beach. Little did I realize it was possible to make that dream a reality.
In 2013, when the ongoing stress levels started to take a toll, my husband, Steve, and I finally made the move to Tamarindo, Costa Rica and bought a two-bedroom, two-and-a-half-bathroom condo near the beach. But, it was not a snap decision. We researched a multitude of countries for several years prior, including many IL hotspots. However, it was the natural beauty of the land, the welcoming warmth of the people, and the promise of affordable healthcare (after residency) that kept us circling back to Costa Rica.
Tamarindo is a lively beach town (population around 6,000) in the province of Guanacaste on the stunningly scenic northwest Pacific coast. Known for its perfect surfing breaks and broad beach, it was long popular with surfers from around the world. However, it has grown to become an international town the last couple of decades, with hundreds of expats now calling it "home."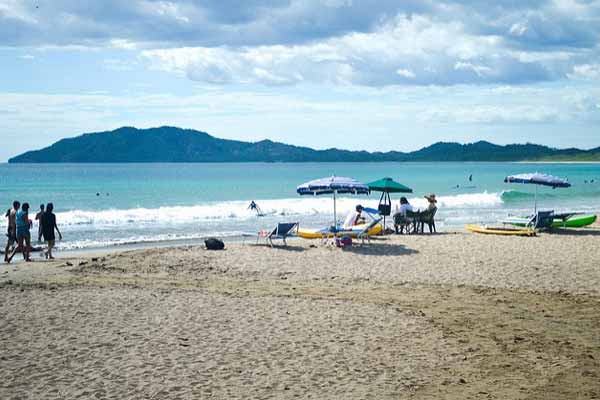 Accommodations range from luxury ocean-view condos to basic beach houses (ranging from $140,000 to over $1 million). I love the fact that it is not unusual to hear four or five different languages in a day and that we have over 100 area bars and restaurants from which to choose. These attributes set a daily "vacation" tone.
The cost of living in Tamarindo is more than most other places in Costa Rica. But if you learn to eat seasonally and live more like a local, you can survive on a smaller monthly budget than back home—for example, $2,000 per month is not unrealistic. For us, our biggest savings has been property taxes. We can cover our basic expenses here in Costa Rica for six months with the exponentially smaller sum we now pay in taxes.
As residents, we pay into the Costa Rican healthcare system. Our monthly payment for both of us is $187. Even with my corporate job in the U.S., I was paying more for two people.
I retired from that sales career recently, and I'm now pursuing a life as a freelance writer and a first-time novelist. Costa Rica has given me a gift of time, seemingly slowing the clock and opening new doors both professionally and personally.
When I am not writing and blogging, I enjoy spending time with expat friends, traveling in my new country, and taking daily sunset walks on the beach. My husband and I relish international travel and we are creating ways to turn our condo into a rental revenue stream when traveling.
If I could give you one piece of advice it would be, start researching now. Do you want that life of which you have been dreaming? You can make it happen. Keep taking those baby steps and over time you will suddenly realize you have arrived.
I am truly thankful for mustering the courage to reinvent my life here and I look forward to sharing my stories with you from this corner of the world.
Related Articles
Fun & Interesting Facts About Costa Rica
Maps of Costa Rica: Best Beachside and Mountain Towns