I'm sitting on my roof terrace looking out at the beautiful Pacific Ocean. It's an absolutely picture-perfect postcard kind of day here in my new home of Olon, on Ecuador's coast. And I'm basking in the feeling of being on a permanent vacation. If I turn around, I can see the coastal mountains awash in various shades of green.
While much of the coast here is desert-like, the weather is perfect most of the time, creating a micro-climate that is quite pleasant for people, animals, and the large variety of birds that fly in and out of the terrace and the garden below.
But I remind myself that I'm not vacationing, and that I'm not going to fly back to the rat race in the U.S. anytime soon. This is where I live now, and all I have to do is walk downstairs to be "home."
A year ago I was living in Florida; I had been there for over 20 years after moving from the harsh winters of New England. I was tired of being cold all the time, and I hated the snow more each time we got another dump of the white stuff.
I moved to a small town on the central east coast of Florida; I settled there because my brother and his family had left the Northeast a few years before to find their place in the sun. I loved Florida during the time I was living there; I thrived in the heat after getting used to it, and spent a lot of time outdoors, much of it fishing, boating, and golfing.
But as I approached retirement age, I realized that staying in Florida might be difficult. The cost of everything was going up faster than the shuttle flights just up the coast. I decided to look for alternative solutions for my golden years.
I came across an article on Facebook one day from International Living. It was about a small Andean town in Ecuador called Cotacachi. The story and the photos of the mountains got me interested…but the idea that I could live well in another country for a lot less money was what got me hooked. I started researching Ecuador; I joined expat groups on Facebook and I signed up for International Living's Daily Postcards and the monthly magazine, and began devouring everything I saw.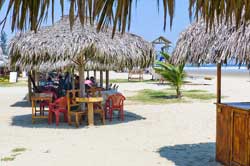 I had honed in on Cotacachi and the surrounding area, but then I had one of those "wait a minute" moments. I remembered living in Indiana for a year and recalled how much I had hated not being near the ocean. It was then that I shifted gears and started searching for my new home along the coast.
I scoured the internet looking for information on coastal towns and ended up in Olon purely by accident. I had arranged to rent an apartment in Bahia de Caraquez, five hours north, but the owner said he wouldn't have my place ready for when I was scheduled to arrive. It was time for Plan B.
I saw an ad for my current home on Facebook and contacted the owner. We agreed on an annual rental fee and I arrived at the end of October. It was the best move I've ever made!
I have a monthly budget of approximately $1,200. That includes everything; rent, food and drink, utilities, and the Ecuadorian IESS health insurance. I'm also saving several hundred dollars each month without touching my savings, and my checking account balance grows each month. I couldn't possibly do that in the U.S….unless I lived in a shack.
I live a very comfortable life here in Olon. It's not a tourist town, and although many of the buildings are not beautiful, the people are and the beach is fabulous. There's a terrific group of expats in the area, and we share a lot of good times together.
I am so fortunate to have discovered this wonderful little slice of paradise here on the coast of Ecuador. Come join us; everyone is welcome!
Get Your Free Ecuador Report Here:
Learn more about Ecuador and other countries in our daily postcard e-letter. Simply enter your email address below and we'll send you a FREE REPORT – Ecuador: Live Like Royalty on Your Social Security.
This special guide covers real estate, retirement and more in Ecuador and is yours free when you sign up for our postcards below.
Get Your Free Report Here