It's late afternoon, and the surfers are making their way on to the shore. I've been working and enjoying the view from under a restaurant's thatched roof. The light turns to gold and the sand a burnished bronze. Time to put the laptop away. Moments later I'm sipping a cold ale and downing today's catch—tuna, served raw over a sesame salad.
Music plays over the loudspeakers, but softly. I can hear the waves and the occasional voice, laughing or calling to a friend. If this isn't contentment, I don't know what is. I never want to leave…
Venao: West is best
Few visitors to Panama venture all the way to Venao. It's a six-hour drive from the nation's capital. You can fly part-way, to the growing hub of Chitré, but from there, it's still two hours by car to Venao. I'd argue it's well worth the trip. I don't always find the darker sand beaches appealing. But Venao, is something else.
It's breezy here, whereas others can be stifling. Some trick of the geography. The sand forms a perfect arc, and around it is another perfect arc of greenery. Low, forested hills bubble up from across the water to frame the landscape. The palm trees, the surfers, the little shack eateries, and hostels…it all adds to the appeal.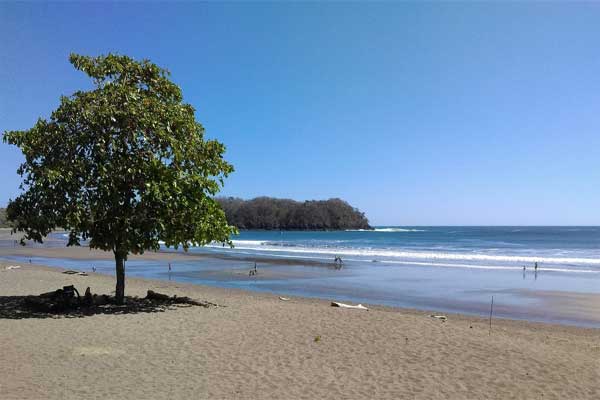 If you wanted to have easy access to Venao, the small fishing town of Pedasí is just a 45-minute drive from here. It's home to a friendly expat community…like-minded individuals who came here to live close to the water. In fact, from the Pedasí village center all the way to and past Venao, there is a whole string of beaches to enjoy.
Consider how much a similar lifestyle would cost in the U.S. In the Pedasí region, you can buy a nice house that would likely cost two or three times as much up north. Take for example a loft-style home built to appeal to expats, on offer for $247,500. It's right on the beach, in a luxury development with a pool.
La Barqueta: Have the beach to yourself
A compact, convenient hub, the Panamanian city of David is known for its low-cost living. A small community of expats live here amongst the locals. There's a growing middle class and that means great little shops, cafés, markets…anything you could possibly want.
David is also known for being landlocked. It's warmer than Panama City, which sits on the coast. But hop in a car and it's just a 30-minute drive to the nearest beach, La Barqueta. I always enjoy this drive along a road lined with rice fields, cattle, and big mango trees. The beach here is dark sand, but it goes on for miles. People visit once, and fall in love.
Las Olas Resort, owned by the same family for generations, offers a nice place to hang out. Families from David spend weekends and holidays here. Most days, you can have the beach all to yourself.
A few expats live, or snowbird, at Las Olas, but most find it too quiet and isolated for full-time living. Houses in David are great value…you can find fixer-uppers or new units built with international types in mind. Apartments used to be scarce, but more are coming on line. A two-bedroom apartment available now is just over 900 square feet, including the balcony. It's got two bathrooms and an open kitchen. The price: $105,000.
Zapatilla: Remote…and Totally Worth the Trip
Every time I visit this Caribbean island, it's like I'm dreaming. It's such a perfect little gem—the kind of thing you see in movies and on TV, instead of real life. But it's here and it's real…white sand leading into shallow, baby blue waters. You can walk around it in 20 minutes. There are no hotels, no houses allowed…just tufts of deep-green rainforest growth.
Zapatilla (which means sneaker, because that's what it's shaped like) is part of the Bocas del Toro archipelago. For me, getting here means a one-hour flight from Panama City to the main island, Isla Colon. It's another 40 minutes by boat to Zapatilla.
There's a nice little expat community on the main island. If you wanted to live here, you'd have access to cute little restaurants, dozens of islands to explore, and good company. But since there are a lot of untitled properties for sale in Bocas, I recommend renting…if not indefinitely, then at least at first. Talk to people who've lived in Bocas for a good long while, listen to their stories, and then you can make an informed decision.
Considering how expensive other Caribbean locales can be, Bocas is extremely affordable. I've seen long-term rentals listed for as little as $700 a month. One unit has a lovely little balcony and teak cabinetry throughout. It's a one-bedroom, one-bathroom apartment and you can rent it for $800 a month. The price includes utilities and WiFi.
Get Your Free Roving Real Estate Investor Report Now

Sign up for the FREE Roving Real Estate Investor e-letter and get a valuable report (free for a limited time) on The 5 Best Places in the World to Own a Home From $150,000.
Related Articles
Looking for Beachfront Property? Check out Panama