Jim and Kathy Suits had long been planning to move outside the U.S. for retirement. English-speaking, with a tropical climate, and close to North America…little Belize offered a lot to a couple looking to retire abroad. Plus, the feeling of independence they experienced there, and the focus on personal responsibility and family values, had great appeal for the Suits.
Belize's Qualified Retired Persons (QRP) program was one of the main factors in their deciding on Belize. This program makes the transition to a new life in Belize quite easy for expats…and cost-effective.
"I liked the QRP. I like the tax advantages. It does have some drawbacks. You don't get to be a resident. You're a permanent tourist. But it makes it easy for someone to come down and retire without a lot of headaches," says Jim.
Among other benefits, those in the program can import household goods and vehicles (cars less than three years old, a boat, or a light plane) tax-free within a year of approval. They are also exempt from paying any tax on income or investments generated outside Belize.
The couple brought in a shipping container's worth of household goods to start their new life near Bullet Tree Falls Village, just outside San Ignacio, the regional capital of the Cayo District. This region in the interior is known for its jungle, mountains, and agriculture. The couple's North American-style house, which includes a large courtyard and swimming pool, sits on a double lot near a narrow river. A solar power system, which cost $65,000, enables them to be completely off-grid.
Importing their household goods under their QRP visa meant they could furnish their home for less than if they had bought items in Belize, where import duties push prices up for appliances and electronics. "We had our life in that container. Furniture, personal effects, memorabilia. We both retired from the military, so we picked up stuff from around the world," says Kathy.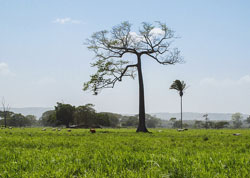 They also brought in a Toyota Rav4, a four-wheel-drive SUV. It's the perfect car for the rural part of Belize where they live. Most expats buy the car in the U.S. and bring it down. But they bought theirs at a dealership in Belize; the dealer shipped it from the U.S. and gave them a three-year warranty, something they wouldn't have been able to do with a car bought in the U.S.
On top of the application fee and other costs, the Suits hired an attorney to help them with the QRP application process, paying a $500 fee. But after seeing how easy the process was, they say they wouldn't have bothered with a lawyer if they'd known.
"It was about 30 days from the time we put in our paperwork to when we were approved," Jim recalls. "In my entire lifetime I've never found a government agency that looked for ways to say 'yes,' and not say 'no.' The Belizean Tourism Board bends over backwards."
Related Articles
Belize Visa and Residence Information
5 places to live in Belize and 2 to Avoid
Rent in Belize From $350 a Month