Many expats are drawn to the idea of retiring in Europe, but can be thrown off by the high prices of its most famous destinations. But while big cities such as Paris and Madrid may hit hard on the wallet, there are still many alternatives for those seeking the romance of Europe, but at an affordable cost.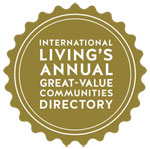 From the Old World splendors of Spain, to the romantic atmospheres of France, to the storybook landscapes of Ireland, it's no wonder so many expats are drawn to the idea of retiring in Europe. For a small continent, it has a lot to offer in terms of healthy living, beautiful scenery, and of course, low costs.
It's possible to live in many towns and cities in Europe on a monthly budget of $2,500—many expats are living on less. The towns and cities featured below showcase the best in culture, history, and friendly atmosphere that Europe has to offer.
So, if living in Italian wine country or by the beach in southern Spain seems like the dream retirement for you, start your search here.
Click on the map for details about the great-value communities we recommend in each country.
Great-Value Communities in Europe
France
France has all the ingredients that we at International Living look for in a retirement destination: a good climate, unspoiled countryside, top-notch culture, excellent healthcare, colorful traditions and history, and, of course, the glitter and sophistication of Paris. It's not surprising that France is the world's favorite tourist destination, receiving approximately 80 million foreign visitors each year.
But while the country's capital may be beyond the budgets of many expats hoping to retire to France, there are still many towns and cities where day-to-day costs are less of a drain on the pocketbook, while still offering the best that living in France has to offer. "France may not seem like the most low-cost place on earth," says International Living France Correspondent Barbara Diggs, "but the lifestyle makes it much more reasonable than people think. For about $2,500 per month, a couple could live a very nice life here—including rent."
If good healthcare, a relaxed lifestyle, and all the modern comforts you enjoy at home are among your top priorities, then France should be on your radar. Below are three of the best towns in France for low-cost living.
Lyon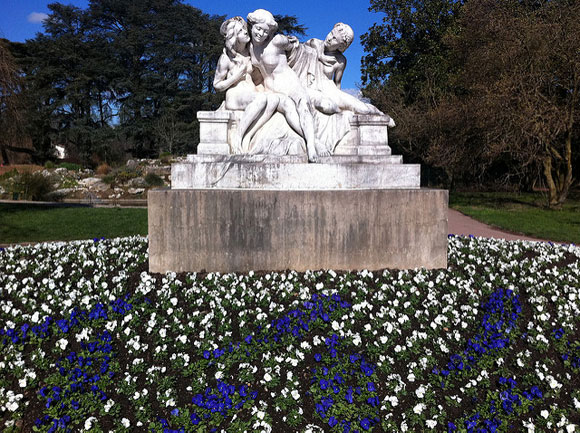 Filled with beautiful 18th-century buildings painted peachy yellows, orange, and pinks, and graced with not just one, but two wide rivers, Lyon, located in the Rhône-Alps region of southeastern France, has a mellow, almost languid, vibe.
With a half million people, it's the third largest city in France. But walking around, you don't feel the weight of these people. Even in the very heart of the city, there's a sense of space. This is likely because Lyon has numerous generous squares, wide streets, and parks, not to mention two enormous hills that provide amazing vistas that can reach as far as the Alps on a clear day.
Lyon also has all the advantages and liveliness of a big city. With museums, theaters, galleries, cafés, boutiques, and an extensive transportation system to deliver you to them all, there's never a shortage of things to do.
On top of this, rental prices here are a steal, especially when compared to those of Paris. An unfurnished one-bedroom apartment in Lyon's center is likely to cost you $910 per month, while a two-bedroom apartment in one of the city's "chic" neighborhoods will set you back just under $1,400 per month.
And lastly, there's the food. Lyon is probably best known for being the gastronomic capital of France. Excellent food is Lyon's tradition, culture, and lifeblood. Millions visit here every year in search of the best meal of their life. With so many quality restaurants around, it's easy to find a marvelous three-course meal in Lyon for about $30 or even less. The only problem is that you often stagger away from the table swearing that you'll never eat again.
Montpellier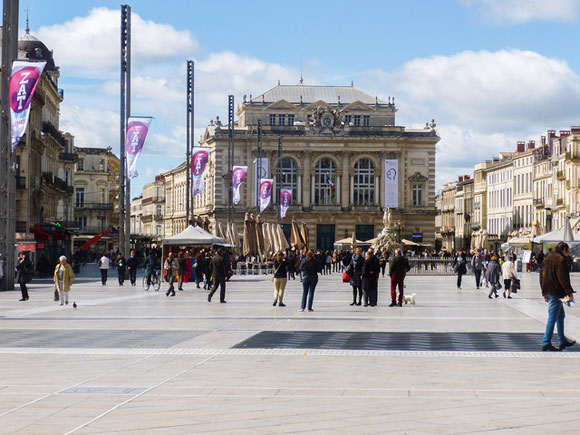 Located on the warm, sunny, southern coast of France, Montpellier is in the Languedoc Roussillon region, happily nestled between the Cévennes mountain range and the Mediterranean Sea. The city is France's eighth largest and fastest-growing, with a population of about 253,000, of which around 70,000 are students.
Home to the first and most famous medical school in France, Montpellier is known as a university town and embodies all the liveliness and energy you'd expect.
In the historic center, the city's wide boulevards are peppered with cafés, restaurants, and bars, and play host to a range of annual cultural events, from flamenco exhibitions, to international film festivals, to jazz concerts. Art lovers will treasure the city's numerous galleries and museums, including the famous Fabre museum, known for its impressive collection of 17th- to 19th-century European art.
The tramway system is excellent, having four lines (with a fifth one planned for 2017) that snake through the entire city. The bus system, too, is extensive and convenient. And for the environmentally conscious, Montpellier is also bike-friendly, offering more than 90 miles of bike paths throughout the city, and even six miles of bike paths that lead directly to the beach.
You can rent a small but comfortable one- or two-bedroom apartment here for between $650 and $900 a month. Add to this 300 days of sun, plenty of activities, lovely mountains, and beaches within an hour of the city, and you've got yourself a pretty sweet deal.
Sarlat-la-Canéda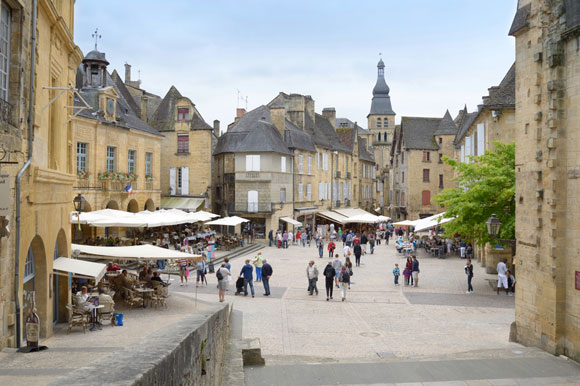 Often known simply as Sarlat, this town with a population of about 11,000 is in the center of the Dordogne region of southern France. Sarlat offers big-city convenience and activities, packaged in a small-town setting, that make it a delightful location to visit and a wonderful place to call home.
Narrow streets occasionally interrupted by quiet squares meander through the historical center, bringing to mind the romantic images of small-town France. Caves with pre-historic paintings, castles guarding nearly every hilltop, and rivers quietly winding through forested valleys, draw visitors to the area.
There's more to Sarlat than the medieval architecture and quiet lanes though. Whether you are canoeing the rivers, biking along the country roads, or climbing the limestone cliffs, it's easy to be active here. The summer Theater Festival, fall Film Festival, and Holiday Music Festival showcase the cultural side of Sarlat. The Cultural Center offers exhibitions and performances throughout the year.
The local cuisine is as outstanding as the setting. The area is famous for truffles and their delicate yet musky flavor accents many local dishes. Goose, duck, and foie gras are favorites in many of Sarlat's restaurants.
While prices have increased in recent years and cheap restorable structures are harder to come by, village homes can be found in the $200,000 to $350,000 range, while renting a two-bedroom apartment is likely to cost you $565 a month.
Sarlat is far enough from large cities to provide a quiet, small-town life, but it is also situated within easy reach of the major cities of southwest France. Bordeaux and Toulouse are each about two hours away by car.
To learn more about living or retiring in France, click here.
Spain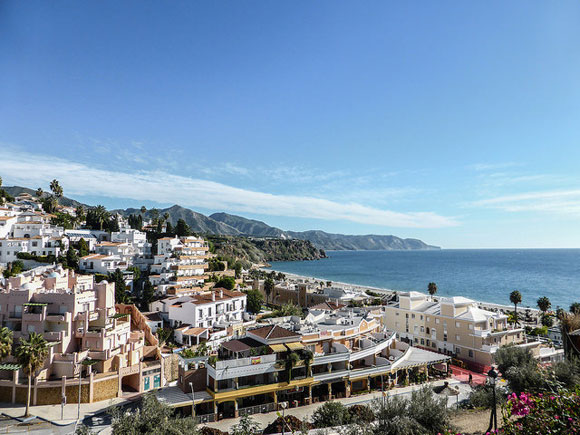 Beaches…mountains…fabulous cities…colorful festivals, and, of course, sunshine almost everyplace. It's not surprising that Spain is one of the most popular European countries for those looking to retire overseas. Spain's geographical variance means that whether you're looking for sandy beaches, city-living, or a place in the countryside, Spain has the perfect location for you.
But idyllic surroundings aren't all that Spain has going for it. This country boasts a rich history and ever-present culture, as well as fantastic food, wonderful wine, and famously friendly natives.
One of the biggest factors attracting expats to Spain is the cost of living. Right now, Spain is more affordable than it's been in decades. Day-to-day expenses, for instance, can be very low. International Living Editor Glynna Prentice says that throughout Spain "a couple can live well in many destinations for as little as about $2,200 a month—even less if they own their home."
Pick one of the many areas with a warm, mild climate, and your monthly utilities can run to $150 or less. Spain's real estate also has a number of bargains, especially in beach areas, making it easy for expats to find their dream home.

Alicante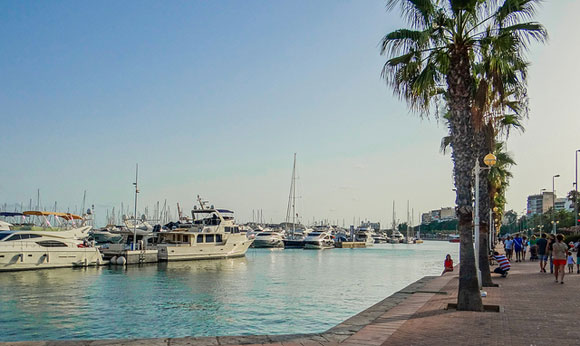 Alicante, on Spain's eastern Mediterranean coast, is a city of about 334,000 people, with all the modern conveniences—including an international airport. It is one of the country's most popular tourist destinations, attracting beach lovers from Spain, the rest of Europe, and beyond. Yet despite the tourists, this remains a very Spanish city, with a friendly, welcoming, small-town feel.
Because of its warm climate, you can stroll the beach in short sleeves as early as March and as late as October. And in the winter you need only a jacket and the sun shines most days. Just steps from its long, urban sandy beach is a historic center of flag-stoned pedestrian streets and cream-colored buildings housing cafés, restaurants, and small hotels.
Although Alicante is known as a tourist hotspot, prices here are low. According to International Living Editor Glynna Prentice "a couple should be able to live comfortably on $2,000 a month." You can find apartments for sale right in central Alicante for under $100,000. A nice meal in a restaurant with a caña (glass of beer) will set you back as little as $7, and there's an abundance of fresh food available at even cheaper prices at the daily central market.
Valencia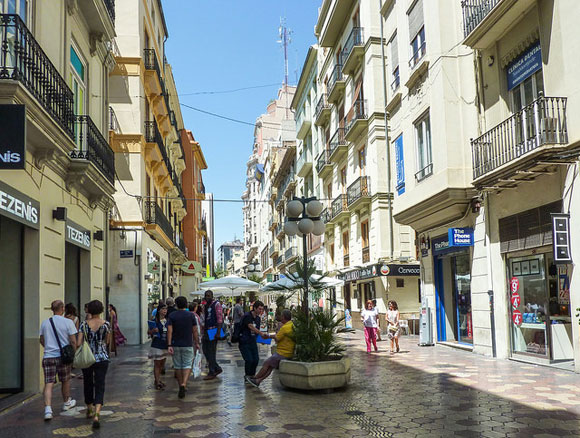 As Spain's third-largest city, Valencia has all the amenities of a major metropolis: convenient air and rail connections, major hospitals, universities, and plenty of parks. You can walk in green spaces, under leafy trees, across much of the city, and music seems always in the air. This city abounds in culture, with science and art museums, concert halls, and one of Europe's largest historic centers.
Yet it's also a beach town, right on the Mediterranean. And with a population of only about 800,000 in central Valencia, it's compact and manageable.
But while it may have a diverse range of amenities and resources, cost of living and real estate in Valencia is still much less than in Barcelona and Madrid. "For around $2,000 a month, including rent of a chic, centrally located apartment, I could embrace the arts, stroll the beaches, and eat out often (and well)," says International Living Editor Glynna Prentice. "And I would be perfectly placed to explore the rest of Europe, too."
Day-to-day costs are reasonable—a filling lunch special, including a beer or wine, will run to about $12. A ticket to see a classical concert in one of Valencia's many concert halls might set you back a reasonable $17. Rents for one- and two-bedroom apartments in some of Valencia's best neighborhoods start at only about $550 a month. If you're looking to buy, sale prices start at about $110,000.
Málaga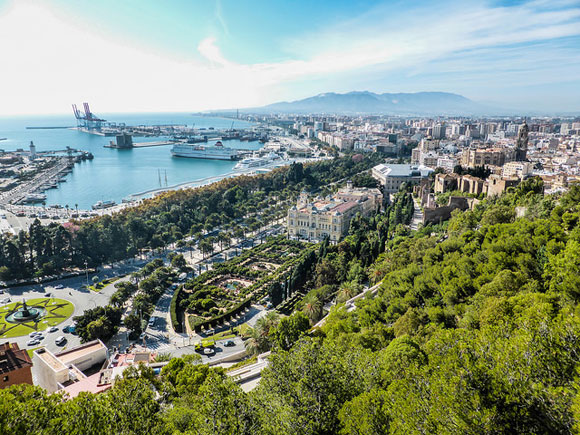 Málaga is clean and bright, with a pedestrian-only city center and a revamped harbor area that is a joy to stroll. The city is brimming with museums, great dining, and plenty of shopping to suit all tastes and budgets.
There is daily sunshine, miles of seaside, winter temperatures are balmy (days average 63 F in January), and sea breezes blow off the Mediterranean, cooling the hot summer days. Málaga is cheerful and vibrant, oozing its trademark Andalusian charm. Best of all, it remains a very Spanish city, even in the prime tourist areas.
To top it all off, even the cost of living seems too good to be true. In the centro histórico (historic center), within walking distance of shops and the sea, you can get casual lunches starting at about $8 and proper sit-down meals for $15 to $20. Apartments for sale in the area start at under $200,000.
In Huelin, a neighborhood just outside the center, property prices are even lower. You can find one- and two-bedroom apartments for sale for well under $130,000. And $650 in rent can get you about 900 square feet of living space—you may even get a sea view with it.
Castelldefels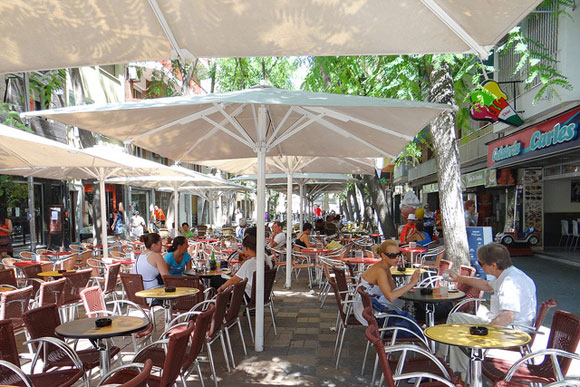 Just a 20-minute train ride from Barcelona lies Castelldefels, a mostly modern town situated just inland. The shady, pedestrian-only streets in the town center are filled with shops and sidewalk cafés. Low-rise apartment buildings with ground-floor shops—hairdressers, furniture stores, tapas bars, and more—line the side streets.
The weather in this town of 63,000 people is usually sunny and mild…but because you're a brisk walk from the beach itself, you don't get the bathing-suit crowd here. Instead, you'll see young mothers with baby strollers, well-dressed matrons, or businessmen talking shop over a coffee or a beer. If you do head out to Catelldefels Platja, less than a mile away, you can enjoy a stretch of golden beach that runs for seven-and-a-half-miles and is largely uncrowded throughout the low season.
A three-bedroom apartment in the center of Castelldefels will go for about $145,000, while something closer to the beach could set you back closer to $280,000. But you can rent a small apartment on the beach for as little as $1,140 a month.
To learn more about living or retiring in Spain, click here.
Italy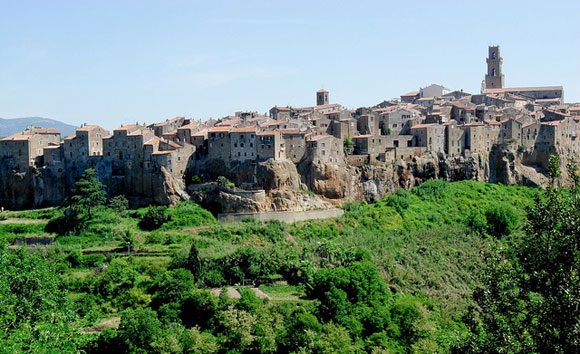 Who wouldn't want to live in Italy: Europe's most intriguing and seductive country? Just think of its warmth, style, and wonderful food…its excitable people and their zest for life…its art treasures, and the architectural glories of its magnificent past.
Although Italy is not generally perceived as being a bargain location for retirees, it is. According to International Living Correspondent Valerie Fortney Schneider, a couple can still live in Italy for $2,000 a month, including rent. Learning to live a simpler life means spending less, and enjoying the finer things in life like a good wine and a delicious spaghetti alle vongole.
Italy is undeniably romantic. From the days of the grand tour, when the first tourists stood in the shadow of the Coliseum, Italy has attracted expats. As many of them have found out, it's not all about the big draws like Venice, Rome, and Florence. There is another Italy too. One full of idyllic hilltowns, medieval villages, wildflower meadows, and gurgling streams. Where lemon, hazelnut, and orange tree orchards grow in the shadow of monumental mountains.
Read on for three of our top picks in Italy where a couple can live la dolce vita for $2,000 a month.

Sulmona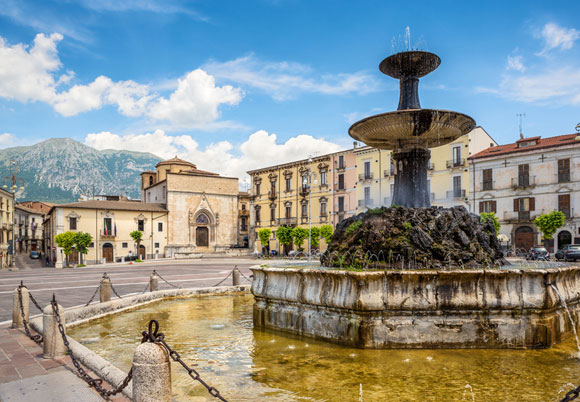 Located in the central Italian region of Abruzzo, Sulmona is a magnificent small town with a population of less than 25,000 people. Although Rome is less than a two-hour drive away, it remains largely overlooked by foreign visitors.
Quintessentially Italian, Sulmona offers everything you would expect: history, good food and wine, friendly locals, and a slow pace of life. There are many family-run bakeries here where you can buy bread taken out of a wood oven only hours before, delicious cookies made with local wine, or luscious crostata pies with homemade jam.
For many residents, eating out is nearly as cheap as cooking at home, with small meals made with local ingredients from a local pizzeria or salumeria (butcher shop) only costing between $4 to $6. Also, a sit-down, four-course meal in one of the local restaurants will likely only cost you about $30 (and that includes some excellent Abruzzo wine).
In terms of real estate, a three-bedroom apartment in the historic center can be rented for $520 to $575 a month, while buying a similar property will cost $90,000 to $150,000.
And, if you get a craving for the bustle of the big city, trains to Rome run frequently and only take two-and-a-half hours at a cost of $10 for a single trip.
Ascoli Piceno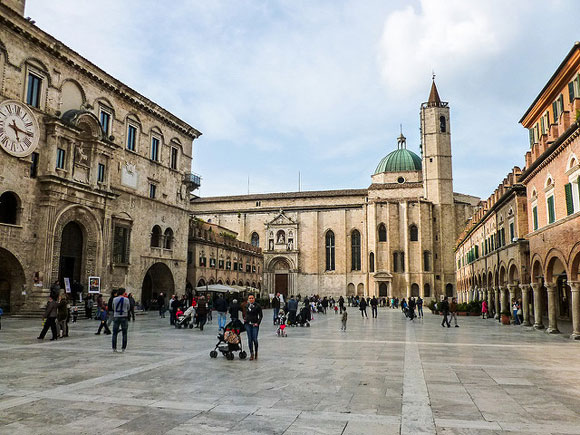 Ascoli Piceno, at the southern edge of Le Marche, is a gorgeous town of medieval monuments and Renaissance splendor, which is largely overlooked—but it shouldn't be. It offers a high quality of life in its beautiful historic center, where everything you need is at your doorstep, and where events and exhibits regularly liven up the town.
The locals like to point out that Ascoli Piceno is older than Rome. They're rightfully proud of their city and their lifestyle. It is beautiful and relaxed, and there is always something to do: an art exhibit among Roman ruins, cinema under the stars in a 15th-century cloister, concerts in the piazza, and a twice-weekly market that rolls into town. The velvet-clad opera theater is an opulent venue, while homey food festivals provide inexpensive (and delicious) fun.
In addition to the beauty and quality of life, Ascoli Piceno retains its small local shops, where fresh produce, locally raised meat, and regional products can be procured at good prices. Restaurants are plentiful, with excellent fare that won't break the bank either. You can dine out and enjoy a bountiful meal for about $20 per person.
International Living Correspondent Valerie Fortney Schneider says that Ascoli Pisceno "offers the classic Italian lifestyle of good food, great wine, and cultural attractions for around $2,000 a month for a couple, and that's including rent."
Apartments in the historic center can be rented for around $530 a month. If you are looking to buy, you can expect to pay $95,000 and $165,000 for a historic center apartment, while a two-bedroom townhouse will set you back about $184,000.
Lunigiana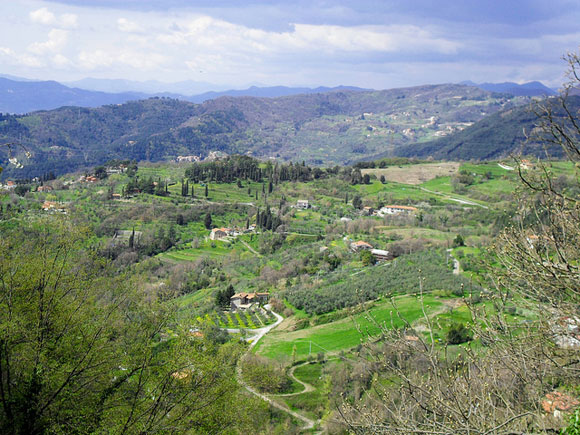 Although Tuscany is one of Italy's most explored regions, few foreigners know about Lunigiana. Lunigiana borders Liguria to the west and Emilia Romagna to the north. The Apennines and Apuan Alps (whose white marble was hewn for Michelangelo) serve as a backdrop and Lunigiana's rolling landscape is sprinkled with medieval castles, fortified towns, and hill villages set high above twisting valley roads. This is Tuscany without the crowds, where life continues to follow the traditional patterns of the season.
Although Lunigiana has the hallmarks of a secret land, it isn't remote. It only takes half an hour to get here by train from the Ligurian seaport city and naval base of La Spezia. But because it has been greatly overlooked, Lunigiana offers an incredible array of bargains that disappeared elsewhere in Tuscany decades ago. You are still able to find small, habitable, stone-built houses in the area starting at around $33,300, however many may need to be modernized. And other types of properties—farmhouses, shepherd's cottages, villas, even castles—offer equally good value.
Living in Lunigiana, you can also take full advantage of the fresh food and drink that Tuscany has to offer, and all at a low price. Large jugs of local wine can be bought for as little as $5 to $6, or a three-course meal with wine in a nice restaurant will set you back $23 to $28 a head.
To learn more about retiring in Italy, click here.
Portugal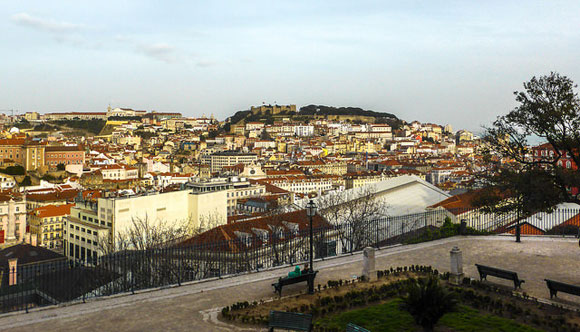 When many people think of Portugal, their minds immediately settle on the southern Algarve region, with its many tourist beach towns; or the elegant old capital of Lisbon. But Portugal is much more than that. For a small country—no bigger than Indiana—it is diverse and unique. It's Iberian but not Spanish. It nowhere touches the Mediterranean Sea, yet it is in ways Mediterranean.
Portugal is a country of untarnished, Old-World splendor. From cobbled lanes to walled towns, the history and culture is ever-present in modern life. But that's not to say Portugal is backward. You can get free WiFi in public places, you'll find a glitzy mall or two, English is widely spoken, and you can travel around by train for much less than you'll pay elsewhere in Europe, in comfort and with access to a dining car. Think of it as life with modern convenience and none of the hassles, stress, and traffic.
Another big draw is the low cost of living. There is much to be said for a country where wine and coffee cost less than a gallon of gas. According to International Living's Editorial Director, Eoin Bassett: "If you have $1,600 to $1,700 a month, you'll live well. That includes rent, which runs from as little as $300 a month for a centrally located apartment in a pleasant provincial city."
The locals in Portugal are warm and welcoming to foreigners, especially to those who have lived here for a while. If you're looking to retire in an affordable, laidback place, our top three picks below will give you a taste of what life is like in Portugal.

Porto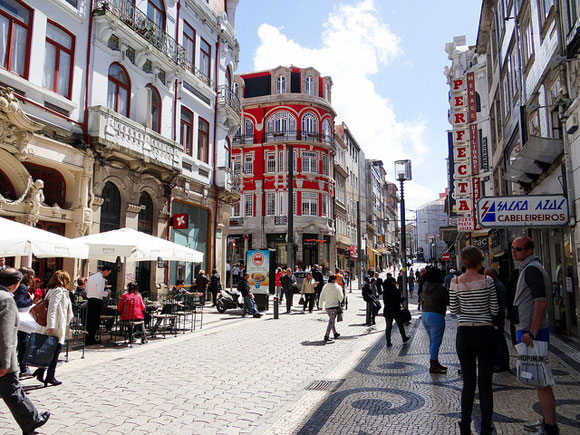 Porto has long been famed as the home of port, the fortified wine beloved by the British. Today it is newly chic, with wine bars and trendy restaurants dotting the city. Its urban beaches, on the nearby Atlantic, put sand and surf within easy reach (15 minutes away by metro). The scenic riverfront along the Duoro also provides the perfect backdrop for an evening stroll. Elegant parks with fountains, statues, and exotic plants, leafy boulevards, and cobbled streets lined with historic buildings all invite easy exploration.
Known for being one of Europe's most popular vacation destinations, Porto has begun to grab expats' attention, too, thanks to its low costs; cool, mild climate; seaside location; many English-speaking locals; and an ambience that is both friendly and sophisticated.
Usually, renting a one- to two-bedroom apartment here will cost you $400 to $450 a month, but property closer to the beach can see you handing over nearly twice that. If you are looking to buy, a comfortable two-bedroom apartment in a neighborhood like Foz, Boavista, or Matosinhos can run to $225,000. But overall, the cost of living is low. International Living Editor Glynna Prentice, who is just back from an exploration trip of the city, says that many expats report their monthly budget, including rent, runs to about $1,695.
Évora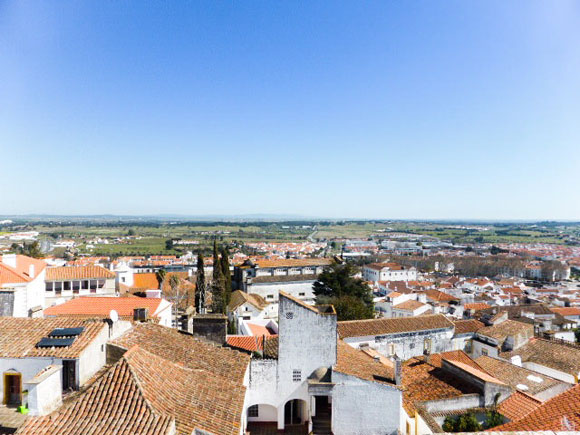 Évora is the capital of the Alentejo, a region of Portugal full of white-washed villages and walled towns; where time is still measured in church bells and savored in light-dappled parks. Encased in 14th-century walls, Évora is a lively university town of mom-and-pop stores, fantastic eateries, and layers of history.
The countryside around it is "the lung of Europe," where thousands of cork and holm oak trees shade acorn-fed pigs and carpets of wild flowers. This is also one of Portugal's famous wine regions and you can join the locals in a three-course lunch washed down with a glass of red for less than $10.
Because Évora is a UNESCO heritage site, properties in the area can be expensive. But, bargains can still be found. It's possible to find a small two-bedroom townhome near the historic center for $99,000, while a bigger, four-bedroom property near the university will set you back $250,000.
Cascais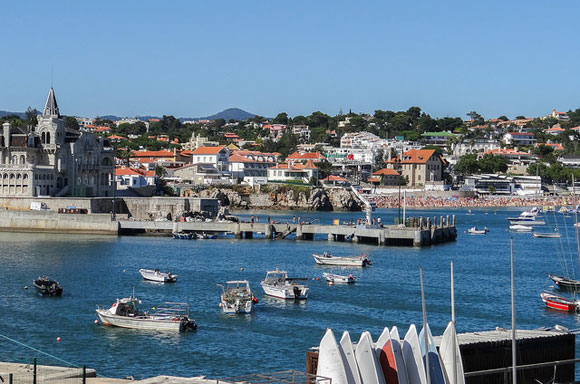 This popular seaside town is only about 30 minutes by commuter train or bus from central Lisbon. Cascais is lined with beaches and is popular both with expats and with tourists. The neighborhoods near Cascais's coast have an old-style village feel, with tile-roofed houses and cobbled streets. A busy tourist zone near the train station is lined with shops and colorful outdoor restaurants, but move beyond this area and the old town is peaceful. Head inland just a few blocks, and you find a modern city with highrises, shopping malls, and modern apartment buildings.
Once a small fishing village, Cascais has had an elegant air since 1870, when the court first moved here for the summer. A royal palace was constructed in the former citadel and is still used by the head of state.
"Cascais is one of the prettiest suburban beach towns I've seen," says International Living Editor Glynna Prentice. "It has its own personality…but it's only half an hour from Lisbon. That's a compelling combination."
There is a sizable expat population here, so between the British expats and the town's lively tourism, you can get by easily in English. Short-term rentals abound here, so if you want laidback beach life but also want to be within easy hailing distance of a metropolis, Cascais is a good option.
To learn more about retiring in Portugal, click here.
Ireland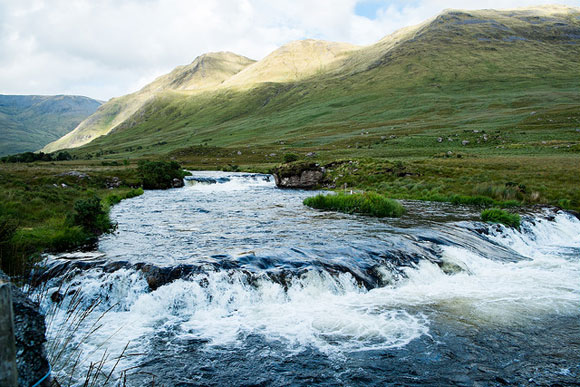 Everywhere in Ireland, history comes at you in torrents. The Celtic age of wonder, mystery, and heroic deeds never seems too far away. If Ireland appeals to you, now's the time to start poking around.
Ireland's charm remains as strong as ever. The whole nation—but particularly the countryside—takes a small-town approach to life. Everyone in Ireland speaks English (even in the few Irish-speaking areas). The Irish are friendly, hospitable people.
Living here, you don't have to make a hard choice between seascapes and mountains, between tranquil lake lands or verdant river valleys. Ireland has them all. In most towns and villages, you're never too far from the ocean…from golden beaches swept clean by rolling Atlantic waves…the views of mysterious smaller islands shimmering offshore…and quaint harbor towns with their hand-painted shop fronts and color-washed cottages.
And living in your ideal Irish destination can be affordable too. According to International Living Digital Editor Liam Doyle, a couple can afford to live in Dublin for between $2,260 and $2,320 a month. This number gets even lower if you choose to live outside of the capital.
So if you ever considered buying or renting in the Emerald Isle, now is the time to act.
Although living in the capital can be expensive, below are three other cities and towns in Ireland where you can live well without breaking the bank.

Galway City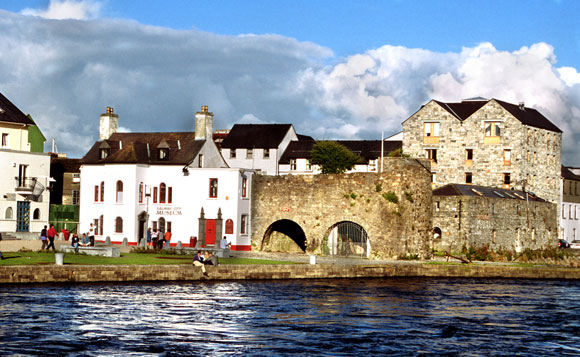 Galway City, the unofficial capital of the West, brims with history—it's filled with shopping precincts, theaters, pubs, and restaurants. It's a perfect place to immerse yourself in Irish life. Home to around 75,000 people, Galway City has grown over the past few decades, but the center still has a small town feel. The Saturday farmers' market is always thronged, and shops are mostly of the individual variety—butchers, bakers, cheesemongers, bookstores, etc.
Situated on the coast, this historic maritime city combines a modern urban lifestyle with scenic beauty, deep-rooted traditions, and a staggering array of activities. Whether your passion is for the outdoors, the arts, traditional music, horse-racing—or a combination of them all—you'll be spoiled for choice.
Your biggest expense living here is going to be monthly rent. A two-bedroom, two-bathroom apartment, overlooking the sea, will cost you around $1,170 a month. A two-bedroom house in the suburbs will also set you back around $1,340.
Galway City is also known for being Ireland's arts and culture capital. Whether it's April's Literature Festival and Galway Food Festival, July's International Film Festival, or the Galway Hookers Festival in August (a Galway Hooker is a traditional boat!), there will always be something going on to keep you entertained. And, if you feel like learning something new, the local university also runs adult and continuing education courses. Options include screenwriting, Irish studies, and, if you've an interest in the past, you could even find yourself with a Diploma in Archaeology.
Ennis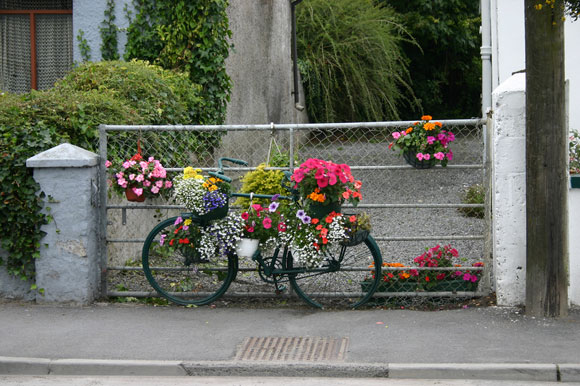 Ennis is the largest town in County Clare, with a population of just over 25,000 people. Its name comes from the Irish word inis—meaning island—due to a small island formed between two courses of the River Fergus, on which the local Franciscan Friary was built in the mid-13th century.
Ennis is known for being a town full of quirks and character, with its maze of narrow, winding streets, numerous historical buildings, and busy, market-town atmosphere—an atmosphere it has held on to since the late 18th century. These days, the town's streets are lined with numerous boutique shopfronts, as well as many delicious eateries, bars and restaurants.
This is also the musical heartland of Ireland's west, hosting such events as the Fleadh Cheoil na hÉireann (Irish Festival of Music), the most important event in the traditional music calendar. Even outside of the festivals you're never too far away from some traditional music in Ennis. From spontaneous music sessions—or seisiúin—in the local pubs, to concerts in the local Glor Theatre, there's always something to be listened to and enjoyed.
Many expats are also drawn to Ennis by its affordability. "I spend about $560 to $890 a month, excluding rent," says Janet Buell, an American expat who lives in the area. "That covers my heating costs, electricity, internet, television and petrol." Rental of a two-bedroom, two-bathroom apartment in the town will cost you about $780 a month.
Bantry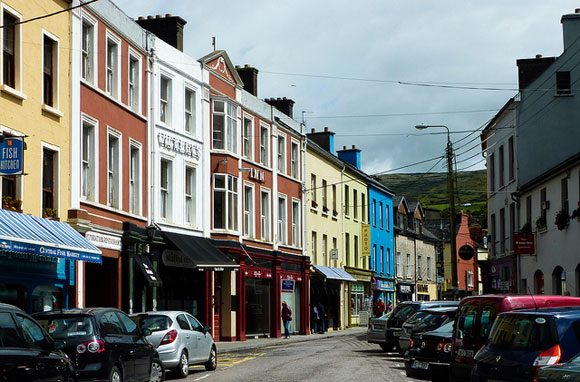 Just two hours west of Cork City, the village of Bantry is known for its stunning location on the shore of a narrow, deep natural harbor, Bantry Bay. Gaily-painted two- and three-story homes and shops line the village streets, while a tidy town square faces the water. Bantry is the market town for a large three-peninsula area in southwest Ireland, and it has the snap and verve that go with a market center.
Even so, it's surprisingly sophisticated and international for a town of 3,300 people. Expats come to this part of Ireland because it has the lifestyle they remember from their childhoods and can no longer find in their own country. That is safe, neighborly, and small-town, with beautiful, unspoiled countryside.
Possibly one of the best aspects of living in Bantry is its affordability, especially when it comes to rentals. A two-bedroom, two-bathroom house in the center of the village will cost you $1,115 a month, while if you move just outside of the village, that price can drop to as low as $500 a month.
Bantry even has a beach where you can swim during warm sunny weather. Or if the water doesn't take your fancy, you can enjoy a seaside stroll—even at high tide, when the beach disappears—on a long railed boardwalk that extends around a bend to a neighboring inlet.
To learn more about retiring in Ireland, click here.
Click here to return to Home Page for International Living's Annual Great-Value Communities Directory, or click on the Previous and Next buttons below to explore more regions…
Related Articles
Tuscany, Italy: Retirement, Lifestyle and Cost of Living
7 of the Best Cities in Spain for Your Retirement