On the balcony of a Swiss-style cottage in Cerro Azul, I'm looking out over the mountains. The air is damp and cool—about 70 F—and there are thin wisps of mist around the hilltops. The land is densely populated with trees, most of them evergreens. It's surprising, since I've just come from Panama City, where you'll find tropical palms.
So far I've seen hummingbirds and owl butterflies, smelled resinous pine and exotic jasmine, and heard the roar of howler monkeys in the distance. It couldn't be more different from the sea-level city just under an hour's drive from here. In fact, I'm reminded of where I grew up, in Oregon.
Panama's best-known highlands—in Chiriquí—are a seven-hour drive from Panama's capital. But if you want or need to be closer to Panama City, Cerro Azul may be perfect for you. It's barely spoken of in expat circles. It's tiny and yet it offers a unique set of benefits—unlike any other place in Panama.
As I mentioned, it's close to Panama City. Living in Cerro Azul is like being in the suburbs. You can zip in to catch a movie, go shopping, see a doctor, or anything else you could imagine—Panama City has it all. Then zip back and enjoy a glass of wine on your terrace before dinner. And if you travel a lot, good news: Panama's busy international airport is only 40 minutes away.
Cerro Azul's climate is perfect thanks to the elevation—about 2,500 feet. And this area will never be overdeveloped because Cerro Azul sits in the vast Chagres National Park. It's one of the few open residential communities you'll find in a wild nature preserve, as it was founded before the national park designation.
That means you'll see white-faced capuchins, peccaries (wild pigs), parrots, geese on the lakes, and many, many more species. If you're a flower lover, you won't have to buy potted orchids if you live in Cerro Azul—here they grow on trees. Houses have priceless views of the valleys and the national park. With scarcely any light pollution, you can see the stars shine bright and clear.
This is an ideal place for a quiet lifestyle. In fact, there are only a few small shops in town, no big commercial areas to spoil the scenery. So how does one pass the time? The hundred or so expats who live here have small get-togethers, and many of them enjoy yoga, hiking, or splashing around in the lakes and waterfalls.
The higher elevation—the part of Cerro Azul you would want to live in—is in a gated community called Altos de Cerro Azul. If you're not a resident, you need an invitation or an appointment with the sales office to get in. Inside, there's a country club area featuring a pool, two tennis courts, basketball courts, and a restaurant.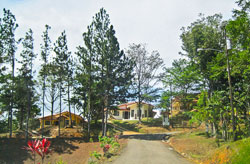 Though it sounds kind of exclusive, the people who live here are friendly and open. Most of the homeowners are Panamanians who come from the city to relax on weekends. Most of the full-time residents are North American, though I did meet a few from Europe.
Cero Azul's number one benefit may be the cost of living, especially when it comes to property prices. In Altos de Cerro Azul, I regularly see property listed at $120,000 to $150,000. We're not talking studio apartments, but pretty A-frame homes with two or three bedrooms. Rentals here are almost never listed online, but if you visit and network just a little, you could strike a deal for as little as $500 to $800 a month for a nice house.
Lodging aside, you'd be living the high life with a budget of just $1,000 a month for entertainment, groceries, gas for your car, utilities, internet, cable, and cell phone usage. You could afford to go into Panama City on the weekend for a fancy dinner, a movie, or a cultural event. There are hundreds every year, from film festivals to carnival to art exhibits and more.
Where else in Central America can you live in a safe, beautiful mountain locale that's close to a cosmopolitan capital, a national park, and a major airport? I don't think there are many places—if any—that can give Cerro Azul a run for its money.
Get Your Free Panama Report Here:
Learn more about Panama and other countries in our daily postcard e-letter. Simply enter your email address below and we'll send you a FREE REPORT — Panama: First World Convenience at Third World Prices. 
This special guide covers insider advice on real estate, retirement and more in Panama. It's yours free when you sign up for our IL postcards below.
Get Your Free Report Here