She's a wanton woman with a feather beneath her skirt, cause for her constant state of libidinous arousal. Men and women alike are smitten with her overpowering beauty and limitless energy. But she has a temper, this one. When her flirtations are not returned, her anger boils and she quite literally blows her top like nothing you've ever seen.
So goes the Quechua legend of "Mama" Tungurahua, the hot and bothered volcano that regally rises from lushly-forested terrain about a three-hour drive south from Ecuador's capital city of Quito.
Perched just five miles from Mama's summit on her northern side is the town of Baños (population about 20,000). As the lore goes, Baños is Mama's love child, and she protects it. She's certainly passed on an inheritance, for—thanks to Tungurahua's hot temper—Baños is blessed with an abundance of thermal waters. Those waters, and the stunning natural setting, have made Baños a popular spa and outdoor-sports town, as well as home to a small community of expats.
The town's full name is Baños de Agua Santa: the Holy Water Baths. (And note, Baños does not mean "bathrooms." It means "baths," like the kind you soak luxuriantly in.) The name gives tribute not to Mama, of course, but rather to the town's other famous patron, the Virgin Mary.
Nuestra Señora de Agua Santa—our Lady of the Holy Water—is said to have appeared at nearby waterfalls from time to time, and it's believed she protects those who invoke her name during times of crisis. "Our lady watches over us," a local man said in a television interview, speaking of the Virgin after Mama's most recent pyroclastic fit.
The neo-Gothic Basilica Reina Del Rosario De Agua Santa—built to honor the Virgin—is a local pilgrimage site, and is decorated with graphic artwork of the many miracles she's credited with. Appropriately enough, the Basilica, which sits in the heart of Baños, is constructed of volcanic rock from Tungurahua.
For many visitors, though, Baños's thermal baths are miracle enough. You'll find several places to soak away to your heart's content here, in pools of varying degrees of delicious heat. The most popular public baths are right in town at the base of the 260-foot waterfall called Cascada de la Virgen, where Nuestra Señora allegedly once appeared. A shrine there is dedicated to her and her healing waters.
For certain, water is plentiful in this part of Ecuador. More than 60 waterfalls cascade into the surrounding countryside from the slopes of the volcano. The entire province, called Tungurahua in honor of you-know-who, is fully and self-sufficiently powered, thanks to the Tungurahua hydroelectric facility located just outside Baños.
The surrounding landscape is crisscrossed with steep bluffs, deep river gorges, and expansive plateaus. With all this natural beauty, it's no wonder that Baños, cupped in a small valley at about 5,900 feet above sea level, is a thriving tourist town, equally popular with both Ecuadorian and international visitors. And with more than 100 hotels and hostels and a nearly continuous round of parades, festivals, and special events throughout the year, the mood in Baños is always festive and upbeat.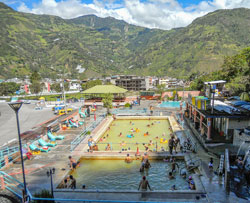 You'll find just about any outdoor activity that exists: hiking, canyoning and rappelling, bungee jumping, zip-lining… how about a breathtaking ride in a tarabita (cable car) that swings from a mile-long cable across 500-foot-deep gorges? You can go mountain biking, horseback riding, rent an ATV or dirt bike, or just kick back in one of the many spas offering massages, facials, and more.
Watersports are popular, too, of course. Kayaking, whitewater rafting, and more can all be enjoyed within just a few miles of Baños. The town, considered one of the safest in Ecuador, is also known as the "Gateway to the Amazon." Just 30 miles downhill from Baños is the town of Puyo, the country's largest jungle town. Puyo sits on the banks of the Puyo River, which eventually dumps into the vast Amazon River.
Still, for all its near-perfect, year-round weather (temperatures average 55 F at night up to about 80 F during the day) and wealth of activities and attractions, Baños is not high on the radar for expats looking for retirement destinations.
All the attributes, in fact, that make Ecuador an attractive retirement destination can be found in Baños. The cost of living is low…a couple can live comfortably just about anywhere in Ecuador on $1,500 to $2,000 a month. The average furnished rental costs $300 to $500 a month.
A local mercado (farmers' market) just two blocks from the basilica is open every day. There you can find all the fresh local produce you might want, and at a fraction of the price you'll pay in the States, where it's all imported, of course.
Free Ecuador Report:
Learn more about Ecuador and other countries in our daily postcard e-letter.
Simply enter your email address below and we'll send you a FREE REPORT – Ecuador: Live Like Royalty on Your Social Security.
This special guide covers real estate, retirement and more in Ecuador and is yours free when you sign up for our postcards below.
Get Your Free Report Here