When you ask folks who live on an island what drew them to life on a curio of clay, they tend to respond by saying things like, "I can live simply without much interference." Or "Here I'm part of a community that's like a big small town."
Or they simply look at you in flip-flop-clad incredulity and ask, "Have you seen my view?"
Islands are places where the stars shine bright at night. Out in the ocean, a profound quiet exists (no traffic jams, hassled commuters, sirens). And because not everything is always so easy to get on an island, one tends to care less about "getting" at all. Life really does become simpler.
That stretch of water that separates an island from the mainland is nature's moat. It keeps these places special…apart. Maybe that's why so many islands seem to attract artists and writers…
For all the common fundamental appeal though, islands come in many shapes and sizes. Some are of the sandy variety—where hammocks hang low between palms and you can dive out on a nearby coral reef. Others are of the wild Atlantic sort—where green-topped cliffs overlook a swelling sea.
Here we've hand-picked seven islands, scattered around the globe. All are locales where, expats report, you can find privacy, peace, a simpler way of life, and strong communities.
Islands woo you with their charms. We heard it again and again: "I came for a week's vacation…five years ago." As they say on the island of Roatan, the number one lie told is, "I'm leaving tomorrow."
Roatan, Honduras: Quintessential Caribbean and Rolling Hills
By Jennifer Stevens
"On some famous islands, if your camera aims inland from the beach, you see flat desert—complete with cactus," says expat Joel Moskowitz. "But Roatan has green, rolling hills, tropical beaches, multi-blue waters, all surrounded by world-class coral reef."
Long a sleepy emerald escape in the western Caribbean, Roatan has quietly graduated from secret divers' getaway to livable island haven. Just 50 square miles, this dollop of sand off Honduras' northern coast is long and skinny, fringed by a reef rich with sea life and garnished by white sand beaches.
Though more than half a million cruise-ship passengers are expected to land on Roatan this year, save for the days they invade, the beaches remain quiet and pristine. Life is laid back, lived in rhythm with the sun and the surf. No big-name resorts. No "spring break" strips. No high-rise developments. This is old-school Caribbean…though fitted out with modern conveniences…
"I'm an American so I was raised with certain luxuries," says Amanda Walkins. "Living in Roatan allows me to indulge those. I don't have to search far and wide for a great restaurant with quality food—the options are plentiful here. I also appreciate my work life—I'm not cooped up in a high-rise office. My meetings are conducted on the dock with an ice-cold beverage in hand.
"I still maintain the American-style ethic of hard work, but my view is of the ocean and my clients are on an island so they're always smiling. Can't beat that!"
Here, 35 miles off the coast of Northern Honduras, English is widely spoken. That, along with an established expat community, makes it a relatively easy place to settle in. "A trip to the supermarket is a social occasion," says Moskowitz. "It's like small town America in the 1930's."
Peggy Stranges, an American who founded and directs the island's Clinica Esperanza, says, "Every day I wake up and look at the tranquil water and thank God that I have such an opportunity as this.The lifestyle here is much more relaxed and slower paced."
Rhode Islander Asa Davis owns a vacation rental on Roatan, Casa Vista Verde, which he enjoys about eight weeks a year and rents out the rest of the time. He says he chose the island because, "Roatan had the perfect combination of great diving, hospitable environment for new business and investment, reasonable real estate and construction costs, and friendly locals who like and appreciate visitors."
Life on an island is often more expensive than mainland living—almost everything has to be imported, after all. But relative to the rest of the Caribbean, Roatan offers excellent value.
Expats report that a couple can live comfortably (with the occasional dinner out and with a housekeeper to tidy up once a week) for $3,000 to $4,000 a month, rent included. (You'll want to budget anywhere from $600 a month for rent on a one-or two-bedroom apartment near the beach to $1,000 or more for a house.)
It's a good time to buy. Roatan's property market is dependent on the health of the U.S. economy and post-bust it ground to a halt on the island, just as it did Stateside. But real estate agents report that in the second half of this year, interest is up significantly and properties are moving. Distressed-deal bargains continue to pop up—though they're snatched up quickly by Roatan-lovers who have been lying in wait.
Right now a 997-square-foot, one-bedroom, one-bathroom condo with a gorgeous water view, pool and private beach, a short walk to popular West Bay Beach (where there are restaurants and resorts) lists for a modest $155,900. And you could pick up a small lot in a high-end development for just $35,900.
A lavish 11,000-square-foot, five-bedroom, five-and-a-half-bathroom villa in one of the island's premier developments offers great water views as well as a pool and landscaped gardens. List price: $899,900. See here for more options.
Bottom line: Roatan is great for good-value, laid-back living in the sun. Culture vultures will get bored. But if you like to dive, snorkel, swing in a hammock or sit with your feet in the sand, you'll want to linger.
Koh Lanta, Thailand: Wild Jungles and Uncrowded Beaches
By Jason Gaspero
Imagine waking up, walking out your front door, and gazing at towering green mountains cloaked in super-dense, dark-green virgin rainforest. Your "backyard" teems with exotic wildlife.
Drive just several minutes from home and you find some of the world's most spectacular beaches. Beaches that—somehow—stay remarkably uncrowded.
You also have world-class diving, fishing, swimming, and snorkeling. Spend the day catching a 50-pound salt-water barracuda, grill it on your barbeque, and eat it for dinner with friends just a few hours later. Go diving with 45-foot whale sharks, the largest fish in the world. Swim in the aquamarine-colored seas, which stay at a near-perfect 84 F year-round. And to top it off, enjoy attractive real estate opportunities.
I'm talking about the island of Koh Lanta, in southern Thailand. Located in the Andaman Sea about 37 miles south of Krabi Town, laid-back Koh Lanta has somehow avoided the mass commercialization that's hit other expat havens in Thailand.
Make no mistake. This is no Phuket, Phi Phi, or Samui. Come to Koh Lanta and you won't encounter masses of drunken backpackers, see any McDonalds or Pizza Huts.
Here, it's all about a casual lifestyle: chilling on the beach, trekking in the jungle, dining on world-class cuisine (or cooking your own), and relaxing with friends.
Koh Lanta is definitely pricier than other popular expat havens in Thailand. But you can still live well here for much less than you'd pay in North America.
Koh Lanta is actually several islands. Koh Lanta Yai or "Big Lanta Island" is where most of the expats, locals, and visitors stay.
For rentals, you can find deals like a one-bedroom, ocean-view apartment with air conditioning, cable TV, a water boiler, a refrigerator, hot and cold water, kitchenware, and a terrace for $767 a month during high season (December to April). Rent a studio ocean-view apartment with all the same amenities during low season (May to November) and that price drops in half.
If you'd rather rent a house or a villa, a two-bedroom oceanfront villa can cost you as little as $575 a month.
It's not just the lower cost of living that attracts expats to Koh Lanta. It's also the much quieter Thai island lifestyle. "It's always pretty chilled out here," says British expat Ben. "But that's why people like it. They don't want the masses you'll find in Phuket. They want truly unspoiled beaches."
Most of the expats in Koh Lanta's sizable expat community come from Sweden, the UK, and France and already speak English well.
Head to Koh Lanta's main town and you'll find just about any modern amenity you want. There's a modern hospital, English-speaking doctors and dentists, a gym, a driving range, a home-improvement store, a laundry delivery service, computer repair and mobile phone shops, and many more amenities.
Koh Lanta's many restaurants offer plenty of choice for cheap and tasty cooking. Try some superb local Thai cuisine at Kwan's Cookery in Klong Khong beach…or some out-of-this-world Pad Thai at Phad Thai Rock 'n' Roll in secluded Kantiang Bay. If you feel like eating at home, you can shop for groceries at Koh Lanta's bustling, astoundingly-cheap outdoor market.
Here you can easily buy enough fresh seafood, meat, fruit, vegetables, herbs, spices, and sauces to feed four people or more for dinner for under $10. Koh Lanta's "Lanta Mart" offers imported groceries at fairly reasonable prices.
And if you need a fix of modern city living? No problem. Just take the ferry to the bustling international hot-spot of Phuket. It's just a few hours away. (Make sure to bring your camera. The ride there and back on the ferry is gorgeous.)
Caye Caulker, Belize: Life is all About the Water
By Glynna Prentice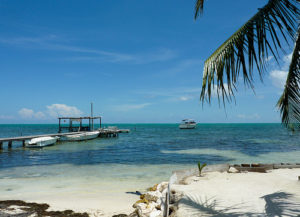 If you want to "get away from it all," tropical-island style, there may be no place better in Belize to do it than Caye Caulker. This five-mile-long island—only half of which is really inhabited—sits in dream-worthy, turquoise Caribbean waters. Its three main streets (imaginatively named Front, Middle, and Back) are packed sand. And the main modes of transportation are by bicycle and on foot (preferably barefoot).
Here, life is all about the water. You can see the Caribbean from almost every place on the island, the sun glinting off the waves. Walk barefoot on the white-sand beaches, the sand squishing between your toes. Paddle off the Split, the channel separating the north and south halves of the island, enjoying a cold one at the Lazy Lizard between swims. And, in the evening, tuck into a fresh-fish or rock-lobster dinner at island restaurants like Habaneros or Rose's Bar & Grill.
Boats rock at anchor all around the island, and they get regular use. The blue Caribbean waters just beg to be sailed…and the Chinchorro Reef, the second-largest barrier reef in the world, sits just a mile offshore. For $25 you can spend the morning snorkeling along the reef with an experienced guide, floating above gnarled coral formations and gliding past sea vegetation that waves gently in the current.
If you prefer scuba diving, you can sign up for tours along the reef, to the Blue Hole, and to marine preserves. They're all within a few hours or less away.
With its laid-back style, Caye Caulker gets its share of young, active tourists. But it appeals to older expats, too. They come for its simple lifestyle, stunning views, and for still-affordable seaside real estate. Prices on Caye Caulker are rising fast, especially on the already-developed southern half. But there are still bargains to be found. What about a small one-bedroom, one-bath condo with a rooftop terrace and sunset views for $150,000? There's one for sale now. Looking for a business? A lot with four cabanas, used for vacation rentals, is on offer for just under $190,000.
There are a few single-family homes for sale. One near the southern end of the island, just a few minutes' walk from the Caribbean, is a two-story, three-bedroom home with wraparound verandahs and lovely wooden floors. It's for sale for $355,000. But many people prefer to buy lots and build their own home. You can find lots starting for as little as $30,000.
And though Caye Caulker revels in its no-shirt, no-shoes lifestyle, you're hardly a castaway here… Ambergris Caye, with its First-World goodies, is only a half-hour boat ride away. An eight-minute flight on one of Belize's tiny commuter planes gets you from Caye Caulker to Belize City, with its international airport and connections around the world.
Corn Islands: Nicaragua's English-Speaking Caribbean
By Suzan Haskins
If you missed your chance to visit Belize's Ambergris Caye 30 years ago…or Honduras' Roatan Island 25 years ago…you might want to check out Nicaragua's Corn Islands right now. This is truly a spot for pioneering castaways.
White sands with gently swaying palms…impossibly blue waters…a healthy reef for scuba diving, snorkeling, fishing, and lobstering…Friendly locals who speak English as their official language. And very few tourists.
That's what you'll find (or won't find) on these two little dots of paradise just 50 miles off Nicaragua's Caribbean coast. Big Corn—about four square miles in size and with maybe 6,000 inhabitants—is just 10 miles (or a wild 30-minute boat ride) from Little Corn, one-fourth the size of Big Corn in both land mass and population.
No one is quite sure how they came to be called the "Corn Islands."
Some say pirates and British buccaneers, who came here to restock supplies during the 17th and 18th centuries, misspelled the Spanish word for meat, carne. Others say the islands are named for the corn those swashbucklers found growing here.
It may actually be more apt to call these the "Lobster Islands," since lobstering is the main industry. As one of only a handful of expats living on Big Corn told me, "We eat lobster with eggs for breakfast, we have lobster with pasta, with rice, with fruit…We experiment with lobster in just about every dish you can imagine."
To move the bounty of fresh lobster directly to market in Miami, the airstrip on Big Corn is now being lengthened to accommodate international flights. And to comply with associated regulations, improvements to the local hospital are also underway. Will these upgrades also bring more tourists and more development? Probably. The Corn Islands aren't for everyone. Supplies that aren't locally grown or pulled from the waters must be shipped in. With small exception, restaurants all tend to serve variations of the same dishes.
There are hotels and guesthouses, but beyond that, you won't find souvenir shops or many tourist businesses at all. Not even coffee shops or Internet cafés. (And Internet won't be what you are used to at home.)
On Little Corn, there are no roads, just a three-foot-wide sandy walkway…so no vehicles allowed—although a new upscale eco-resort is in the works.
If, though, you're the adventuresome sort…and the pioneering sort, as a few hearty expats who've gone before you are…my advice is to go sooner rather than later. Prices are low—a quarter–acre lot with a million-dollar view of the Caribbean can be had for just $35,000.
Waiheke Island, New Zealand: Art, Vineyards and Food
By Steenie Harvey
Escape-to-paradise islands with white sandy beaches and sparkling bays full of yachts exist all over the world. But relatively few also have bush walks, boutique vineyards, gourmet dining, olive groves, and artists' studios.
Combining unspoiled beauty with sophistication, New Zealand's Waiheke Island is one of those charmed places blessed with everything, including a sub-tropical micro-climate. Although the island is only a 35-minute ferry ride from Auckland, New Zealand's largest city, its sheltered position in Hauraki Gulf delivers far more sunshine and much less rain.
The climate is perfect for small producers. Along with wines and olive oils, gastronomic treasures include oysters, chutneys, sheep's milk yogurt and honey. Locally-produced brioche and pastries can match those you'd find in French boulangeries. If you're here in November, you won't want to miss the Olive & Artisan Food Festival.
Twelve miles long, Waiheke is home to around 8,000 permanent residents, including a fair sprinkling of artists, sculptors, and writers. But it's also a beach-and-water-sport vacation island, and there's a large number of baches (Kiwi holiday homes). The population can swell to over 30,000 in summer.
Ferries dock at Matiata Bay, on the west of the island. Buses go from here to Oneroa, its main settlement. With lots of craft outlets, art galleries, places to eat and drink, a theater/cinema, and essential services, the village looks down on a white beach with views of the Coromandel Peninsula in the distance.
Along the north coast, picturesque coves and inlets include Little Oneroa and Palm Beach. With a long sandy beach perfect for watersports, and a good choice of cafés and restaurants, Onetangi village is a popular vacation spot, especially for surfers and sea kayakers. Once a year, its two miles of firm white sand become Waiheke's race course, with horse racing up and down the beach. On the south of the island, Surfdale village is a favorite with windsurfers.
Inland, lush valleys are the setting for rural retreats and around 30 wineries, a number of which have restaurants. Although New Zealand is often associated with Sauvignons and Chardonnays, Waiheke is noted for its Bordeaux-style reds.
The only real drawback here is that real estate is expensive. Even if you're not in the market for a multi-million dollar villa or mansion, you need fairly deep pockets to buy a piece of paradise.
For example, a two-bedroom weatherboard house with 924 square feet of living space and a small garden, not far from Onetangi's beach and shops, lists for NZ$465,000 (US$366,600). See here for more details.
But it's always fun to dream. Looking over Wakanewha Bay on the south of the island, NZ$5,395,000 (US$4.235 million) is sought for a four-bedroom "waterside lifestyle property."
Along with private wharf access, this beachside-retreat home has a thousand olive trees on 23 acres, a helipad, separate guest accommodation, and an outside dance floor. Find out more here.
Renting is an option, too. Listed on Trademe.co.nz through a private landlord, NZ$295 (US$232) per week rents a fully-furnished, one-bedroom cottage/chalet with views over Palm Beach…just a five-minute walk away. It has a wrap-around deck where you can enjoy a glass of wine and watch the sunset over the water. It's available for six months (July to December) but shorter terms can be negotiated. As it's on a bus route to the Auckland ferry, a car isn't necessary. For vacation rentals and further information, see here.
Langkawi, Malaysia: Nature on 99 Islands
By Frances Wilks
Langkawi, just off Malaysia's northwest coast, is blessed with a tropical climate and spectacular scenery. But savvy expats have long known that it's also is an amazing place to make their home.
"It's a very active, outdoor lifestyle," says Chad Withers, a San Franciscan who has lived here for the past five years. "I can hike up to the Seven Waterfalls in the morning, sail to an uninhabited island in the afternoon, and eat dinner in a five-star restaurant or a simple hawker's stall." The price for a five-star meal runs around $50 a head, and only $2 or $3 at the hawker's stall.
Chad's fisherman's cottage is right on the beach, with romantic views of the myriad islands that make up the Langkawi archipelago. He pays around $300 a month and figures that electricity and Internet connection cost him another $100. As he's the owner of a web-based business, he can work from anywhere in the world and finds Langkawi a perfect base. "I use the international airport to fly pretty much any place, including Penang, if I want food and culture—it's only 25 minutes away. Yet I always love coming home to my island hideaway."
Langkawi, which lies in the turquoise waters of the Andaman Sea, is actually an archipelago of 99 islands, but almost everybody lives on the main island. Designated a Global Geopark by UNESCO, it has diverse and fascinating flora and fauna. The expat community is international, with expats from the U.S., U.K., Australia, and South Africa. Many of them are seasoned expats, retirees who've worked all over the world and who now want the thrill of a Robinson Crusoe-style island with modern comforts.
Buying a property is not easy in Langkawi, because much of the island is Malay Reserve, which prohibits foreigners from purchasing and. "This is good and bad," says Keith Nash, who has lived in Langkawi for a couple of years. "Although it's inconvenient, it does protect Langkawi from the uncontrolled development we see in many parts of the world—which would spoil its natural beauty. And that feeling of peace…of being able to walk through mangrove forests and look up and see a hornbill or a soaring eagle, is why most of us have settled here."
One option is to buy a condominium. Laguna Developments recently completed a low-rise block with panoramic sea views on one side and lush, green interior mountains on the other. Prices start at about $160,000 for a one-bedroom and rise to around $650,000 for a penthouse. As well as getting round the property purchase laws, a condo gives you all the amenities you need, such as a gym and a swimming pool.
Yet another alternative is to live on board a boat, as Langkawi has four beautiful marinas and mooring fees are cheap by world standards starting at $100 a month. As it's a duty-free island, both alcohol and cars are much cheaper than the rest of Malaysia. And with gas at around $4 a gallon—again, cheaper than much of Malaysia—it won't break the bank to take side trips to the hills of mainland Malaysia or explore the beaches of southern Thailand.
But you don't need to leave Langkawi to find world-class beaches, with endless expanses of pristine sand. As for my favorite beach? Well, I love the "Sandy Beach of Skulls" (Pantai Pasir Tengkorak in Malay), a little pirates' cove on the island's north shore, overlooking the mountains of southern Thailand. Take your own food and water—this is a local, not a tourist, beach. The sand is soft, the sea warm. And the extraordinary shapes and textures of the half-billion-year-old rock formations lining the cove create the atmosphere.
Aran Islands, Ireland: History and Romance on the Wild Atlantic Shore
By Eoin Bassett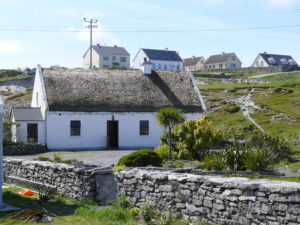 On a good day the Aran Islands are among the most beautiful and dramatic places in the world. Sunlight kindles vivid greens in the patchwork of fields and casts a spell on the swelling Atlantic. Sitting on the warm stone ramparts of a pre-historic fort you can gaze out over soaring cliffs toward the ocean, or look back on the dry-stone walls that crisscross the land. Like beads on a necklace in the sea, the three islands of Inismor, Inismaan and Inisheer get more good days than you might think.
Despite being nestled in Galway Bay off the west coast of Ireland, the islands are actually the most temperate spot in Britain and Ireland and have the longest growing season. You'll often see clouds pass over on their way to the mainland smug in the knowledge that you will stay dry. And even bad weather here has its attractions.
What better excuse to sit fireside in the local pub and sip on a Guinness while musicians play?
The islands are among the last true bastions of Gaelic Irish culture and tradition. Each year thousands of students come here to brush up on their native language, and if you want to speak the old tongue of the Celts, this is the best place to learn. The locals all speak it—along with English as a fluent second language.
Despite thousands of summer tourists the islands retain their character—each different from the other. The annual festivals of Inismaan are not those of Inismor for instance, and likewise even the flora and fauna is different on each. "Inis" means island and "mor" means "big." And the largest island, Inismor, is exactly that. At about 12 square miles it has a population of around 1,000, most of whom live near the main village of Kilronan where you'll find bars, restaurants and a medium-sized convenience store. Joe Watty's bar serves up meals of fresh lobster, crab, mussels and fish and there are vegetarian offerings, too. It's also the main location for live music, although you'll find music—especially traditional—in other places as well.
Inismor is home to half-a-dozen of the ancient stone forts the islands are famous for, and one of Ireland's tourist board images is the 4,000-year-old Dun Aengus perched on sheer cliffs on the southern shore. The northern shores are gentler and you'll find several sandy beaches there.
Inisheer (East Island or Rear Island) has a population of about 300. In the summer it gets around half the number of tourists as Inismor, and it's the nearest island to County Clare.
In some ways—despite being islands—the Arans are well placed to benefit from the best of Ireland's west coast. The Cliffs of Moher are clearly visible on the mainland. Ferries operate from March to October to the village of Doolin, which is only a few miles from the cliffs and a gateway to the Burren—the karst limestone landscape from which the Aran Islands broke away.
It takes an hour to reach Doolin by ferry and from there it's only 30 miles to Shannon International Airport and a flight stateside.
The busiest ferry route is to Rossaveal in County Galway. It runs all year-round and a shuttle bus runs from there to Galway
City costing $10 round-trip. Prefer to fly? Daily flights hop all three islands and leave from Inverin in Connemara—a 40-minute drive from Galway City. See here for more information.
Inismaan (literally "Middle Island") is perhaps the most intriguing of the three. Despite the fact that Inisheer is smaller, Inismaan has less people living on it—under 200 even in summer. But it does have a pub, a public library with free Internet, a school, and most recently, a hotel and restaurant.
You'll find a mix of international expats across the islands. Many are passing through, staying part-time to experience island life. When a U.S. Wall Street trader made his home on Inismaan for six months it made national Irish news. But that's ironic given that the islanders are an internationally-minded bunch well-used to strangers. For them he just fitted right in.
Adventurous folks, artists, painters, writers, and those trying to do something different, have long been attracted—and—accepted here. Good broadband Internet on the islands makes them an ideal base if you have a portable career. And the locals are keen for new blood to help bolster the population as young people leave in search of work.
Overlooking the harbor in Kilronan village is a two-bedroom furnished apartment renting for $897 a month, which you can see here. Also on Inismor, about eight miles from the village is a property on a half-acre site for sale for $158,000. It consists of two cottages, one old and in need of some work, the other an attractive modern building. On Inisheer there's a modern three-bedroom bungalow for sale. Price: $184,607. See here for more listings.
There are other ways to try out the islands that will cost you less. In exchange for helping out at meal times in one if Inismor's Irish colleges you can get bed and board with the family running the school. See Workaway for more information. And if you're green fingered than An Charraig is an organic vegetable growing and marketing project seeking volunteers through Wwoof.com.
Based in a thatched cottage you'll farm the land as locals have done for centuries. See An Charraig's website to find out more.

Related Island Articles
5 Best Caribbean Islands to Live On… and 2 to Avoid
Everything You Need to Know About Roatán
Ambergris Caye