Boquete is the premier expat and retiree destination in the highlands of Panama. The name applies to both the small hamlet resting in an ancient volcanic formation and to the larger surrounding district, home to about 25,000 residents. It's located in Chiriquí Province in western Panama, not far from the border with Costa Rica, on the eastern-facing side of Volcan Barú, Panama's highest peak (11,400 feet) and only volcano.
The town's elevation of about 3,500 feet provides fresh weather all year, with residents describing it as "eternal springtime." Daytime temperatures range from 75 F to 85 F and at night it cools to 60 F to 70 F. It's a place that's not too hot, not too cold…not too rainy, not too dry.
Boquete's stunning natural beauty is another reason expats love living here. The warm sunshine, abundant rainfall, and rich soil make this region super lush and fertile.
There's tremendous variety in the foliage, from eucalyptus to pine trees and bougainvillea to poinsettias. No wonder it's known as Panama's breadbasket, with coffee plants amongst banana stalks and orange groves alongside onion fields.
But it's the outstanding community and affordable cost of living that keeps people in Boquete. An eclectic bunch of expats calls Boquete home and I've been pleased to see the town evolving into a haven for foodies, craftspeople, and seekers and practitioners of alternative healing. The expats here are active and engaged locally, involved with civic groups, clubs and volunteer opportunities galore.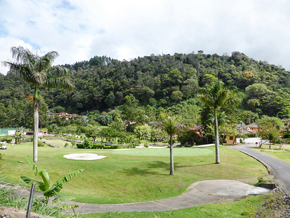 And despite its popularity, you won't have to spend big to live here. A couple living in Boquete can manage comfortably on $1,500 a month. You'll find low utility costs, no heating or A/C bills, affordable medical care and insurance coverage, and the good-value real estate to go with it. You can rent a furnished two-bedroom home for as little as $700 a month. Within walking distance of downtown Boquete, I recently found a three-bedroom, two-bathroom condo for $185,000 in a great location. The large, well-appointed property has a popular restaurant that sits alongside a stream, and the view from the condo's balcony is lovely.
You'll have plenty of options for dining out at a range of prices too. You can get a hearty and tasty lunch at a small locally owned café for under $4 or if you want to splash out, a three-course, chef-prepared meal at an upscale restaurant will cost you around $30 (not including wine).
Besides the many restaurants offering a choice of international cuisine, you'll find hotels, B&Bs, hostels, and resort villas for short-term accommodation. Grocery, clothing and hardware stores, pharmacies, banks, bakeries, and other essentials line the streets of town. There's even a pretty central park with a lovely gazebo and big shade trees.
There are also plenty of outdoor activities all year round with numerous hiking trails through the Volcan Barú National Park, past waterfalls, and up to the summit of the mountain. White-water rafting, bird-watching, horseback riding and even a zipline through the canopy are close by.
All of those things are truly great…but what sets Boquete apart for me is the spirit of the community. There is so much going on here, with volunteer efforts and cultural events organized throughout the year. And I love the openness to different, creative, and out-of-the-ordinary ways of thinking that both expats and locals bring to this rural highland hamlet.
Get Your Free Panama Report Here:
Learn more about Panama and other countries in our daily postcard e-letter. Simply enter your email address below and we'll send you a FREE REPORT — Panama: First World Convenience at Third World Prices. 
This special guide covers insider advice on real estate, retirement and more in Panama. It's yours free when you sign up for our IL postcards below.
Get Your Free Report Here