"Before we left our home country to come here and start our business, I was caught between the nerves of making such a big move—and the excitement of the adventure we were setting out upon," explains Leigh Higgins, operator of Feast Thailand Food Tours. Now, one and a half years into the business, Leigh says she's gone from the determined "I can do this!" to the satisfied "I've proven I can do this"
These days, Leigh and her husband, Shane, feel they wake up in Paradise. That's how they perceive their new lives in the royal beach town of Hua Hin on Thailand's Gulf coast.
"We're five minutes' walk to the beach or the office. Our customers are relaxed, as they're on holidays and looking to learn, experience, and discover. Just perfect for what we offer," she says. "That makes it so much easier to go to work. And at the end of the day, we enjoy a walk on the beach with our dogs, and perhaps a cold drink as the sun sets."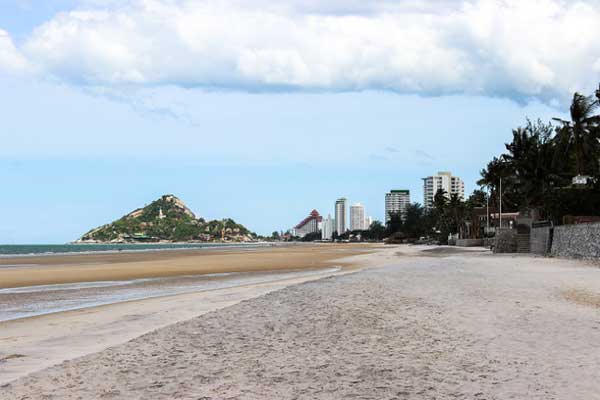 Leigh and Shane were both in their 50s when they started to think about their options for the next chapter of their lives. With a lot of life left to live, they wanted to spend their time and talents engaged in a business they felt passionate about. The idea for their business took root on a trip to Vietnam, seven years ago. The couple were on a food tour in Hoi An and, being lifelong foodies and frequent travelers to Asia, they had the idea to set up their own food tours.
They had always loved Asia and traveled extensively throughout the region—taking in Hong Kong, Malaysia, Laos, and Cambodia—but every second trip saw them going back to Thailand. This is where they felt a particular pull. The time they spent there had given them a good sense of the country, the food, and language—they felt comfortable there.
"I was still working for a company and had been for nearly 20 years. But not too long after that Vietnam trip the corporate circumstances changed, and it was time to move on. I found myself doing contract work—it paid the bills but was not overly stimulating or particularly challenging," says Leigh. Wanting to take back control of their lives, they made the decision: Thailand and a food tour business was to be their future.
After a three-month setup period, they ran their first tour in October 2016 and have added four more tours since then. Leigh and her staff introduce their guests to Thai Food in all its nuances. Whether that's at the morning wet markets, seeing and learning about exactly what the locals put into shopping baskets, or tasting first hand all the varieties of Thailand's famous street food, through to sampling the Kingdom's four distinctive regional cuisines. All must-dos for visiting foodies.
"We've developed a vast range of expats friends here," says Leigh. "They are so welcoming and go out of their way to involve and include new people. It's like we've found our own tribe."
The couple rent a comfortable two-bedroom house with space for their two dogs for $255 a month. All in, their utilities are $36 a month, so their cost of living is exceptionally low.
They've given themselves two years to have the business at a level that adequately supports them (right now they are partially supported by their savings), and they're pleased with how it's going.
"It's certainly been a challenging and liberating journey so far" is how Leigh summaries their Thailand adventure.
Related Articles
Phuket, Thailand: Retiring, Lifestyle and Cost of Living Information
The 5 Best Places for Expats to live in Thailand