Most evenings Sharon and Frank Moorhead can be found leisurely sipping sundowners and enjoying the sunset from their penthouse balcony. Theirs is one of the most scenic views on the tropical island of Penang. Across the sea on the mainland is Gunung Jerai, or Kedah Peak, the highest hill station in the state of Kedah. To their right, beautiful beaches stretch all the way into George Town, Penang's bustling capital. And in the sleepy Malay village nestled directly below them, life continues as it has done for the last 300 years.
Sharon and Frank bought their 2,000-square-foot, three-bedroom, three-bathroom penthouse condo for just $200,000 in 2006.
Back in Edmonton, Canada, Frank had his own building company and Sharon was a busy physiotherapist. Like most people, their lives revolved around their family and their jobs. But "Edmonton is a bitterly cold place in winter, and the truth is the winters were killing us," Frank says. "Sharon has arthritis and, when push came to shove, the thought of spending our years retired there was horrible. We'd been traveling to Malaysia and Thailand for a few years and we liked what we saw. The people were super friendly, they genuinely liked North Americans, and the thought of spending at least seven months of the year in the tropics appealed."
After several years researching property and the different countries that were on offer, they instinctively knew that Malaysia was where they wanted to settle. Its moderate tropical climate, low cost of living, and the people's welcoming attitude to foreigners were all factors that gave Malaysia the edge.
Frank plays table tennis three times a week, sometimes at the Penang Swimming Club, a five-star facility that they joined just after arriving, and sometimes at a local school hall, where he is the only Caucasian player. "The Chinese are good—they whip my butt most days—but you learn a lot from them. One day I'll be whipping theirs."
Frank also bought a Vespa scooter, something that he had wanted to do for years, and managed to persuade a few friends of his to do the same. Once a week they make a day of it and tour the island, stopping at their favorite cafés along the way.
Sharon joined the IWA, the International Women's Association, which is active in the charity field. She also took up beading, belly dancing, and samba dancing. "Penang is a great place for extracurricular activities, and when you have mastered one, there is always something else to take up. I just started playing Scrabble with a group of 10 ladies on a Monday afternoon, and there is another group that plays mahjong on Friday afternoons."
As with most of Penang's 10,000-strong expat community, the couple finds staying in is the hard thing, and most evenings they are out with their many friends, both local and expat. In fact, eating out locally is so cheap that Frank and Sharon regularly dine out. A local dish that might include a pound of prawns, savory chicken, buttered fish, and fresh vegetables, costs as little as $15 for two. "We own our own apartment, so our monthly costs are low, maybe $1,000 a month, and that figure is dictated by the amount of alcohol we consume," Frank laughs. "Sometimes it's more, sometimes it's less."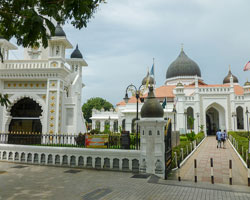 Utilities cost little in Malaysia. "Electricity is our biggest expense, and that runs about $80 a month," says Frank. "We sleep with the A/C on in the bedroom at night, and I often use it when I'm working in my office. Gas for the cooker? Well, we eat out almost every night and I've had the same gas canister in the kitchen for eight months now, so what's that average at? Maybe $1 every six months." People who eat in most nights don't spend that much more, and on average spend $3 every quarter.
"We've been going back to Canada for four months of the year, every year for the past six years, when spring and summer kick in, to see the family. It's a good contrast and I like the seasons. The family has been over here, too. But to be honest, next year we are only going back for three months, and we are talking about shortening that, too. We love our lifestyle in Penang and we often talk to each other about living the dream, and we are, you know. We never imagined that life here would be so good," says Frank.
FREE Report – The Best Islands, Beaches and Cities- South East Asia's Top 6 Retirement & Vacation Destinations
Simply provide your email below to receive the Free report. You'll also receive a free subscription to our International Living Postcards – a daily e-letter that explores living, traveling and investing in South East Asia and other exciting countries around the world.
Get Your Free Report Here
Related Articles
Penang Malaysia – Retirement, Cost of Living & Lifestyle Information