My husband and I own a spacious three-bedroom home just outside of a pretty mountain town. We also have a 75-acre farm with a small house and five horses. We don't owe anyone a penny and I support all of our family's needs by working just part-time. I never shovel snow, never turn on an air conditioner, and never ever worry about tornadoes, hurricanes, or blizzards.
If you had told me just five years ago that this would one day be my life, I would have laughed and said you're dreaming. But it turns out that dreams do sometimes come to fruition, just as this one did. And today I'm living my dream—in Ecuador's highlands.
If I had remained in the U.S., I never would have been able to afford this type of life. Yes, there are some cheap properties, but often in undesirable areas. And good pasture or farmland was well out of reach even when both my husband I worked full-time.
But Ecuador allows us to indulge in our passions due to several factors. First, the overall cost of living is much lower than that of the U.S. Grocery shopping for four people would often run $300 per week back home and that cost would rise considerably if I wanted to load up on fresh produce or stop in at Costco. Here in Ecuador, I spend around $300 per month and locally grown fruits and vegetables are some of the cheapest items available.
Because I live in the mountains, but yet on the equator, the climate here is just right. Average daytime temperatures stay between the mid-60s F to the low 70s F. A particularly chilly night will drop into the high 40s F. And the climate stays steady all year round. It's not perfect…sometimes I need to throw on a sweater or a raincoat…but I never need to spend money on heating or cooling my house and I don't need separate wardrobes for winter and summer.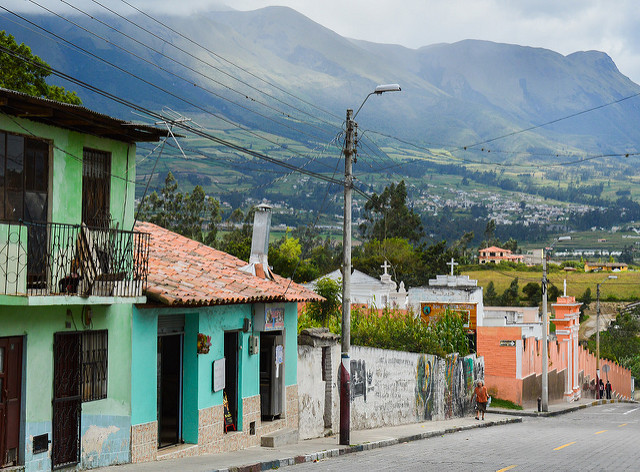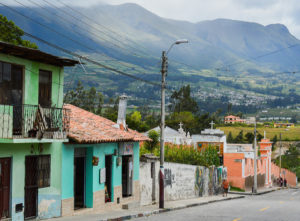 There are other cost savings as well, like the reliable and affordable public transportation (typical bus fares are just over $1 per hour of driving) and the low-cost healthcare (I pay $10 for a doctor's visit). Because I can live on so much less, Ecuador allows me the opportunity to spend my money on things that are important to me.
One thing I love is travel and I get plenty of opportunities to do just that. Last year my family and I bussed it up to Colombia where we were thrilled to observe the Carnival de Negros y Blancos in the city of Pasto. Last month three friends and I headed to other parts of Ecuador where we rode the Devil's Nose train, hiked three days on the Inca Trail, and visited ancient ruins at Ingapirca. I've also spent time in the Caribbean and Panama, and soon I'm off to explore Bolivia.
I also love being active, and Ecuador's mountains are the perfect playground. I hike several times per month with friends and not only does it keep me healthy, but it gives me the chance to see areas outside of the main roads. I've walked along cobalt blue lakes within volcanic calderas, along mountain trails so high that I was treated to a view of the Pacific Ocean far beyond, and through old-growth forests and seemingly endless blueberry patches.
Just because I'm living my dream right now doesn't mean that I've been extraordinarily lucky or that I have a lot of money. Be assured, neither of those is true. What I do have is the desire and ambition to make those dreams come true and living in Ecuador has allowed me to do so. If your dreams are anything like mine, Ecuador might be worth a look.
Get Your Free Ecuador Report Here:
Learn more about Ecuador and other countries in our daily postcard e-letter.
Simply enter your email address below and we'll send you a FREE REPORT – Ecuador: Live Like Royalty on Your Social Security.
This special guide covers real estate, retirement and more in Ecuador and is yours free when you sign up for our postcards below.

Get Your Free Report Here