I live a block away from a gorgeous, 200-year-old park in the colonial city of Querétaro in the colonial highlands of Mexico. My apartment is located in the city's centro historico, a UNESCO World Heritage site and the site of some of the most beautiful Spanish colonial architecture to be found anywhere, including a recently restored aqueduct from the early 1700s, made of pink quarry stone. The street plan in the center is basically the same as it was 400 years ago.
Life in this historic and culturally vibrant city is incredibly relaxed. I can live without a car…walking to the park with my dog or anywhere in the centro historico is a pleasure. I also love taking a book to an open-air restaurant and bar, watching the world go by as I read. The weather is glorious all year round, with daytime temperatures always falling between 65 F and 85 F, and the rain moderate when it occurs. Everyday living here is a pleasure.
Living in Querétaro, I manage perfectly well on about $1,000 a month. With a budget of $1,500 a month, I would have few limitations, and at $2,000 a month, I could live like a prince. Right now, I teach English freelance for a living but when I start receiving my Social Security checks in a few years time (I'm 57 years old), that will more than adequately cover my living expenses.
So what do I spend my money on? It breaks down like this:
Rent: I rent a furnished, one-bedroom apartment in the centro histórico, within easy walking distance of everything I need. The apartment costs me about $250 a month, and electricity, gas, and a building maintenance fee add another $50.
Transportation: If I can't walk somewhere, I'll take a bus or taxi. Querétaro's bus system is efficient and rides cost about 50 cents. I spend approximately $18 a month on transportation.
TV and Internet: I don't need cable TV, although I do have a TV set for watching DVDs. I don't need a landline and my smartphone is pay-as-you-go. I do pay $16 a month for reliable internet access.
Food and Groceries: I spend $400 a month on food (including restaurant meals) and groceries. I indulge myself with a few beers at home every night, but good beer only costs about 70 cents a bottle.
Laundry: I don't have a washer or dryer in my apartment, and prefer the convenience of sending my laundry out anyway. My laundry and dry cleaning come to $26 a month.
Medical: I am fortunate to be in good health. I do take some prescription medication that costs me $45 a month to buy in generic form.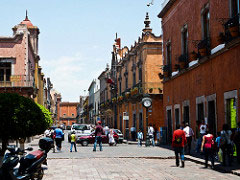 Other Bills: I spend $25 a month to maintain a UPS Store box so that I have a mailing address in the U.S. Then other miscellaneous expenses like Skype, bank charges, and a couple of subscription services I have total about $53 a month.
So you can see that it's easy for me to live in the heart of a fantastic city for just $1,000 a month.
You often hear that it is possible to live in certain countries for much less than it would cost to maintain a comparable lifestyle in the U.S. or Canada…and in my experience, that is certainly true in Mexico.
I sometimes wonder, why is anyone still north of the border?
Get Your Free Mexico Report Here:
Learn more about Mexico and other countries in our daily postcard e-letter. Simply enter your email address below and we'll send you a free special report – Why Millions of Americans Are Moving to Mexico.
This special guide covers real estate, retirement and more in Mexico and is yours free when you sign up for our postcards below.

Get Your Free Report Here