I'll be honest; Cuenca, Ecuador was not my number one retirement destination—it was Italy. My husband, Mark, and I lived there for six years in our 20s and 30s, our older son was born there, and it was the birthplace of Mark's grandparents. Yes, I married into one big, loud, happy Italian family.
It was the best of times—la dolce vita—a life of pleasure and simple luxuries. And what a life we had there…living in a villa on the Mediterranean…enjoying fresh fish and pasta every day…taking walks along the "lungomare" (seafront)…and watching spectacular sunsets from our terrazza every evening. I desperately wanted it all back when we retired at 55.
But then we discovered Cuenca, Ecuador while doing an Internet search for the best places in the world to retire. Mark made his first exploratory trip in February of 2010 without me. While he was there, he phoned me to say, "It's just like Italy." That was the beginning of my ongoing love affair with Cuenca and its terracotta rooftops, cobblestone streets, lush gardens and parks, magnificent churches, sidewalk cafés, and even fresh pasta.
After four years, I feel (and my husband will agree), we have the best of both worlds. I never imagined that life could be so sweet and every day when I wake up to the picturesque blue domes outside our bedroom window, I feel like I'm in Italy.
And right across the street from our condo is L'Appetito Pasticceria, a bakery where they serve free coffee and my favorite sweet Italian bread, panettone.
And if we happen to be in the center of Cuenca, we stop for lunch in the burgeoning "Little Italy" of Cuenca where a variety of Italian restaurants can be found. I particularly enjoy the brick-oven pizza and freshly made tortelloni at Salumeria Vecchia Modena, run by Massimo and Elisabeta (our new Italian friends).
Massimo makes all his own pasta, salsiccia (sausage), and gourmet desserts, while entertaining guests with his lively gestures—skipping from table to table—conversing in Italian. As soon as we enter the restaurant, we're greeted like family.
If someone had told me four years ago that I'd be enjoying "la dolce vita" in Cuenca, Ecuador I would have thought they were crazy…but the sweet life I imagined in Italy is my reality today—indulging in everyday luxuries without the Italian price tag.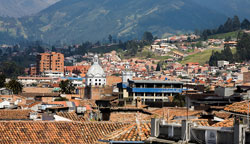 Mark and I can enjoy a meal for two with the finest homemade pasta, entrée, beverage, and dessert for less than $14. Then off we go to the market to buy a bouquet of roses for $2.50, a mani-pedi for me for $6, and—if we feel like it—to the thermal baths in Baños for a swim to burn off those carbs at Hosteria Duran for $3.10 per person.
Twenty years ago—in Italy—we lived on twice our monthly Cuenca income ($1,317), and it didn't include any pampering or luxuries. Obviously, there have been some trade-offs; we look out at the majestic Andes Mountains instead of the Mediterranean Sea. But I know in 30 minutes by plane or three-and-a-half hours by bus, I can be at the Pacific Ocean—soaking up the sun on white-sand beaches.
Once in a while, I think…maybe we should move to Italy. Then I think…Nah! That's when I hop on the #5 bus for 25 cents and head to the heart of Cuenca, to Salumeria Vecchia Modena, for some tiramisu (literally meaning "pick me up").
One bite and I say to myself, "What were you thinking? You've already got la dolce vita in Cuenca, Ecuador!
Get Your Free Ecuador Report Here:
Learn more about Ecuador and other countries in our daily postcard e-letter.
Simply enter your email address below and we'll send you a FREE REPORT – Ecuador: Live Like Royalty on Your Social Security.
This special guide covers real estate, retirement and more in Ecuador and is yours free when you sign up for our postcards below.
Get Your Free Report Here