Growing up in Miami, Florida, Stephen Nagy was surrounded by diverse cultures. He especially got to know Latin American culture. He kept up friendships with people around the world during his nearly 50 years working in the food industry. And, over the years, he found that he particularly liked Bolivians.
"All the Bolivians I have worked with stood out in my mind as exceptional in their politeness and kindness. So naturally, when I was approaching retirement age and looking at becoming an expat, Bolivia was among the first countries that came to mind."
He looked into all Bolivia's major cities before deciding on Sucre, known as Bolivia's "White City" for its white-washed, historic buildings. And over a year ago he traded his working-world stress for a new life there.
"This place is crazy; it blew away all my expectations, but in a good way. It's amazing," says Stephen. "The weather is always perfect. The atmosphere is tranquil and relaxed. People pay close attention to each other here. Their hearts are so big and the families are all so close. The young people are respectful and considerate, and always give up their seat on a bus to an elder."
"If you're making $1,000 a month, even as little as $8,000 a year, you can live like a king—more than comfortably," says Stephen of the low-cost retirement he's found in Sucre.
"I mean renting a nice place, shopping at the supermarkets for the foods you are used to, and enjoying eating out and entertainment. A single person who is more frugal can live on as little as $500 a month pretty easily. The beauty of this city and the warmth of the people only amplify the value."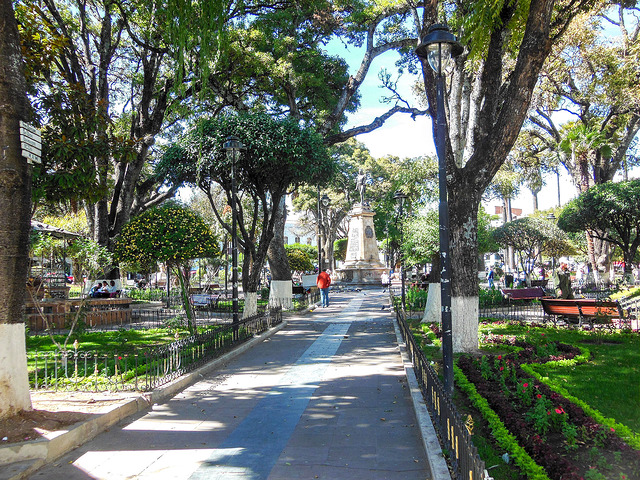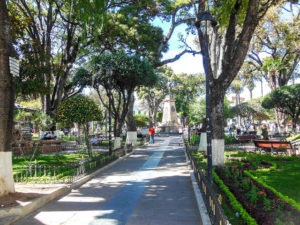 The one-bedroom apartment Stephen rents for $292 a month came fully furnished. His rent also includes cable TV, internet, hot water, cooking gas, and weekly maid service.
Food here is inexpensive, too. A dozen bananas in the market cost about 75 cents; one avocado is about 40 cents; 3.3 pounds of tomatoes are $1 and the same amount of onions is 50 cents. And grocery store goods and processed foods cost about one-third of typical U.S. prices.
Dining options aren't bad, either. You'll find eateries around every corner, ranging from wagon vendors with street food to five-star restaurants. "The food is good here," says Stephen.
"You can get a chorizo sandwich or hamburger that tastes great from a vendor for about 80 cents. There is a range of brick-and-mortar restaurants in town with interesting culinary choices. I like Casa de Artistas, which is also loved by the locals (a good indication of quality), where you can get massive amounts of food for only $4.50."
Stephen usually spends his mornings in his apartment, sipping on mountain-grown Bolivian coffee, writing content for books he plans to write, and checking the latest political uproar back home. In the afternoons, he ventures out into the beautiful city, which is lined with parks, plazas, and colonial architecture.
Sucre sits at around 9,220 feet in the Andes. This location creates a climate with mild, spring-like temperatures averaging 68 F to 72 F most of the year.
"It's amazing, being this high up with a mild temperature and watching the palm trees swinging in the gentle breeze. I had never heard of anything like this climate. When I used to live on the beach, I'd be desperate to cool down; the Gulf of Mexico got up to 82 F. For me the mild temperatures here are a welcome change."
South and Central American Countries (Generic)
Get Your Free South and Central American Countries Report Here:
Learn more about Bolivia and other countries in our daily postcard e-letter.
Simply enter your email address below and we'll also send you a FREE report: Live Life to a Latin beat…In Our Favorite South & Central American countries.
Get Your Free Report Here