My partner Damon and I recently challenged ourselves with the notion of a life where we could live more simply and affordably. We had come to realize that the ongoing race to keep up with the Joneses was not only tiring, but also never ending. The daily grind of commuting to and from work, and the hours spent working in a cubicle every day to help make someone else's life more comfortable and successful had reached its boiling point.
We attended an International Living conference in Las Vegas, and after a weekend of listening to the many successful stories of the speakers, we made the choice to sell everything we owned, (and I do mean everything). Gone was the house, the cars, all the "stuff."
Once freed from all our material possessions we set out for a life abroad to see if we could find a more peaceful, relaxing, and enjoyable way of life. Would we be able to live comfortably on a budget of $1,500 a month? We decided our adventure would start in the town of Nuevo Arenal, Costa Rica.
We have passed our third month of successfully living under the budgeted $1,500 a month, thus allowing us to add more money to our ever-growing savings account. The monthly rent for our two-bedroom, one-bathroom apartment is $550 a month, and that includes not only a stunning view of Lake Arenal, but all our utilities, cable TV (with many English-speaking channels), work-ing WiFi, and use of a washer and dryer. We'll spend about $150 to $200 on groceries, and we'll generally spend about $300 a month on eating out (we eat out a lot). We spend another $300 a month on entertainment and outdoor activities. We enjoy life just as much here as we did in the States, and all at a price that is far less than we were spending back home.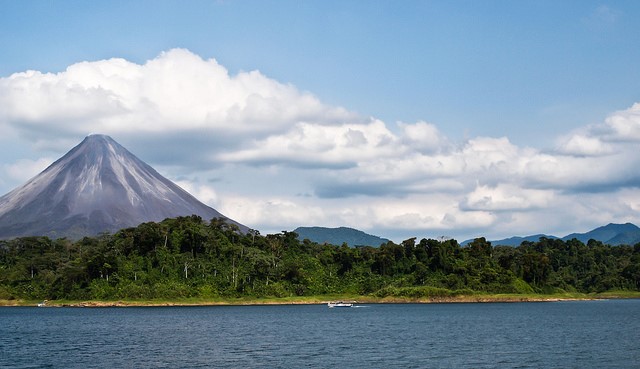 Then there's the attitude here in Costa Rica that the Ticos call Pura Vida. The term (pronounced POO-rah VEE-da), translates to mean "Pure Life." However, these two words have much more meaning throughout the Costa Rican culture. Pura Vida means that no matter how little or how much you have in life, we are all here together and life is short…so start living it.
Of course, Ticos live similar lives to the ones we did back in the States. They get ready for work, they drive in traffic, they deal with their work loads. But they do all this with an attitude that life is exactly what it is in that moment. They aren't worried about what lies ahead, and they certainly aren't dealing with something that's already behind them. We learned quickly that the stresses in life back home weren't something that existed here. The pace was immediately slowed down to an easier one. And boy were we ready for it.
Our daily schedule so far is a simple one. We generally wake up about 8 a.m. We like to sit out-side and have a moment of mediation and prepare for the day. From there we enjoy our breakfast of eggs and bacon, or sometimes banana pancakes. We go for a hike or visit one of the many nat-ural attractions. We generally have a lunch at one of the small hole-in-the-wall restaurants where we find the most delicious Costa Rican food. You can enjoy a casado which is a traditional Cos-ta Rican meal consisting of rice and beans, salad, fried plantain, and your choice of meat (usually fish, chicken, or pork) for about $4.
We'll usually spend the afternoons at home either writing on our blog or taking a nap from the day's activities. We spend the evening with friends over a dinner, or enjoy each other's company while reading. If going out to dinner is on your mind, you can eat at one of the local restaurants for under $10 for two people, or you can dine at a fancier restaurant where you can enjoy an ap-petizer, drinks, a delicious dinner for two, and dessert all for about $40 to $50 (This type of meal would have cost us close to $100 back home). We generally are off to bed by 11 p.m. and get the most relaxing sleep listening to the jungle noises outside our window.
This, my friends, is what Pura Vida is all about. Life's pretty short. Take the time to breath more, laugh more, relax more, and most importantly, travel more. It's a big world out there and its arms are open wide, waiting to share its abundant gifts with you.

Related Articles
Best Places to Live in Costa Rica: Five Top Expat Havens
---
The Countdown Is On! Discount Ends June 15
Right Now Is the Best Time in History to Start Earning as a Freelancer
If you crave the freedom and flexibility of a side income that allows you to earn when you want and play when you feel like it...we have a solution for you.
"Remote work" is here to stay, and we can show you how to capitalize on this trend and turn what you already know how to do into a side income online that can help fund a retirement that looks the way you want it to. Can you really afford to miss this?
Online Portable Income Masterclass
June 26-27, 2021
---