You're going to the World Cup in Brazil. Yay! But you won't be watching matches at Maracanã stadium the entire time. What else should you do? Sure, you'll want to visit Christ the Redeemer and Sugarloaf Mountain. But Rio de Janeiro has so much more to offer, and many activities are inexpensive or even free.
Here are some suggestions for other things to do—many of which you won't find in the guidebooks.
One of the first things to do is to find a map of Rio and get oriented. While Rio is a beautiful city, her geography is contorted, built as she is along the South Atlantic and Guanabara Bay, and around granite hills (called morros) and Tijuca Forest, one of the largest urban forests in the world.
You'll find excellent beaches in Copacabana, Ipanema, and Leblon. Begin your vacation by having a caipirinha on the beach. Caipirinha, which literally means "little cowboy," is the signature drink of Brazil. Made with cachaça (similar to strong white rum), sugar, and lime wedges, they are tasty…and cost about $3 at a beach kiosk. But limit yourself—this little cowboy packs a serious punch!
Biking, Hiking and Hang Gliding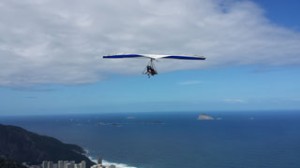 To see another side of Rio, hop over to the Lagoa neighborhood, which abuts both Copacabana and Ipanema. You can rent a bicycle (see below), peddle there, and then make a leisurely 4.5-mile circuit of Rodrigo de Freitas Lagoon. If you work up a thirst, stop and enjoy a chilled coconut for about $2.
If you find walking or biking too tame, you could scale Dois Irmãos (literally, Two Brothers), the twin peaks visible from Ipanema and Leblon beaches. The hike is challenging in spots, but the ascent only takes about an hour, and requires no special equipment, just sturdy shoes and a bit of determination. The climb is broken into three segments, so that you can rest periodically and take some truly awesome photographs.
To get there, take a taxi to the bus stop in Vidigal, which is a favela, but is pacified. From there, ascend to the trail head by van (about $1.10), or, if you are more adventurous, hop on the back of a motorcycle taxi (about $2.20) and get your adrenaline revved up for the ascent. Ask to go to the boca da trilha (mouth of the trail) by the football court. Many locals, myself included, believe that Dois Irmãos offers the best views of any venue in the city.
If you're an adrenaline junkie, you may want to try hang gliding from Pedra Bonita to land on Praia de Pepino in the upscale São Conrado neighborhood. The flights are 12 to 20 minutes, and you'll soar over some gorgeous homes and scenery—and maybe even get to take the control bar. Avoid weekends, when lines are long. Try to schedule for early afternoons, when warmer temperatures translate to longer rides. For pricing and scheduling, see here.
Where to Try the Local Fare
If you are a meat lover, try the local barbecue (called churrasco) at Porcão on Ipanema's Rua Barão de Torre, one of the swankiest streets in the city. It's pricey (figure $60 per person), but this is a meal you'll never forget. Here the churrasco is served rodízio style, which means an endless procession of waiters pass by your table, offering you various cuts of beef, pork, and chicken. When you just can't eat any more, flip over your coaster from green to red side up to stop the onslaught.
If you are a pizza lover, try the pizza rodízio at The Dock restaurant, right on Avenida Atlântica is Copacabana, not far from the Copa Palace Hotel. Here you'll pay about $15 and be treated to a wide array of pizzas, both "salty" and "sweet." I recommend the margarita and also the portuguesa, which is topped with a bit of everything, including boiled eggs. Finish off with a slice of chocolate pizza, just because.
Shop at the Bazaars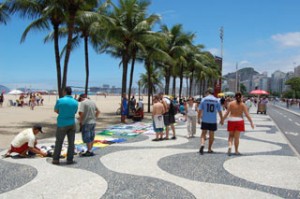 Near The Dock, stretched along the sidewalk, is Copa's night bazaar. Here at dozens of tents and kiosks you can browse for T-shirts, kangas (those colorful beach wraps), or other souvenirs to take home. You can bargain a little here. If you get 10% off, you've done OK. If you manage 20%, you're a pro.
If the night bazaar has whetted your appetite for shopping, you might want to explore Rio's version of a Turkish bazaar, the market at Uruguaiana. Here in a mix of fixed shops, kiosks, stalls, and pushcarts, you can find beachwear, tennis shoes, leather goods, small electronics items, and also a variety of street food. While the market can be a bit intimidating for some, it's safe in the daytime. To arrive, take the metro to Uruguaiana station. When you leave the station, the escalator will deposit you squarely in the middle of it all.
No visit to Rio would be complete without taking in some live music. A favorite with the locals is samba at Beco do Rato (literally, Rat Alley) in the Lapa neighborhood adjacent to downtown. It's easiest to arrive here by taxi. At this small restaurant/club, you'll find a few tables inside, but most folks simply stand outside enjoying the music and cold beers.
The Best Park in the City
Located in the Jardim Botanico neighborhood, Parque Lage is to me far superior to the better-known Botanical Gardens nearby—and there is no entrance fee at Parque Lage. Here, on the former estate of a business tycoon, you can wander shady trails and discover delightful nooks tucked away. There's even a castle turret stuck in the middle. Make your way to the top and relax by a burbling waterfall. If this exploration has made you hungry, you can enjoy a continental breakfast seated on cushions by a reflecting pool inside the old mansion for about $13. Truly one of Rio's best venues.
For a relaxing day, perhaps nothing is better than Sunday in Ipanema. Begin with the Hippie Fair at Praça General Osório. A Sunday staple since 1968, this outdoor fair fills an entire block. Much of what's on offer is the usual kitsch, but you can find quality original artworks and leather goods. You can also try some typical Brazilian snack foods.
As the sun moves higher, wind your way to Post 9 on Ipanema beach. This is where the beautiful people hang out. Rent an umbrella and a couple of chairs, and slather on the sunscreen; you'll be here awhile. While there, watch a game of futevolêi—volleyball played without hands and arms, if you can imagine such a thing. And not only can you openly drink beer on Rio's beaches, but vendors bring it right to you. Be sure to ask for it estupidamente gelada—"stupidly cold."
At the end of the day, meander down toward Post 7 to watch the sunset at Arpoador Rock. You'll probably find many folks already there, continuing a long-standing local tradition. (Arpoador Beach, tucked between big sisters Ipanema and Copacabana, is nice to visit in the daytime, too. I enjoy watching the surfistas and paddleball players.)
Before you Leave the City…
No one should leave Rio without spending an afternoon in the lovely bohemian hilltop neighborhood of Santa Teresa. At one time the chic neighborhood of Rio, Santa Teresa has again become popular. While there, be sure to visit Parque das Ruinas, the skeleton of an old mansion. Climb to the top for some panoramic views, from downtown to Guanabara Bay to Zona Sul. For $2, you can tour the art museum next door. Finish off with lunch at any of the restaurants near Largo de Guimarães. Be sure to wear comfy shoes, as you'll be walking uphill and down.
Simple pleasures, as the saying goes, are the best. So I suggest that you enjoy a beer with the locals at a boteco—a neighborhood pub. You won't have to look far to find one. In a custom I love, beers here are shared. A 600-ml bottle is dispensed into small cups, and everyone touches cups with everyone else at the table before imbibing. So raise your cup, look the person across from you squarely in the eyes, and toast the soccer team of your choice!
Getting Around Rio
Taxis: Licensed yellow taxis are everywhere, and are reasonably priced compared to most cities. Make sure the driver charges according to the meter. "Special prices" are invariably inflated. Note the taxis are not supposed to stop for pick up/drop off in the bus lanes, so you may need to cross the street.
Buses: Buses are numbered 1, 2, or 3, and stop only at bus stops with the corresponding number. You may need to walk to the next stop to catch the bus you need. For more information, see here, or simply ask a local. Cariocas love to help tourists.
Bike rental: While you can rent bikes by the side of the lagoon, you'll typically pay higher prices. Instead, try Bike & Lazer in Ipanema near Praça General Osório or Special Bike at 458 Rua Barata Ribeiro in Copacabana.
Editor's Note: Learn more about Brazil and other countries in our daily postcard e-letter.
Simply enter your email address below and we'll send you a FREE REPORT- The World's Best Beachfront at an Affordable Price in Brazil.
This special guide covers real estate, retirement and more in Brazil and is yours free when you sign up for our postcards below. (We value your privacy. You can unsubscribe at any time.)
Get Your Free Report Here