Last November I turned 10 years old as a travel photographer (in human years I am now 55). Before that, I practiced law for almost 20 years. I changed careers about 20 years before I intended to, but being a full-time travel photographer has been a fulfilling experience; I no longer think of myself as a lawyer.
Travel photography allows me to interact at a deeper level with the places I visit. I am always looking at the light falling on an architectural subject…at the color of a door…or reflections of a pond. Through the taking of pictures I learn about a place's culture, architecture, people, food, and landscapes—plus I make a nice income licensing my pictures to travel publications.
I am curious by nature, so before embarking on a trip I do quite a bit of research on the location I am visiting and the subjects I would like to photograph. I find this enhances my experience greatly. I am the guy on the plane with binders and books with colored tabs sticking out of their sides (not the one furiously reading a guidebook before landing).
As I became a more proficient photographer, other avenues of income developed: I began teaching photography classes and workshops…and magazines started hiring me for assignments.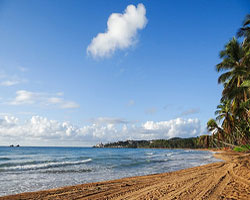 Assignment work can be challenging because you have to get the shot. On the other hand, it also means someone other than your mom believes you are a good photographer.
I find this kind of photography very rewarding since I get to collaborate with magazine "creatives", and I get to meet interesting people and learn about things I never knew existed. Some of my most unique assignments include photographing a series of "muffler men"; taking photos of Orbit, the mascot of a baseball team (basically a man in an orange fur suit); and illustrating a behind-the-scenes story about a world-class opera company.
My most challenging and rewarding assignment, however, came a few years ago when I spent six weeks in Puerto Rico photographing everything from beaches to food to people for a travel guidebook.
The Puerto Rico assignment not only netted almost $8,000 in income, but I have made that amount and more from licensing the out-takes (pictures not selected for the guidebook) to other travel publications.
I find teaching almost as enjoyable as photographing. In the U.S. I have taught photography in Boston, Chicago, San Francisco, Santa Fe, and other cities…but I've also visited such diverse locations as the Taj Mahal in India, the Jemaa el Fna square in Marrakech, and the Keukenhof Gardens in Holland.
Editor's Note: If you'd like to learn more about ways you can pay for your life or travels overseas, sign up for Fund Your Life Overseas, a free e-letter from International Living. Sign up here and we'll send you a FREE REPORT: Fund Your New Life Overseas With These 6 Portable Careers.