If you're ready to move overseas…with all the promise it holds of warm weather, being your own boss, and working just a few hours a day…but the prospect of actually packing up your worldly goods and getting on that plane sounds intimidating, let me tell you something. You have a sister.
Being able to earn as I travel is a great bonus of being self-employed. But…oh, help me…it can be difficult to organize everything before you go for an extended excursion…let alone a new life and business. And at this point in the proceedings it would be all too easy to give up, sink back into your sofa, and stay put. But that's hardly the spirit of adventure, is it?
Take heart. There's a reason why you want to go in the first place, and it's important to hold that dream in sight. Here are a few things you can do that will help you stay on track.
Maintain your momentum. My dictionary says it's impetus gained by movement. Every endeavor begins as a body at rest. It's up to us to apply the momentum to get it in motion. Exercise your entrepreneurial muscles. Start a small profit center or two before you go. Or create a project and come up with a new way to fund it. Experiment. The real enemy of success isn't failure. It's inertia.
Momentum is fueled by passion. It's extremely difficult, to make things happen if you're lukewarm about doing so. Entrepreneurs are often driven by the passion for freedom, creativity, curiosity, independence, the opportunity to serve others, personal growth, and adventure. See how Arlene Gibbs' passion for interior design helped her create a new business in Italy in the current issue of Incomes Abroad.
Make a genuine commitment. Genuine commitment says, "This is what I'm going to do and keep doing until I succeed." Keeping the end result in mind can carry you through the boring parts—like applying for a business license or finding a shipper for your household goods.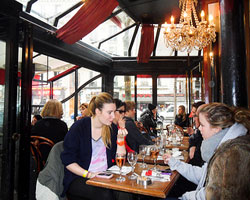 Put obstacles into perspective. Why didn't someone tell us, in a positive way, that life is an ongoing problem-solving exercise. And if we embrace it with enthusiasm and solve the problems in front of us, we're on our way to upgrading to a better class of problems? When Eric and Stephanie Slater were overwhelmed with orders in their Nicaraguan brick-oven bakery, they came up with the idea of franchising the concept rather than taking on too much work. You can read their story in full in this issue of Incomes Abroad.
Stay focused on the ultimate rewards. Letting yourself be pulled ahead by your vision can create a huge amount of momentum. Pictures, inspiring words, and other representations of your final results can keep your mind paying attention to the right things. Visualize your new business. Give it a name…see in your mind's eye how you will present it or decorate it.
And in the midst of all that has to be done before you go, never lose sight of the road ahead. As I prepared for an outing to Europe, I envisioned a café in Paris with a seat just waiting for me…and that certainly helped motivate me to get on that plane.
Each month Incomes Abroad is brimming with ideas to help you earn overseas. Discover the easy and lucrative ways to make money…good locations for setting up business…and profitable opportunities cropping up all over the world.
Editor's Note: If you'd like to learn more about ways you can pay for your life or travels overseas, sign up for Fund Your Life Overseas, a free e-letter from International Living. Sign up here and we'll send you a FREE REPORT: Fund Your New Life Overseas With These 6 Portable Careers.