The landscape is bucolic and peaceful, with tremendous views of forested river valleys, green-covered hills and mountains, with the red rooftops of villages in the distance. It's not a bad place to retire…to reinvent yourself in a new country.
Carole Connolly, 68, has lived in Atenas, a small town in Costa Rica's Central Valley, for four years.
She's no stranger to this Central American country. Her parents bought property in the Pacific coast beach town of Nosara when it was first being developed in the early 1990s. But though she loves the beach, Atenas, which is in a mountainous rural area in the interior of the country, won out for Carole.
Her rent is low—$850 a month for a one-bedroom casita with an expansive covered patio. Utilities, internet, and gate guard fee are included. (It's in a gated community.) Her house is at the end of a long private drive and she has views of the town below and the wider Central Valley, which is known for producing some of the best coffee in the world.
Her living expenses are low, too.
"We have great produce. I can go to the feria (weekly farmers' market) in Atenas and fill my fridge for $20," says Carole.
Opera, Beaches and Luxury Resorts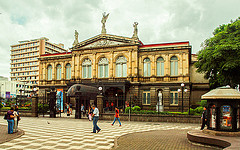 Carole also appreciates the proximity to the capital, San Jose, which is about 45 minutes away on a modern, well-maintained highway. That puts the international airport close (where she can also take a 45-minute flight to see her parents on the coast), as well as the city itself. There she enjoys "big city" entertainment like live theater, as well as other cultural events, including watching her beloved Metropolitan Opera from New York live-streamed in a movie theater.
But she doesn't need to drive to get to the coast. The closest Pacific beach is within an easy drive—just about an hour from Atenas.
"I absolutely love going to the beach," she says. That's just the beginning of her entertainment options. "There are lots of weekend retreats for yoga or visits to self-sustaining farms. In less than two hours from Atenas you can be in a very remote, spa-like atmosphere. And when I want a luxury fix…when I want to be pampered…I go to Los Sueños (a luxury resort on the Pacific coast near the town of Playa Herradura), which is about an hour and a half away."
There's also the weather. The Central Valley is known for year-round moderate temperatures. Not too hot, not too cold, so no A/C needed.
"It's pretty perfect, except for the occasional high winds. It definitely reminds me of California—a warmer version of my beloved Santa Cruz," says Carole.
A New Lease On Life
Originally from Brooklyn, New York, Carole lived for many years in California. She worked in real estate for 28 years.
"I was a highly successful Realtor, but when the bust came I was financially devastated," she says. "I came to Costa Rica to lick my wounds. And while I was here, I was checking out rents and discovered I could live on my Social Security. As a single woman I can make ends meet and have a great life."
Although Carole has retired from real estate, she's started a new career as a writer. She says the atmosphere of the country is conducive to writing. She recently completed her first book, a memoir of her time as flight attendant in the 1970s. She also maintains a blog about her life.
"Here I have uninterrupted, peaceful time to write. The phone doesn't ring. The traffic doesn't blare. My only interruption is hummingbirds and butterflies flying by sometimes," says Carole.
But she gets out and about plenty. There's an active and very social group of fellow expats in Atenas, says Carole. There are movie nights, dinners, parties, and get-togethers. She says her friends also have a great time playing darts, horseshoes, bridge, and pinochle. She's active in a local animal rescue organization, as well as fundraisers for a senior citizen's home and other organizations in need in town.
"We have a very supportive expat community," says Carole.
And she's also had a great time interacting with the local Ticos, as Costa Ricans call themselves.
"I've been warmly welcomed by the local community due to my knowledge of Spanish. I get a smile and a kind reception. It's not always correct Costa Rican Spanish, but people are very gracious," says Carole.
While she hasn't had much opportunity to check out the medical system in Costa Rica—she's been very healthy—she is confident she'll be well taken care of.
"The experiences I have had have been fantastic. Doctor visits, even if you pay out of pocket, are very affordable. The doctors are very caring and spend a lot of time with you," notes Carole.
She's part of a medical plan at a clinic in Atenas. For a $45 monthly fee, she gets unlimited visits to the doctor. And there is a private ambulance service, too, for members in case of emergency.
All good reasons why Carole has found her niche in Costa Rica, and she's loving life.
Get Your Free Costa Rica Report Now
Learn more about Costa Rica and other countries in our daily postcard e-letter. Simply enter your email address below and we'll send you a FREE REPORT – Why Are Americans Still Flocking to Costa Rica.
This special guide covers real estate, retirement and more in Costa Rica and is yours free when you sign up for our IL postcards below.

Get Your Free Report Here