"I knew within 24 hours that this was the place for me," says 45-year-old Mona Primlani, who left Washington, DC, three years ago to settle in Guanajuato, in Mexico's Colonial Highlands. "When I got here, I saw this place had everything I wanted, and then some."
At the time, Mona had been working in Washington for 15 years in foreign affairs and international trade. The work was high-powered and high-stress. "My work and social life had become so intertwined that I never knew when to relax," she says. "Everything was about work."
The economic downturn didn't help. "Money was tight, leaving people angry and stressed. And all I wanted was a way out: something different…creative…free. But I didn't know what."
Mona was single, with no children…it seemed the perfect time to explore what else life could offer. So she put her house up for rent, packed her bags, and headed off. She planned to start by finding a place where she could study Spanish, and an internet search turned up Guanajuato.
"I was supposed to be here for only six weeks," she says. But she instantly fell in love with the city's colorful houses, winding alleys, cobblestone streets, and mountain views. "The city was full of life, positive creative energy, and truly kind people."
It also offered a low cost of living. "Mexico is more affordable than the U.S., but on top of that, Guanajuato is one of the least expensive cities in Mexico." Eating out, joining friends for coffee…even just covering basic living expenses is all more affordable here.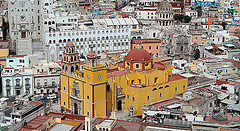 And that affordability has allowed her to live a slower-paced, more relaxed lifestyle. "I still do some consulting over the internet, but I'm no longer tied to a 9-to-5 job," she says of her daily life in Mexico.
"I don't really have a schedule," she says. Instead, she takes time to "have coffee with a book in my hammock." She goes to yoga classes at a local center and she gets to indulge in her two favorite things to study: Spanish and design. She takes design classes at Guanajuato's university, with Mexican students—a chance both to interact with the local community and to improve her Spanish. "When the school has activities I'm able to take part in those," she says.
Mona has also bought a house in Guanajuato's historic center and is having it renovated. But it's only part of the new life she's building for herself in Mexico.
"Now I'm free to explore my creative side and design sensibility," she says. She's bought a car so that she can easily drive to nearby Leon, a city of 1.6 million people that is Mexico's leather capital. "I hope to one day launch a line of leather handbags for professional women."
Get Your Free Mexico Report Here:
Learn more about Mexico and other countries in our daily postcard e-letter. Simply enter your email address below and we'll send you a free special report – Why Millions of Americans Are Moving to Mexico.
This special guide covers real estate, retirement and more in Mexico and is yours free when you sign up for our postcards below.

Get Your Free Report Here