Although I live in the city of David, the capital of Chiriquí Province, it's easy for me to get to the highland town of Boquete. I typically visit Boquete about twice a month to go to the Tuesday Morning Market, have lunch with friends, or attend a special event. My friend Janet and I went to Boquete recently to indulge in all the gourmet-type food we can get there for very reasonable prices.
We left David around 8:30 a.m. so we could have breakfast before going to the market. At Olga's café, also known as El Encuentro (The Meeting Place) we had locally-grown coffee to start our day. Olga's is a favorite breakfast spot where you can get American classics like bacon and eggs or pancakes. Our filling breakfast cost us $8 each, after which we headed over to the BCP (Boquete Community Players Theater and Event Center) for the weekly market.
You can spend as much or as little as you want at the market. There's no admission fee and you could walk out empty-handed…but it's doubtful that you won't find something. There's so much good stuff to choose from and I love to buy specialty foods. For example, dark, rich brownies from Eric cost $1 each, Manzar's home-made mango chutney is $5 a jar, and Emily's organic whipped honey is also $5. A one-pound bag of small-crop, whole bean coffee sets me back $8 and home-made Greek spinach and feta pies are $5 each. If I'm feeling tense I can get a back adjustment and massage from Mark for $20, or if my kitchen knives are dull Jerry will sharpen them for about $4 each. And there are folks selling hand-carved wooden bowls, original jewelry, tie-dyed scarves, and much more. This trip I spent $20 on assorted goodies, and Janet bought a bunch of organic veggies that set her back around $16. We attended the weekly meeting ($1 each entry donation) and heard a speaker talk about life coaching and wellness classes. Then it was off to lunch.
One of our favorite spots for lunch is Sugar & Spice Bakery and Café. The owner, Richard, came from Atlanta to bake European-style breads and pastries alongside his wife, Yarina. They have expanded over the years and now serve breakfast and lunch six days a week. Janet and I settled at an outdoor table and looked over the menu. They feature lots of yummy sandwiches, soups, salads and daily specials. I had a Rueben sandwich on their fresh-baked bread and Janet opted for a salad with grilled chicken. We had fresh-squeezed limeade and resisted the temptation of the pies, pastries, and cupcakes! My lunch, including tax and tip, cost me $10.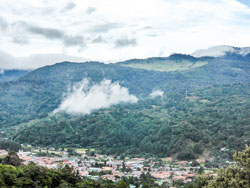 Our next stop was the Boquete Public Library, where we saw an exhibit of photographs by resident photographers. The library hosts a photo club and art group who meet regularly, and when a new exhibit opens they sponsor a meet-and-greet with the artists. Janet and I enjoyed studying the photos on display  and then went to do some more shopping.
When I go to Boquete I always stop at Chox. It's a candy store owned by L.A. expat, Deborah, but she makes no ordinary candy. She starts with local, organic cacao and cocoa butter and makes the most exquisite chocolates. My favorite in the toasted coconut bar covered in dark chocolate…to die for! I bought two bars as well as a box of four truffles and spent $10.
Janet and I made our next stop at the Romero's Supermarket to pick up a few things. My list included a dozen eggs ($2), a half-gallon of milk ($3), a pound of ground beef ($3), and a bag of cat food ($5)…for a total of $13 (there's no tax on food in Panama). With our bags in the car we headed out of Boquete and back down the hill, but we had to make one more stop.
At a plaza on the highway I always make a visit to Mort's Bakery to buy his freshly-baked baguettes and fruit turnovers. My husband loves the cherry and pineapple pastries and I love to eat good bread with my pasta. Janet bought a big loaf of whole grain bread for $5, I got what I wanted for $9 and we headed back home to David.
It's special treat to load up on delicious, home-made food to add to our meals, and in Boquete it won't break the bank.
Get Your Free Panama Report Here:
Learn more about Panama and other countries in our daily postcard e-letter. Simply enter your email address below and we'll send you a FREE REPORT — Panama: First World Convenience at Third World Prices.
This special guide covers insider advice on real estate, retirement and more in Panama. It's yours free when you sign up for our IL postcards below.
Get Your Free Report Here