My wife Nancy and I are about to start on our fourth year in Huanchaco, a small and stunning Pacific coast beach town in Peru. It's easily one of the world's best-kept secrets.
Word seems to be getting out, though. More and more folks are making the trek to check out what Peru has to offer.
We love the weather. Temperatures hover around 70 F for most of the year, inching up into the low 80s F during the hotter summer months. And we have less than a half-inch of rainfall each year.
Although Huanchaco is a small Peruvian fishing/surfing beach town, the colorful city of Trujillo with its 800,000 residents is only 15 minutes down the road by bus. Known as the "City of Eternal Spring," it is famous for its diverse regional cuisine and traditional Marinera dancing that is celebrated each January with the International Marinera Festival.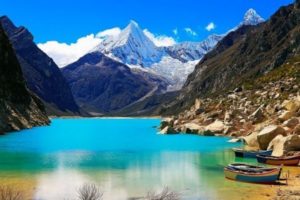 Glacial lakes are just one facet of the raw beauty you can find in Peru, and with the low cost of living you'll have plenty of money for weekend trips.
It didn't take much effort to find a great apartment when we first arrived in Huanchaco. You'll find a good selection of furnished and unfurnished rental units available in all the major centers of the country. If you are interested in buying can easily find well-qualified agents working either independently or for well-known companies such as Remax or Century 21.
Most furnished rentals in Huanchaco and Trujillo start at about $500 per month. As more expats discover this area, the need for good quality furnished rentals is increasing, especially for longer terms. Our building contains 10 units that vary in size from one to four bedrooms. Although it began as an Airbnb several years ago, it is now mostly occupied by long-term expat tenants. In fact, only two of the units continue to be rented out as short-term Airbnb lodgings.
Because there is not a lot of space for the small town to grow, property continues to increase in value. There is a three-bedroom, two-bathroom apartment with a sea view currently listed at $80,000. This 1,000-square-foot unit is less than a block from the beach and comes with tiled floors, an American type kitchen and laundry room.
For $150,000 you can purchase a three-bedroom, three-bathroom condo in one of the new larger buildings in town. A huge balcony stretches the length of the 1,500-square-foot unit. It is centrally located and only a five-minute walk to the beach. Prices for two or three-bedroom houses start at less than $100,000.
There is another interesting trend that is developing here. A couple of large developers are building gated communities that consist of very small and inexpensive houses. We recently checked out one located in Las Delicias, another beachside town about a half-hour south of Huanchaco, but still only fifteen minutes from Trujillo's city center.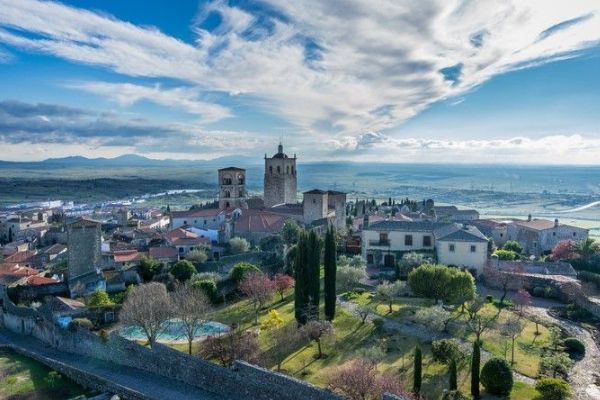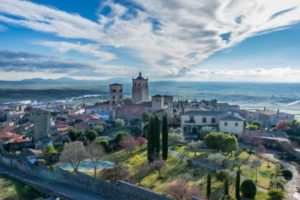 With ongoing development amidst historic architecture, Trujillo encapsulates the ancient culture and modern opportunities of Peru.
There are one-story and two-story models available at 500 square feet and 1,000 square feet respectively. They are tiny and there is no additional property other than a small walled outdoor enclosure behind the homes and a small lawn and parking space in the front. As of early 2019, these were selling for $30,000 and $60,000 respectively! A great little beach is only a 15-minute walk away.
Whether you rent or buy, the cost of living is inexpensive. Utilities are usually included with rentals, but, with no need for heating or AC, monthly electricity bills rarely exceed fifty dollars. Drinking water is delivered to our door in refillable 20 liter bottles for about four dollars. For cooking, we purchase a balon de gas every couple of months for $12.
When we first arrived in Peru, we spent a year in the stunning colonial city of Arequipa. Nicknamed "the White City" it gets 300 days of sunshine a year.
In Arequipa, costs are not a lot different to Huanchaco. We rented a beautiful three-bedroom apartment for $600 a month but could have paid much less for an unfurnished unit. Most modern three or four-bedroom homes start at $150,000 but you are more likely to pay closer to $200,000. I recently came across many listings in that price range without trying very hard.
We love our new life in Peru. We feel like we have the best of both worlds; a small beach town only minutes from a major city. With daily fresh fruit and veggies, long walks on the beach and lack of any financial stress, we have never felt better.
Get Your Free Real Estate Report Now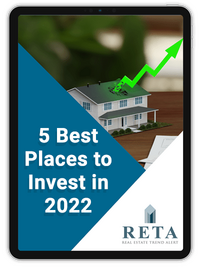 Sign up for our free daily Postcard e-letter and get a valuable free report on the The 5 Best Places to Buy Real Estate In 2022.
Related Articles
Vast coastal deserts, white-sand beaches, frozen Andean peaks, deep and mysterious jungles… Retire in Peru
Where is Peru? And Other Fun Facts You May Not Know…
Peru: One of the least expensive countries to live in South America
Upcoming Conference

Pura Vida! Fast Track Your Retirement Dreams in Costa Rica
See if Costa Rica is right for you at the International Living Fast Track Costa Rica Conference. Enjoy the views and meet the experts who will show you how you can live the good life on $1,200-$2,700 a month or even less.