I'm never making chiles rellenos again.
Note: I didn't say I'd never eat chiles rellenos again, because I will. I love them. But they're messy to make. And ever since I realized that I can buy home-cooked ones in my local market in Mexico for just 10 pesos apiece—that's about 63 cents—and take them home to eat, my kitchen stays clean. 
In fact, I've discovered a couple of market stalls that serve up a whole range of home-cooked foods to go, from hearty soups to taco fillings to home-made salsas. They're a great time-saver for busy, working Mexicans who don't have the time (or inclination) to cook but want a good meal. They're pretty convenient for expats, too.
And, with most items costing 10 pesos a pop, I certainly can't knock the price.
But then, one of the great things about living in Mexico is the low cost. I can fill up a shopping basket with fruits and vegetables in the market for less than $10. The other day I bought a whole chicken at the butcher's for about $3 (and he cut it up for me exactly the way I wanted). And with three ripe avocados costing about $1.25 (and the market vendors throw in cilantro for free), my house is never out of guacamole fixings.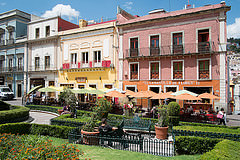 Eating out in a sit-down joint is rarely expensive: The lunch specials here in Guanajuato, in the Colonial Highlands, average about $5 each for a filling meal. Even for dinner at the most expensive restaurants, it's difficult to spend more than $30 a person, including drinks.
Of course, popular tourist destinations like San Miguel de Allende or Puerto Vallarta have high-end restaurants with extensive wine lists and gourmet cuisine that can run you $100 a person. But you certainly don't have to spend that much—these cities have as many low-cost eateries as anyplace else. And it's great having those high-end options.
Other day-to-day living costs are low in Mexico, too. A telephone and internet connection can run less than $50 a month, and most couples pay $40 or so a month for home gas for cooking and hot water. Electricity is the wild card—I don't pay much in the temperate Colonial Highlands, but if you live in tropical areas like the Yucatan Peninsula and use air conditioning a lot, you can run up a hefty bill.
A lot of my entertainment is free: There are plenty of free film series, dance concerts, and of course street performers and parades that seem to liven up every weekend and half the weekdays. The rest of my entertainment is low-cost: less than $5 for a movie ticket, for instance. And my latest indulgence is going to weekly performances of the local symphony. The quality is superb and the top ticket price is only $5.
The fact is, though, that I don't really think much about my "budget" in Mexico. I enjoy my life, live comfortably, and somehow always have more than enough money for the things I want to do, or the little goodies I want to buy.
And that freedom from economic stress may just be the icing on the cake.
Get Your Free Mexico Report Here:
Learn more about Mexico and other countries in our daily postcard e-letter. Simply enter your email address below and we'll send you a free special report – Why Millions of Americans Are Moving to Mexico.
This special guide covers real estate, retirement and more in Mexico and is yours free when you sign up for our postcards below.

Get Your Free Report Here