You know those moments where you see, hear, or smell a quick flash of something, and you're suddenly reminded of another country or city that you've visited…a memory that fills you with an intense longing to return there?
One of those moments happened to me the other day here in Paris. It was a beautiful, bright, late winter day—cold but so sunny I could feel the warm breath of spring. I was crossing a bridge, looking at the Seine river swirling below, when I was gripped with a memory of walking across a different bridge, in a different city, feeling the same cheerful anticipation of warmer weather ahead.
The city I was drawn back to was Lyon in the Rhone-Alps region of southeastern France; the bridge was the Pont Bonaparte, spanning the Saone River. I had spent three days in Lyon last year in late winter, and my sudden longing to return was so intense that it surprised me.
On balance, it's not all that surprising: Lyon is a city that's easy to become enamored of. Filled with beautiful 18th-century buildings painted peachy yellows, orange, and pinks, and graced with not just one but two wide rivers, Lyon has a mellow, almost languid, vibe rare in a city so large.
Yet it is a big city. With a half million people, it's the third largest in France. But walking around there, you don't feel the weight of these people. Even in the very heart of the city, there's a sense of space. This is likely because Lyon has numerous generous squares, wide streets and parks, not to mention two enormous hills that provide amazing vistas that, it's said, can reach as far as the Alps on a clear day.
Mellow atmosphere notwithstanding, Lyon has all the advantages and liveliness of a big city. With museums, theaters, galleries, cafes, boutiques, cineplexes, and an extensive transportation system to deliver you to them all, there's never a shortage of things to do.
I remember one summer night, in particular, years ago when the energy of the city compelled my husband and I to jump out of the taxi we were in and grab a seat at an outdoor cafe where a live band was playing jazz standards. And on my visit last winter, I walked myself into exhaustion every day—climbing hills, exploring the stunning secret passageways (traboules) in Lyon's old town, and popping into museums not on my itinerary. The more I wandered, the more I wanted to see.
And then, there's the food. Lyon is probably best known for being the gastronomic capital of France. While no doubt it's possible to find a bad meal here, I'd think that any restaurateur who develops a reputation for it would want to die from shame. Excellent food is Lyon's tradition, culture, and lifeblood. Millions visit here every year in search of the best meal of their life, and the city rarely disappoints.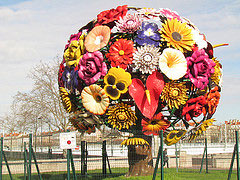 I've had a couple of outstanding dining experiences in Lyon, but one that particularly stands out is the Comptoir Abel. This is a traditional Lyonnais bouchon (restaurant) that serves up hearty, artery-clogging food still fit for the hardworking silk-workers they once used to serve. Here I ordered a Salade Lyonnaise for a starter—bacon and poached eggs mixed with frisee lettuce—and nearly cried because by the time I finished the huge, delicious salad, I thought I wouldn't be able to enjoy Abel's famous Brest chicken with morel mushrooms. But I did.
With so many quality restaurants around, it's easy to find a marvelous three-course meal in Lyon for about $30 or even less. The only problem is that you often stagger away from the table swearing that you'll never eat again.
And it's not the only place you'll save money. Though Lyon offers most of the benefits of Paris, your real estate dollar goes much further here. Right now, you can rent a fully furnished, one-bedroom loft apartment in one of Lyon's best neighborhoods in the historic center for $1,075. For that price, you get an unobstructed view of the Saone Floor and a place with exposed beams and stonework.
If my family and I weren't so well rooted in Paris, I'd seriously consider living in Lyon. As it is, I'll just have to look forward to my next visit. I know that there's so much of the city that I have yet to see and experience…and I can't wait to find out what that is.
Get Your France Report Here:
Learn more about France and other countries in our daily postcard e-letter. Simply enter your email address below and we'll send you a FREE REPORT: A Taste of France: All the Ingredients for the Good Life.
This special guide covers real estate, retirement and more in France and is yours free when you sign up for our free daily IL postcards below.
Get Your Free Report Here