In 2012, Dani Leis quit her job and left Portland, Oregon for Thailand with nothing but a single duffel bag and a dream to start a new life.
She fell in love with the northern city of Chiang Mai.
"The people here are friendly, kind, and open-hearted," says Dani "They enjoy a culture centered on sanuk, meaning to take pleasure in what you are doing.
"The food is so good here, and it's healthy and affordable. A plate of street food will cost you $1, and the equivalent of a fancy $100 dinner in the States will cost you just $30. Of course, $30 will also buy you groceries for a week. Another great part of their culture is that massage is just a part of life. A two-hour massage will cost you just $6."
In 2013, Dani became an online tutor working with a website that connects students and tutors.
"I could see that most intermediate and advanced students could read and write English, but they needed conversation practice," says Dani "And they needed practice not only in general conversation but in the vocabulary of their chosen fields."
With the advent of Skype, many people are turning to the internet to study English, the most common language for international communication. Dani knew she had found her niche.
Now, students from all over the world talk to her for 30 minutes at a time over Skype. She works 20 hours a week with business people, artists, professors, and travelers, young and old and spends the rest of the time enjoying her new laidback lifestyle.
"I can't imagine a better job than this. I hope to increase my income slightly in the future, just enough to travel a bit more. I can do this work from any place that has internet, so I'm location independent."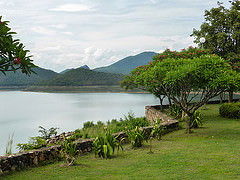 But for now she plans on keeping her base near Chiang Mai, where her monthly expenses—including rent, utilities, and internet—come to an amazing $100 per month.
"Chiang Mai is a little slice of heaven. It's a university town that is full of creative people, art, and culture. I often go into the old city to listen to live jazz. I usually spend my day off in the mountains taking in the beauty of the forests and getting a two-hour Thai massage in a lovely forest spa for about $6.
"I don't really want to work full-time any more. I don't do this work to get rich. I wanted a different lifestyle, and I wanted to work less and live more. I'm doing that now, earning about $1,000 per month for part-time work."
"Thailand is a great place to be as overheads are low," she says.
And the best thing about being your own boss? "When working for yourself there are no boundaries, and you can do it the way you want. I followed my intuition when developing my style. I have no alarm clock, no agenda, and no itinerary. I sleep when I'm tired and wake up when I'm rested."
Get Your Free Thailand Report Here:
Learn more about Asia and other countries in our daily postcard e-letter.
Simply enter your email address below to sign up for IL's free daily postcards and we'll also send you a Free Asia Report – The Best Islands, Beaches and Cities – Southeast Asia's Top 6 Retirement & Vacation Destinations
Get Your Free Report Here