As storms pound Ireland's southern coast, I've been hunkered down working on something big…
A very cool deal…a hands-off earner, entirely plug and play…
And best of all, it's in a place you can enjoy or just sit back and watch money roll in…
Last week, I talked to you about Panama and the advantages of investing in a global safe haven. Its robust economy weathered the 2008 crisis, and will withstand the current global crisis just fine, too.
But as I look out my window at the pelting rain and read about the destruction left in the wake of Hurricane Laura in the U.S., I'm reminded that Panama is a safe haven in more ways than one.
Remarkably, there has never been a recorded landfall of a hurricane in Panama. That bears repeating: Panama has never been struck by a hurricane.
The closest one ever came was back in 1969, when Hurricane Martha, with winds up to 90 mph, was sighted 100 miles off the Atlantic coast.
Meanwhile, researchers at Colorado State University are forecasting 24 named storms to form this hurricane season, with 12 expected to reach hurricane status. It's a prediction that rivals the worst on record.
It's no wonder Panama is one of the world's most attractive havens for retirees.
So, the deal…⁠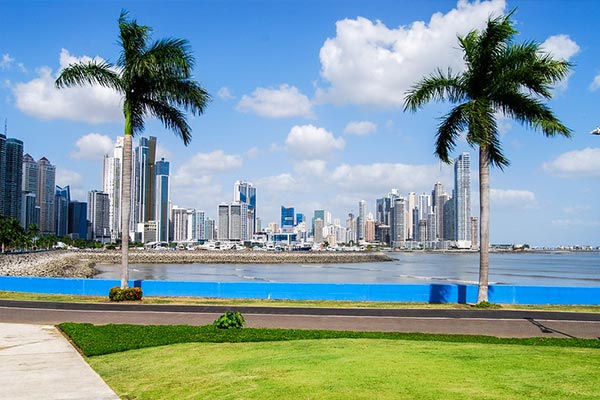 Soon, I'll have full details for RETA members. What I can tell you now is that our RETA-only price starts at $219,000 and I figure on strong rental income and appreciation.
It's entirely turn-key and truly beachfront…in a best-in-class community with pristine sands right on your doorstep, and all the amenities you could want.
You can rent it out and watch your wealth grow or enjoy time there…
As I say, I'll bring details of this killer deal to RETA members in their exclusive alerts..
In the meantime, if Panama is a place you think you want to live full or part time there's a special private screening you should check out…
It's International Living's first-ever Panama Private Screening, and I'll be taking part in it along with my senior researcher, Margaret Summerfield.
You can get the full details right here.
Make €5,000 a Month from a Yacht in Greece
According to a recent survey of government data, there was a tenfold increase in the number of Americans renouncing their citizenship in the first six months of 2020 compared to the same period in 2019.
Many more are acquiring residency and getting second passports, partaking in Golden Visa programs overseas around the world.
Recently, I got word of another RETA member opting for Portugal's Golden Visa…
It's what I consider the best Golden Visa program in the world. It gives you visa-free travel throughout Europe's Schengen Zone—a group of 26 European countries that covers most of the continent. It allows you to live and work in Portugal, bring your family with you, access the Portuguese healthcare and education system, and have an eventual path to permanent residence and citizenship.
The residency-by-investment program requires an investment of €500,000 in Portuguese real estate or €350,000 in real estate in an urban regeneration area.
The beauty of the Golden Visa is that you don't actually have to spend much time in Portugal at all if you don't want to.
You need only spend seven days in Portugal during the first year, then 14 days in each subsequent two-year period. (The visa is for five years after which time you can apply for permanent residence.)
And once you're there, the world is your oyster…
My contact in Portugal is…well…not in Portugal at all right now. Instead, he's currently sailing around on a yacht in Greece.
For most people, this would be the vacation of a lifetime. But for my contact, it's just smart business.
Right now, his home in Portugal's Algarve rents for €845 a night. While in Greece, he can rent an Airbnb for €132 a night. It's a simple arbitrage play that lets him walk away with a gross profit of almost €5,000 a week…
And one of the few circumstances where touring Greek islands on a yacht is a great way to make money…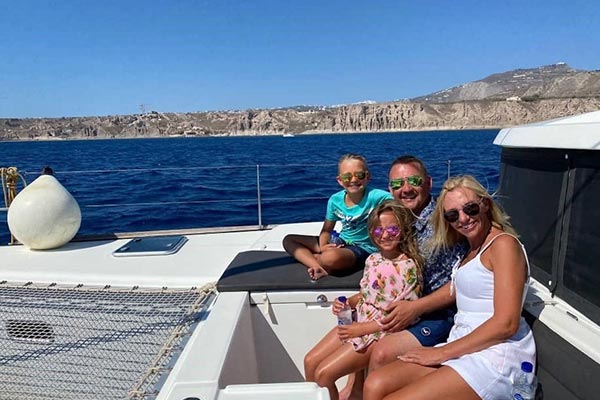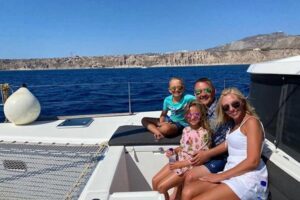 My contact and his family are cruising around Greek islands and making €845 a night from their home in Portugal while they do it…
As a U.K. citizen, my contact didn't need a Golden Visa to live in Portugal, but his income strategy wouldn't be any different if he did.
Tap into the Algarve's red-hot, 10-week peak season and you can create positive income flow for the rest of the year.
I'm personally on track to buy a property on the Algarve. I'll be using the miracle of leverage to do it.
There has never been a better time to borrow money in Europe. Right now in Portugal, banks there are offering rates as low as 0.78%.
I'm looking at buying a villa in the central Algarve, somewhere I'll rent out for the peak season when the Algarve is hot and busy and enjoy myself in the spring and fall.
I've already sketched out my route for my next scouting trip. This is going to be the deepest dive I've ever taken into our opportunity in Portugal. I'm going to spend a month on the ground scouting for investment and second homes. And I'll be bringing what I find directly to RETA members.
Stay tuned…
You Keep Asking About €1 Homes
By now, you know the story. Towns across Italy have been selling homes for €1 in an effort to regenerate.
These have been remarkably successful programs. But are they worth it for the buyer?
I've just uploaded a new video to my YouTube channel with my analysis.
Watch it here: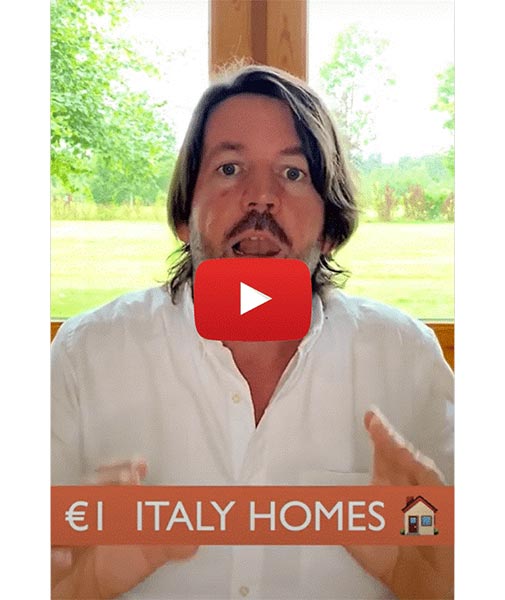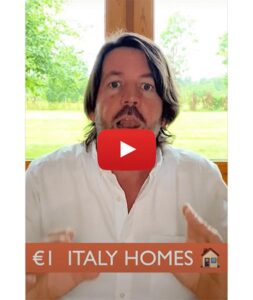 Get Your Free Real Estate Report Now
Sign up for our free daily Postcard e-letter and get a valuable free report on the The 5 Best Places to Buy Real Estate In 2023.
Related Articles
The 10 Best Places to Invest in Real Estate
Profit in an Eco-Paradise in Costa Rica