If you haven't yet picked your New Year's resolution for 2021, here's a suggestion…
Make this the "year of freedom…" The year of financial freedom, freedom to travel, freedom from taxes, freedom from restrictions…
It might sound ambitious, but in a moment I'll explain how you can make it all happen.
Right now, the travel industry is eagerly awaiting a rebound, if not an explosion of trips, as millions around the globe start to receive vaccines.
Masses upon masses of travelers are now making bookings for the summer of 2021, with a swell expected to stretch into the end of the year and into 2022. Pent-up demand is at an all-time high. And when travel restrictions loosen, folks will be eager to take to the skies.
Of course, it will take time for travel to reach 2019 levels and when it does, it will be different—at least for a while. The coronavirus hasn't gone away, and the vaccine rollout could be slow. Mandatory testing and immunity passports could become common place. But we'll also see people traveling for longer, making up for lost time, with millions of new Work From Home folks using their freedom from the office to spend more time in places they love.
The value of our freedom to travel has never been more pronounced. And if 2020 proved anything, it's that this freedom is never guaranteed. Due to travel restrictions, the U.S. passport, once ranked number one in the world, now sits at number 19 on the passport index, below Canada, Uruguay, the United Arab Emirates, and most European countries. This week in Britain, folks received a rude awakening when they realized that their passport no long entitled them to live, work, or travel freely within the EU.
I'm lucky—I've already got two passports, a Canadian one and an Irish one. (My parents are Irish, but I was born in Canada.) I have taken residency in two additional countries. With a third to follow.
This gives me a lot of freedom. It allows me to live a truly internationalized life. I can pretty much go wherever I want, always living in perfect spring-like weather, never turning on the heating and cooling. I can cut my tax bill by an eye-watering amount…get access to public healthcare…and pick a shorter line at the airport.
Legal residence, tax residence, and second passports in other countries have long appealed to the ultra-rich. They know the value of astute tax planning and the benefits of having residence or perhaps a second passport overseas. They understand that it opens up a world of visa-free travel, lower (or even no) tax, and expands their borders…something that's especially important with the current raft of travel restrictions.
Today, however, it's easier than ever for ordinary people to use overseas residence and second passports to their advantage, just as I have. Folks can diversify, gain protection against geopolitical risk and volatility, create new investment opportunity and stability, and have more options for their kids.
For instance, in a recent online event I held for Lifetime Members of Real Estate Trend Alert, I was joined by my contact on the ground in Portugal to discuss Portugal's Golden Visa and NHR (Non-Habitual Residents) program.
A Golden Visa is a permanent residency visa that you can get by investing in a country, often through real estate. In Portugal, you can attain a Golden Visa with the purchase of a new property in Lisbon or Porto for €500,000 or for €350,000 with an older property. In the Algarve, that drops to €400,000 for a new property or €280,000 for an older one.
In return, investors get residence in Portugal with the right to free travel in the 26 countries that make up Europe's Schengen zone. It entitles a spouse, dependent children, and dependent parents to residency too.
Plus, having a Golden Visa is one of the few ways Americans can circumvent current travel restrictions to Europe.
I'm all in as a Portugal resident. As I hold an Irish passport, I don't need a Golden Visa, but I am using Portugal's NHR (Non-Habitual Residents) program to minimize my taxes. As a tax resident under NHR, my tax obligation is between 0% and 20% on earned income.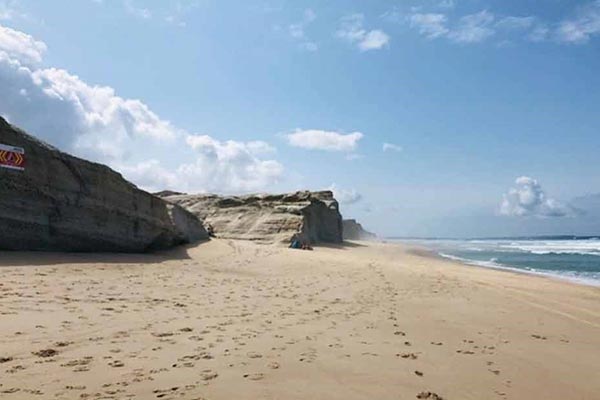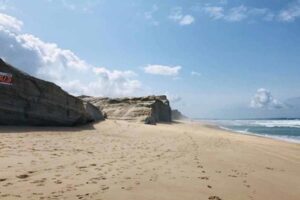 Here's a picture I took on the beach in Praia D'El Rey, the resort community on Portugal's Silver Coast where I'm buying a condo.
Or take Panama, which has some of the most attractive residency programs in the world. Under the new "Qualified Investor" program you can obtain legal permanent residency status in Panama in just 30 days. To qualify, you can invest in real estate from the value of $300,000 (which will rise to $500,000 in two years). Once you've been a resident for five years, you can then apply for citizenship and a Panamanian passport.
And you don't have to buy real estate to gain residency. To qualify for Panama's "Pensionado Program" you just need to draw a pension of at least $1,000 per month. And this gives you all sorts of benefits, including huge discounts of entertainment, travel, energy bills, hospital bills and more.
In Uruguay, the government is openly encouraging foreign residents as well as investment. It keeps barriers to investment low, and makes it easy for investors to get their money in and out of the country.
Just this June, the government of Uruguay issued a new decree making it easier for foreigners to settle in the country, reducing the value of property a person must buy to qualify for residency from $1.7 million to $380,000.
Newcomers will also see their tax holiday extended from five years to 10. And the minimum stay to qualify for residency has been dropped from six months a year to just 60 days a year.
These are just a few of the countless options you have to extend your travel freedom, open the door to new money-making opportunities, and organizing your life so that your tax spend, overheads, and cost of living are drastically reduced.
As I've said many times before, your first task when choosing the residency program or tax regime that works for you is to profile yourself. Not every residency is worth the trouble.
For instance, countries like Barbados, Bermuda, and Estonia are now launching visas and residency programs targeting remote workers. However, these are usually limited to a year, and don't offer many real benefits.
Before you begin your search, you need to figure out what it is you wish to get out of first it, whether that's tax benefits…a second home in Europe…a second passport or all of the above. Once you've done that, finding the residence or Golden Visa program that's right for you is much simpler.
Residence overseas (and possibly a second passport) is the "first flag" of the formula for freedom that you can attain this year.
But the international lifestyle isn't just about residency options…
I'm going to dive deeper into how you can create your perfect year of freedom. I'm going to look at playground destinations where you can buy cheaply and live richly…as well as destinations where you can put your money to maximize your returns.