The expats who've decided to make their home in Costa Rica have the right idea.
This is a really great country. The beaches are fabulous…the jungle is amazing…and you can eat the healthiest, freshest food imaginable.
Plus it's full of opportunity for creating an income. Internet services are good…tourism is booming…and there's a need for all manner of services.
Quite a few of the expats I met have online incomes, like writer Daphne de Castillejo who is now living in Grecia, in the Central Valley…or Paul and Gloria Yeatman who run their website from the town of San Ramon in the same region.
Now, instead of spending their early mornings staring at the bumper and the license plate of the guy in front of them, they sit on verandas or in little beachside cafés sipping locally grown coffee and eating a breakfast of fruits or freshly laid eggs from nearby.
Internet is available widely in Costa Rica making an online income entirely possible. And the cost of living is so low that these folks work as much or as little as they want. Even a few hours a day is enough to cover the basics. When they feel like they're done, they log off for the day and spend their afternoons and evenings surfing, hiking, socializing, or whatever else takes their fancy—they are their own boss!
Some expats have taken advantage of those delicious, locally sourced foods to open their own restaurants selling a variety of cuisines. Harold and Lisa Beasley from Texas bought an existing café, Kay's Gringo Postres (desserts) in Atenas and are delighted with their move.
Others, taking advantage of the massive tourism industry, have opened hotels, B&Bs, beach bars, surf schools, tour groups, and more. Trent Dreushane has a wonderful boutique B&B called the Agua Inn by the beautiful Lake Arenal. It's a far cry from his old job as a roadie back in the U.S.
Then there are specific niches. I met Colette Holmes from California in her lovely little flower shop in Tamarindo. Seeing a gap in the market, Colette opened the shop to meet the demand from the burgeoning destination wedding market there. She also sells hand-made soaps, cards, and lanterns to both wedding and general customers.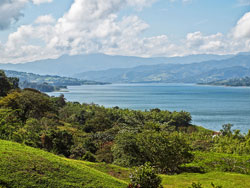 And what about teaching English? Because of the reliance on tourism, good English language skills are in demand here. Although Costa Rican children and teens learn English in school, many are eager to improve their skills. If you've ever considered teaching English, you could find yourself very busy in Costa Rica.
And don't worry if you only want or need to make a part-time income. There are plenty of opportunities to do that here, too. During my visit, I heard of many expats who were doing odd jobs to supplement their income—dog-sitting, housesitting, or importing in-demand items, like the latest phones, to sell to other expats at a profit.
You may be like a lot of people in North America right now. Your day involves waking up far too early and climbing into your car to sit in traffic on a highway. You punch in and spend eight to 10 hours doing just enough to earn an ever-shrinking paycheck. It seems the cost of living keeps rising but your income never does.
If you're dreaming of escaping the cubicle…and living a happier, freer, more affordable life in the tropics…then what's stopping you?
Just think about the folks in Costa Rica.
Free Costa Rica Report:
Learn more about Costa Rica and other countries in our daily postcard e-letter. Simply enter your email address below and we'll send you a FREE REPORT – Why Are Americans Still Flocking to Costa Rica. 
This special guide covers real estate, retirement and more in Costa Rica and is yours free when you sign up for our IL postcards below.
Get Your Free Report Here