Each year, thousands of people from all over the globe flock into the alluring colonial city of Antigua in the central Guatemalan highlands to witness the country's celebration of faith during its world-famous Semana Santa (Holy Week) extravaganza. And each year, I try to be there to soak up the atmosphere and capture the beauty of this flamboyant, emotion-filled spectacle with my camera, knowing that I'll be able to sell my shots online.
As the processions begin, hordes of purple-robed men trudge solemnly through incense fragranced streets to the somber strain of brass horns and drums. Shouldering cumbersome floats bearing the painted, wooden figure of Christ, they trample intricate carpets of garishly stained sawdust and flowers laid in their path.
Devout locals spend hours on their hands and knees creating elaborate carpets on the cobblestones, forging colorful designs from vividly dyed sawdust or scented pine needles decorated with flowers, petals, and fruits.
These unique works of art, known as alfombras, adorn the gray stones for moments before softening the footfalls of processions; leaving in their wake a mishmash of color crushed between cobblestones, like an impressionistic painting.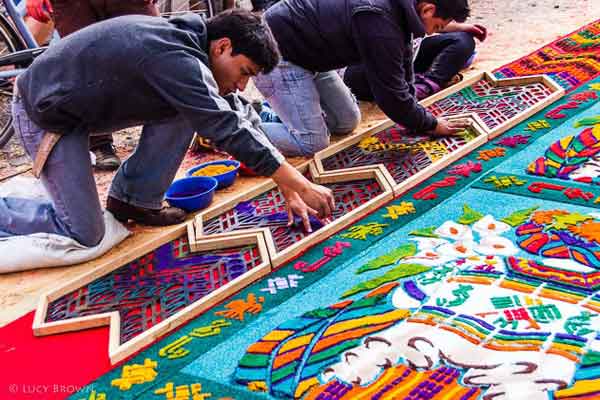 Easter Sunday's modest display is a stark contrast to the magnificence of the Lent and Holy Week processions. Suddenly the blanket of sadness lifts and there is a festive air. Smiling folk in colorful costumes play lively music and dance over candy-strewn alfombras that children pounce on as if it were booty from a battered piñata. Shreds of colored paper scattered from rooftops float in the breeze like confetti and firecrackers echo throughout the city.
Not only do I get to experience some of the most incredible events of my life and make beautiful images of them, but I've also turned my photos into a passive income by way of stock photography. To date, I've made about $3,000 earnings with Shutterstock alone; just one of the stock agencies I submit to.
These are some of my top earning images of Holy Week that I uploaded to various online stock agencies several years ago. They still bring in regular sales and I'm confident they will continue to do so in the future as I build my portfolio.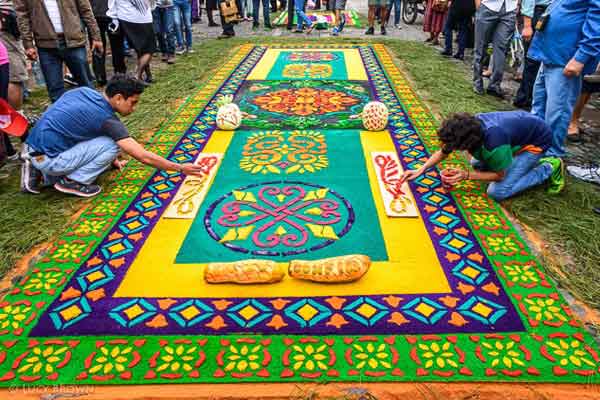 The beauty of stock photography is that anyone with an eye for a good picture and a decent camera can do this. Nowadays there are even stock agencies such as Stockimo that accept pictures taken with camera phones. You don't have to shoot the extraordinary to make it with stock photography. Ordinary, everyday images are in demand too. You don't need to travel far either. Your hometown is full of potential photos that someone is willing to pay for. Just browse any online stock image library to see the most popular selling images.
I love that I can go out in search of adventure anywhere in the world, make an income from my passion and fund my travels. A stock photographer's life is within anyone's grasp. It's definitely not a "get rich quick" scheme but it's fun to watch the sales roll in and sometimes a bigger sale might make your day. Just a few days ago I made a $150 sale on Alamy. You'll never know unless you give it a try.
Need a Way to Fund a New, Better Life?

Join our Fund Your Life Daily e-letter today, and you'll hear from us five times a week, telling you about ways to earn income that lets you live anywhere, travel anytime… and give you the funds to make your dreams of a better life real. We'll also send you your FREE report Fund A New, Better Life With These 6 Portable Careers.
Related Articles
Benefits of being a Travel Writer
The World's Best Places to Retire in 2018
Going Solo: How and Where to Enjoy Life Abroad as a Single