Beautiful Buenos Aires entices with easy-going weather, friendly people, and an endless parade of cultural activities and dining spots. But, as delicious and fresh as traditional Argentine food is, it can be difficult to find something more exotic and inspired than the standard steaks, pizzas, and empanadas.
So it's no surprise that private supper clubs, known as puertas cerradas (Spanish for "closed doors"), have been slowly sprouting up in Buenos Aires for almost a decade, filling a niche for more ethnic and creative cuisine.
In the last three or four years in particular, these reservation-only dining spots have been appearing all over the city and are becoming wildly popular with expats, Argentines, and tourists.
Meghan Lewis is just one of a number of expats who are creating income in this way. Her specialty is vegetarian/vegan food which—in a city where traditional meals rely heavily on beef, cheese, and white flour—makes her kitchen unique.
"We had plenty of expats and tourists at first, but now we see many more locals," says Meghan. "Argentines eat a lot of meat usually and don't eat any spicy food. But it's changing a lot now, especially in the last few years. Locals are getting more adventurous as a whole and have more curiosity about different foods. And more ethnic restaurants are opening now."
This isn't Meghan's first stab at running a business. Soon after moving to Buenos Aires in June 2008, the Colorado native opened up a yoga school (Buena Onda) when she didn't find one that she was completely satisfied with.
The yoga school remains her main source of income. And Meghan usually keeps her supper club (which she opened in November 2010) as a once a week event to ensure a genuine "at-home" feel.
The venue, which initially was her own apartment but is now in a shared space in the San Telmo district, seats from 14 to 18 people at a communal table. In high season, she might see up to 25 people for dinner.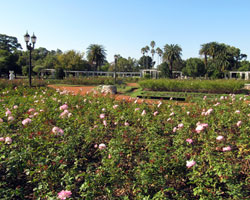 The $25, three-course meal includes infused water, tea, and organic wine from a winery in the Mendoza region. Meghan makes her own flavored vegan dark chocolate truffles, which are served as dessert, along with fresh fruit. The chocolates are also available for purchase ($7.50).
To supplement the income from her puerta cerrada, Meghan also offers cooking classes and private dinners cooked at the client's home.
"This has been profitable for me and is definitely a replicable set up," she says.
She's right. Liz Puglia from New Orleans is introducing her native cuisine to the Argentinians and New Yorker Christine Sunae is wowing them with Asian food. And you can read more about them in Incomes Abroad.
Free Report:
Sign up for IL's Fund Your Life Overseas e-letter today and we'll also send you a FREE report about ways to earn money abroad. Simply enter your email in the box below and we'll send you this free report: Fund Your New Life Overseas With These 6 Portable Careers.
Get Your Free Report Here