I've never seen so many people so unhappy about making money.
Last week, the stock market rallied to a new all-time high. Under normal circumstances, this is good news. But in the middle of an economic crisis it has a peculiar effect.
Seeing stocks surge to new heights is creating a growing sense of unease—a sense that the market is becoming unhinged from reality.
After all, we're in the middle of the worst pandemic in a century. Some businesses are barely scraping by, while millions of unemployed Americans are relying on enhanced government programs to stay afloat—with unemployment assistance set to expire at the end of this month.
Furthermore, if you look at the tech companies driving the rally, it doesn't paint a pretty picture.
Facebook is losing users. Apple has no growth. And Tesla has a market-cap surpassing Toyota, despite the fact that, as of September, it had sold under 500,000 cars in the past year, while the latter has sold 10 million.
I'll confess that I'm not a stocks and shares guy. And the past week has been a reminder of why I'm not…
Because even when the market is doing well, it can cause folks to lose sleep.
As a real estate investor, I don't have that problem. Real estate is not subject to the rapid and wild fluctuations you see with the stock market. It can generate income. If you buy right, it can make you very rich. You can live in it, vacation in it, enjoy the life you've always dreamed of…all while making money.
Most importantly, I never lose sleep…because a home in an inherently desirable place will always have value. That's the kind of peace of mind you can't get from a tech stock.
That's why, if ever there was a moment to diversify and protect your wealth, it's now. Because when all your eggs are in one basket, you are fundamentally vulnerable.
Now is the moment to take some gains from those assets that have soared and put them somewhere that's set to benefit from all this flux…somewhere you can buy cheap and generate strong yields.
In uncertain times…in all times in fact…strong yields tell one particular story. The demand for your real estate is real. People are willing to pay you to use it. It's not speculation. It's real world value.
I spend my winters in Cabo enjoying the ocean, the climate, and the golf. I bought my condo in a special Real Estate Trend Alert-only deal and it's now worth around $150,000 more than I paid. And when I'm based in Europe or traveling and scouting around the world, I can rent this property for a handsome income.
It's a working, rather than fleeting, kind of wealth security. It doesn't make headlines. It's not shrouded in speculation or pushed by TikTok influencers.
It's the kind of investment that protects you from economic shocks, so you can create a life of ease, travel, fun, and adventure for yourself…while you enjoy more financial and personal freedom.
Best of all, during a crisis there's a silver lining: You can find some truly incredible deals. This year has been one of the best on record.
Nine months on from the start of this crisis and Real Estate Trend Alert members have seen an amazing run. Here are just a few of the deals we've seen:
In Tulum on the Riviera Maya, members could lock down spacious luxury condos for RETA-only pricing of just $149,000—homes I figure will be worth $225,000 shortly after delivery. And because of the crisis moment, I was able to negotiate a free pool—valued at $7,000—on top of the RETA discount we were already getting.
On Portugal's Algarve, thanks to a German developer who wanted to make some quick sales, we had the opportunity to buy high-spec homes on a vineyard close to the beach town of Carvoeiro from just €133,000 ($149,336 at the time).
I've also uncovered repossessed homes in one of the Algarve's most explosive communities that we can pick up for at least €120,000 below market value.
In Nicaragua, a motivated seller slashed the list price on a three-story, six-bed, luxury sea-view home from $789,000 to $299,000. Shortly after I brought it to RETA members, it sold for around $220,000. An absolute steal.
In Spain, thanks in part to the COVID crisis, members have locked in 50% discounts on stunning condos in one of the most sought-after locations on the Costa del Sol.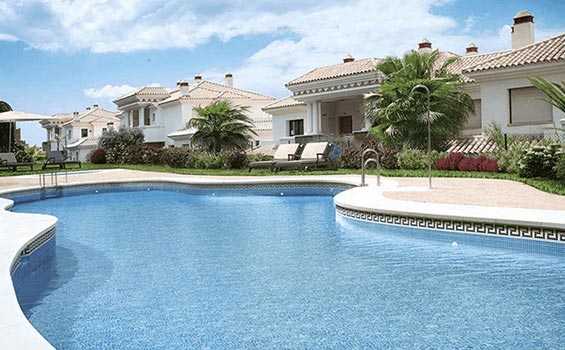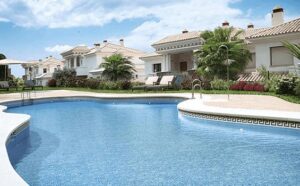 In Panama we took advantage of "the Great Bailout" to lock down real estate at insanely low prices on the Pacific Riviera, just steps from the beach.
And we're seeing falling currency values spewing up incredible opportunities in places like Medellín, Colombia. For instance, a nice three-bedroom apartment that would have listed for $221,875 before the crisis, was going for $178,392…
And there is a flood more crisis deals on the way…
Even before the year is out, I plan to bring RETA members a killer deal in the historic gem of San Miguel de Allende in Mexico. San Miguel has just been voted the "Best City in the World" by Conde-Nast Traveler and Travel + Leisure. We can lock down two-bedroom condos in the sweetest spot in town from what looks like a discounted price of $167,800. I figure these condos will be worth at least $250,000 five years after delivery.
In Europe, the deals are going to be even better than I originally predicted in April. When the pandemic passes, Europe will be left with economic catastrophe, meaning we can pick up the best bargains and opportunities in blue chip destinations across Spain, Italy, Greece, and France.
Across our beat my contacts are sending me opportunities to snag stunning discounts on amazing properties and lock in awesome potential profit.
And I have some outrageously good off-market, RETA-only deals lined up. That's where I see our biggest strength. RETA's group buying power has never had more sway and clout in its 12-year existence. Developers want our business…and are willing to do off-market deals to get it.
Like I say, I have little faith in the stock market. And I don't think diversifying from tech into U.S. government debt does much to reduce your risk.
Overseas real estate is one of the few assets that can reliably benefit from the current state of flux. We can do well in times good, and bad back home.
And when the stock market wobbles, which it will, we can be sitting pretty…
Get Your Free Real Estate Report Now
Sign up for our free daily Postcard e-letter and get a valuable free report on the The 5 Best Places to Buy Real Estate In 2023.
Related Articles
The 10 Best Places to Invest in Real Estate
My Biggest Discovery in Faro (And it Wasn't Real Estate)