When Edward Shelton worked as a journalist, he had no idea how to make a pizza. In fact, it was the furthest thing from his mind in the years when he lived between London and New York.
Today, he owns and operates a pizza restaurant and B&B in the coastal Chilean city of Valparaíso, known for its hills, colorful homes, and bohemian vibe.
"A lot of Europeans and Americans come here to get away from the rat race. There are many success stories," says Edward.
"I had no background in restaurants or cooking. I taught myself to make pizza from articles and recipes on the Internet. In London you need a really good idea and lots of money to start a business. In Chile, the bar is lower."
He opened the pizza restaurant, Allegretto, in 2004 in a rented premises and followed it with the B&B in 2007. He purchased two houses next door to each other, connected them, added on, and reconfigured the interior to create the Allegretto B&B.
Edward was able to borrow money from a Chilean bank to buy the homes for the B&B, and, later, the restaurant building in 2009. The interest rate is higher and the term is shorter than a real estate loan in the U.S. or the U.K. However, the loans will be paid off in five years, and Edward will then own both buildings free and clear.
There are other options for financing a business in Chile, too. Cumplo is an online platform where borrowers and lenders can meet. It facilitates person-to-person loans as well as crowdfunding, which funds a project by raising smaller amounts of money from several investors.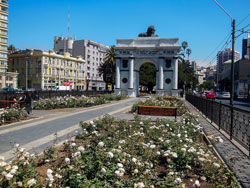 Some of the business start-ups funded by Cumplo in the last year include a sushi restaurant…a business that makes space-efficient furniture for growing families…a line of earth-friendly cleaning products…concrete-pumping trucks for a contractor…and the expansion of a shoe company.
And the Chilean government is offering $40,000 to start-ups with international growth potential which are willing to locate in Santiago for six months. Santiago is a modern, prosperous city. You'll see college students texting on smartphones and sipping $3 coffee drinks…restaurants that are busy every night of the week…and street traffic generously speckled with German luxury cars.
After a decade of strong economic growth in Chile, a large middle-class population has emerged. Many expat entrepreneurs in Chile will tell you there are more unfilled niches and less competition than in North America or Western Europe. You'll also find start-up and operating costs for many businesses are lower in Chile.
"When I opened Allegretto, it was the eighth restaurant in the neighborhood. Now there are 35," says Edward, who estimates that expats own roughly 25% of the businesses in the area.
Between the restaurant and the B&B, he has 15 employees. He covers his mortgage, lives comfortably, and sends his two sons to a private school. He usually makes an annual trip to England to visit family and friends.
But for Edward, the best part of life in Valparaíso is meeting and enjoying time with his B&B guests from abroad. "We eat in my restaurant and then sometimes go out together after that," he says.
Need a Way to Fund a New, Better Life?

Join our Fund Your Life Daily e-letter today, and you'll hear from us five times a week, telling you about ways to earn income that lets you live anywhere, travel anytime… and give you the funds to make your dreams of a better life real. We'll also send you your FREE report Fund A New, Better Life With These 6 Portable Careers.
Related Articles
The Quickest Way to Make Money Online
5 Reasons to Become a Travel Blogger