By IL's Ecuador Insiders, Wendy DeChambeau and Jim Santos
Visa Changes on the Way
By Wendy DeChambeau
Dear Ecuador Insider member,
On Feb. 6, 2017, Ecuador's new immigration law went into full effect and there are some big changes for those looking to gain residence in the country. Following is an overview of what the law entails and how this affects potential and current expats.
The first big change applies to those coming in on a tourist visa. They'll still get an automatic 90-day tourist visa stamped into their passport upon arrival into Ecuador. However, they'll now have the option to purchase a one-time 90-day extension or a one-year extension. This can be a good option for those who are looking to spend a fair amount of time in Ecuador before committing to it as their permanent home.
Another major change is that you'll no longer be able to apply for permanent residence straight away. With the new procedure, you'll need to obtain a temporary visa first. To do this, choose which type of visa you'd like to apply for and present the required paperwork. This will include your birth certificate, a criminal background check from your country of residence for the previous five years, a passport which is valid for at least six months, and any paperwork proving you qualify for your chosen visa type. All official papers will need to be apostilled or legalized (for those from Canada).
This temporary visa remains valid for two years, but if you're sure you want to gain permanent residence, you can apply for the permanent visa after 21 months. You'll need to present the same paperwork as before, but at this time you can use a criminal background check from Ecuador.
There have also been a few changes to the types of visas available. The most common types are listed below.
Work Visa: If you are hired by a company located in Ecuador you can apply for this visa. But this new law says you can also qualify for this visa if you are self-employed and contributing to the Ecuadorian economy. You must also earn more than the minimum wage (approximately $400 per month) and pay your Ecuadorian taxes.
Rentista: This visa is available for those who have a regular source of monthly income from outside of Ecuador (again, above minimum wage). This income could be obtained from annuity payments, rental property income, disability payments, or a number of other sources.
Inversionista: This visa is based on an investment of money in Ecuador, including investing in real estate.
Jubilado: This is the most common visa type for retirees. You simply need to prove you have a monthly retirement income that is above the minimum wage of $400.
Student: Students from primary school to university level can qualify for a student visa. Their immediate family can also qualify for the same visa.
Dependent: Spouses and children of qualifying visa holders can obtain a dependent visa. Dependents will need to prove their relationship to the main visa holder by presenting marriage or birth certificates.
Ecuador does ask for a few things in return for your residence status. All residents are expected to:
Stay in Ecuador under legal migratory status.
Respect Ecuadorian law, culture, and nature.
Comply with labor obligations, taxation, and social security.
Register your domicile with the government if you move cities.
Hold health insurance while in the country. This is a new requirement that affects current visa holders as well as new applicants.
Everyone in Ecuador is also now required to have their original identification with them. For tourists and visitors this means they'll need to carry their passport with them. Residents must have their original cedula with them (laminated copies will not suffice).
While this law is now in effect, many of the details are not yet worked out. For example, we don't yet know what the cost of visa extensions will be. The government has been given 90 days to implement all changes, so those who are in the process of applying for a visa should expect some delays while they come into place.
If you already have your permanent residence visa, you are grandfathered into the system. You will not need to apply for a temporary visa or re-apply for your permanent status. But you will need to comply with the new health insurance law.
Parque Jipiro in Loja, Ecuador
By Jim Santos
I recently visited Loja, the beautiful "City of Music" in the southern Andes of Ecuador. It was a wonderful trip, and I was particularly impressed with its extraordinary park: Parque Jipiro.
Located near the new Teatro Nacional Benjamin Carrion Mora, this sprawling recreational area is dedicated to families of the world, and the idea that our greatest strength lies in our cultural diversity. Walking around the central water feature, you are introduced to that diversity through a variety of playgrounds and educational displays.
There is a lot to see and do in the 25 acres of Parque Jipiro. At the south entrance, you will find the Municipal Pool, open year-round under a retractable roof. Just north of the pool, there is a large skateboard course, basketball and tennis courts, soccer fields (of course), playgrounds, a small zoo, paddle boat rentals, pony rides, a camping area—and even a large outdoor chess board.
But the most memorable feature of the park is how it celebrates cultural diversity by displaying small architectural examples of other countries. Walking through the park is like a stroll around the world. You can start your visit at an Arabic mosque, which houses the administration offices and a planetarium. A short distance away, you see the colorful onion domes of Russia, a European castle, a Hindu temple, a Maya pyramid, and a small-scale Eiffel Tower. The most iconic photos of the park feature the Chinese pagoda that sits on the edge of the large lake, home to swans, geese, and the "Venus de Jipiro" statue which stands on a small island.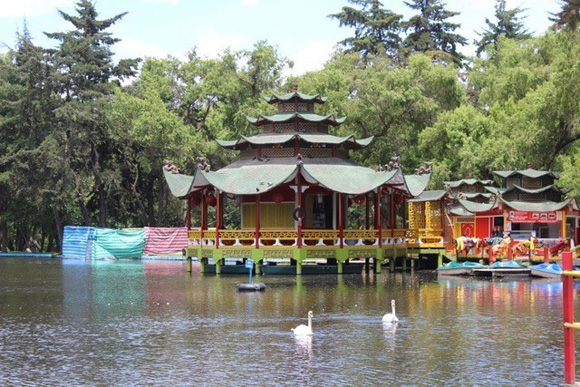 The Chinese pagoda is one of the main attractions at Parque Jipiro. ©Jim Santos

Like most parks in Ecuador, there is no charge to visit Parque Jipiro. It is open to the public from sun up to sun down, and it is easy to spend a good part of your day exploring and relaxing. There are plenty of food and beverage vendors, clean bathrooms, and benches where you can rest in the sun or shade. Scattered around the park are also educational activities for children, which makes it a popular spot for school field trips.
Loja is a beautiful city, with much to offer expats. You can expect more articles on Loja to appear on your Insider website over the coming months.
Tips For Driving in the Andes
By Jim Santos
Ecuador is a beautiful and bio-diverse country, and one of the best ways to experience it is to travel by car. If your road trip takes you into the Andes, there are some special considerations to make your journey a safe one. There are good roads that connect Quito to Cuenca, Guayaquil to Cuenca, and Cuenca to Loja. However, these routes take you up and down mountains that can reach 12,000 feet above sea level or higher. Here are some things to remember before setting out on your Ecuador highlands adventure.
Get a quality car in good mechanical shape. Some of the roads are steep, and you may need to pass slow-moving traffic on an incline. It should have at least a 2.0-liter engine to give you the power you need, 2.4 is even better. Because road surface conditions are subject to change, you also want to make sure the tires, shocks, and brakes are all in order. I also prefer an SUV, or something with at least front-wheel drive and good road clearance.
Make sure you have plenty of gas and all safety equipment. Gas stations in the mountains may be few and far between. In fact, driving through the Cajas National Park, you will not find any. It is a good idea to make sure your tank is full before setting out and start looking for a station before you get to a quarter of a tank. Safety equipment, especially flares and warning triangles, are important if you have a roadside emergency. You need to make sure other drivers have plenty of warning for a disabled vehicle—there are few places to pull off the road.
Plan ahead to arrive at your destination before dark. I strongly suggest that you plan your trip so that you are not driving at night. The twists and turns in some areas are challenging enough in daylight, especially if fog rolls in. Driving at night is something that should be done only by those familiar with the road, and even then, only when absolutely necessary.
Take a cellphone, fully charged. There is surprisingly good cell coverage in the mountains, so a cellphone is useful not just in case of emergency, but to check your location via GPS from time to time. I have an altimeter app I like to use as well, to keep track of our altitude. Simply search 'altimeter' on the Google Play store or the Apple App Store and you'll find one.
Bring plenty of water. Speaking of altitude, much of the Andes roads are at or above 8,000 feet. You should be aware of the possibility of high-altitude sickness for you or your passengers. Drinking plenty of water can help mitigate the effects of altitude.
Give yourself time to adjust if you stop, particularly above the 10,000 foot (3,000 meter) level. In Ecuador, it is possible in several places to go from sea level to above 10,000 feet in a two-hour drive. Give yourself time to adjust by stopping at a roadside stand, restaurant, or scenic photo spot. It is not uncommon to feel a little dizzy when you first get out of the car, and you may feel the extra effort required to walk around and explore at altitude.
Stay Alert! This is the most important tip. Although in general the roads are good, the conditions are changeable. The road surface may change without notice, there may be vehicles parked or moving slowly around a blind turn, portions—or even all—of the road may be blocked by mud or rocks, and there is always the chance of finding llamas, cattle, or sheep sharing the road with you.
Here's a short video to give you an idea of some of the scenery, and a few of the common obstacles, when driving in the Ecuador highlands. Enjoy the video and the majestic beauty of the Ecuadorian Andes.
Take Advantage of Your Insider Website
Got some more questions about Ecuador? Check out your Insider website, where you can get expert advice on moving to and living in Ecuador.
And while you're there, take a look at the forum. Recently there was an informative post about planning an exploratory trip to Ecuador. Click here to see what our experts recommended, and maybe even add your own opinion.
If you have a question that you'd prefer to ask privately, you can email Ecuador@InternationalLiving.com. Make sure you put Ecuador Insider in the subject line and one of our experts will get back to you.