By IL's Costa Rica Insiders, John Michael Arthur and Jackie Minchillo
Why Owning a Car is More Affordable in Costa Rica
By John Michael Arthur
When making a move overseas, a lot of expats attempt to simplify their lives…and they start with ditching their car. Many folks find the idea of not owning a car appealing. But for me, having a car here is as important as it was in the States.
Public transportation is widespread here, but sometimes you just want to go direct to your destination. So, owning a car is an excellent way to see the Costa Rican countryside at your own pace.
But, while most things in Costa Rica are less expensive than in the U.S., a few things cost more. This holds true for the initial cost of buying a car. You can expect to pay about double (sometimes more) of what the Kelley Blue Book value would be for a car in the U.S. Gasoline is also expensive, running about $3.98 per gallon currently. Yikes! For me, that's the extent of the bad news regarding car ownership. So, what's the good news?
Cars retain high value in Costa Rica. In the States, you buy that new car and the value begins to plummet as soon as you drive it off the lot. Not so here. When we first moved to Costa Rica, we bought a used car for $8,500. Three years later we sold it for $8,000.
Sometimes you'll hear people complain about how expensive the marchamo (annual registration) is. This cost is tiered based on the age of your car. That's because it isn't only a registration—it's also insurance coverage. We upgraded to the maximum liability coverage and our total cost for a 2014 BMW X1 for a year was only $500. It's hard to complain about that.
We don't carry collision insurance here because the cost of repairs is so low. Recently, after a shopping trip, I found our car right where I left it in the parking lot…but not how I left it. Someone had backed into it and left a big dent in both the front fender and the driver door. The door wouldn't open.
After sliding across from the passenger side, I drove it to the neighborhood body shop. They repaired both the door and the front fender, repainted it all, and delivered it to my door. (And they drove me home after I left it with them, too.) It looked great; I couldn't tell where the huge dents had been. Better than that, they did the entire repair in only three-and-a-half days. Best of all was the cost: $325. I think I would have added an extra zero to that cost back in Texas.
Routine maintenance is inexpensive as well. Take a look at the bill below:
This service covered:
Brakes—service, cleaning, and adjustments
Suspension—service
Headlights—service
Fuel filter check
Complete oil and fluid changes
Plus, the mechanic took it to the riteve (annual inspection) center and paid for the inspection. All of that for 75,000 colons or about $135—including the $40 riteve cost.
The farther you live away from large cities, the more likely you will find that owning a car is a necessity, not a luxury. We love our part of paradise in the Orosi Valley, but it would be difficult to get around and do the routine things of life without a car. So while buying a car in Costa Rica is more pricey than you're used to, owning a car—routine maintenance, service, and care—is affordable. The advantages can outweigh the drawbacks; it surely does for us.
If you'd like to know more about buying a car, check out this article.
Moving Off the Beaten Path
By Jackie Minchillo
A little over two years ago, my husband and I started our new life in Tamarindo along Costa Rica's northwestern coast. Tamarindo is one of the most popular and developed beach towns in the country and it has been a wonderful place for us to grow some new roots and become acclimated to life in a new country.
However, like city-dwellers heading to the suburbs to "settle down" after a few years, we recently made the decision to move about 20 minutes outside of Tamarindo to a smaller village called Matapalo. I have spent a great deal of time talking and writing about the wonderful things Tamarindo has to offer and why it's a great place to live, so I'm sure our move brings to mind one question in particular: why?
It boils down to us deciding it was time for the next phase of life in Costa Rica. Tamarindo offers many conveniences and is a hub for expats and tourists alike. But while it offers much in the way of convenience, it also lacks some of the authentic Costa Rican appeal we were looking for—especially after spending a couple of years here.
While my husband already speaks fluent Spanish, I am still on the learning curve. In making our move, one of my primary goals was to learn Spanish and be able to speak it well. Because of the sheer number of tourists and expats in the town, it has become a necessity for Ticos in Tamarindo to learn English, and they enjoy speaking it! But this doesn't help when you're trying to learn Spanish. Uncomfortable as it can sometimes be, unless you're immersed in a language, it can be quite challenging to pick it up. In Matapalo, while I still encounter some people who speak English, I am surrounded by more Spanish-only speakers on a day-to-day basis, so I have plenty of opportunities to learn.
We also wanted to find more peace and tranquility. While living in a bustling tourist destination has been enjoyable—after all, who isn't in a good mood when they're on vacation—we often preferred the "low season," with empty beaches and quiet streets. And because my husband and I both work online, we don't depend on the ebbs and flows of Costa Rica's tourism. Our desire to extend that tranquility throughout the year inspired us to venture outside of Tamarindo, and our decision to buy a car last year made it possible. Being outside of the main hub isn't such a big deal, because we can still head into town for anything we might need.
Our new home is within a 15-minute drive of several small beaches. Many of these are off the tourist trail, which means we have pristine, empty beaches to enjoy all year round.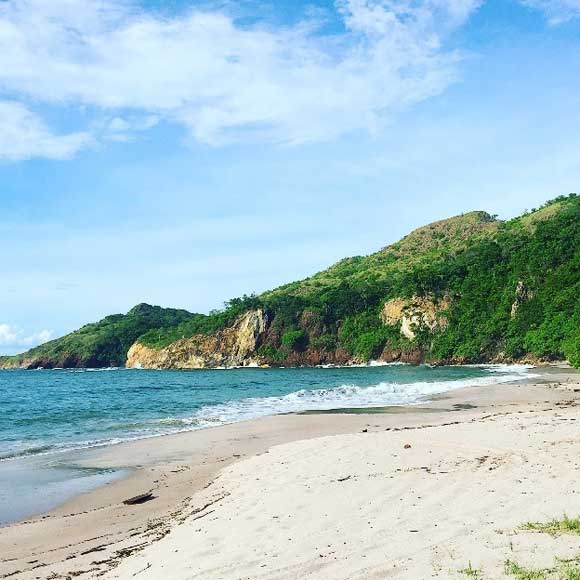 The beautiful but quiet Playa Minas is just a short drive away from our new home. ©Jackie Minchillo
We also moved because the prices were much lower. By looking just a bit outside of Tamarindo you can save a considerable amount of money. Location, location, location rings true just about anywhere in the world, and if you want to be in the center of a popular town, you'll pay a premium price for it.
In Matapalo, we were able to find a three-bedroom, two-and-a-half-bathroom private home with a fenced yard and private pool for $1,150 per month. A comparable property in the heart of Tamarindo could easily exceed $2,000.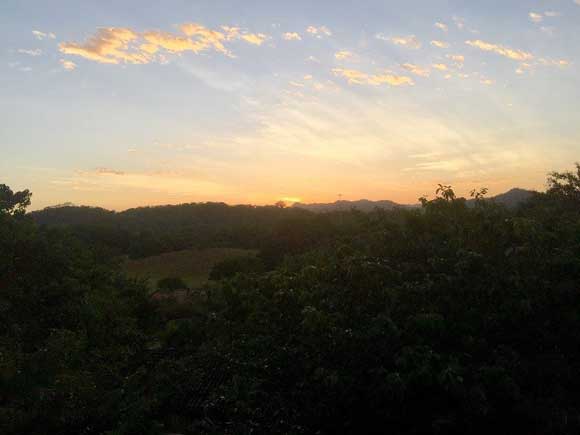 Our new place affords us a perfect view of the sun rising over the mountains. ©Jackie Minchillo
We still have so much love for Tamarindo. Many of our friends live there, that's where we go to the gym, we still enjoy going to the beach there, and we often need to head into town to run some errands. But Matapalo feels more like home. It's a peaceful retreat and a way for us to fully immerse ourselves in the beautiful country and culture we've grown so fond of over the past couple years.
If I had to do it over, I wouldn't change a thing. Because we didn't initially own a car, and also because we needed some time to get our bearings. Tamarindo was the perfect place to begin our life in Costa Rica. Many expats we know have lived in Tamarindo for 10 years or more and don't plan to leave, while others are like us: They experienced life in the big town for a while and then decided to venture out.
That's why—whether you already live in Costa Rica, will be visiting, or are planning to move soon—I recommend exploring some of Costa Rica's smaller, more off-the-beaten-path towns when you have a chance. While a larger, popular town can make a great home base, if you don't explore you'll never know whether there could be a hidden gem just around the corner that's perfect for you.
Check Out Your Insider Website
Have you got any questions about Costa Rica that need answering? Then check out your Costa Rica Insider website. The website is a great resource of information about moving to and living in Costa Rica, with in-depth advice on everything from getting a visa to moving your dogs with you.
And if you have a specific question that you need answering, post it on our forum and our Insiders will be happy to help you. Recently, we had a great post about duty-free shopping. Click here to see what expert advice Jackie gave.
Or if you'd prefer to keep your question private, email CostaRica@InternationalLiving.com using the subject line "Costa Rica Insider." We'll make sure to get back to you as soon as possible.