Stepping out of my neighborhood yoga studio after the 8:30 a.m. class, my muscles aching with newfound strength and my mind clear, I feel high. The sky is clear and the sun is warm on my skin. The aroma of freshly brewed coffee drifts over me from the nearby coffee shop. The walk home is peaceful along the quaint cobblestone streets, greeting neighbors and shopkeepers (a friendly buenos días is always offered, even to disheveled expats stumbling home in their yoga clothes). There is a comforting busyness to the streets here—a woman sweeping the sidewalk, a young couple laughing and sipping fresh juice next to the frutería (fruit store), and delivery men unloading their truck into the corner tienda (store). I'm at home in this magical place.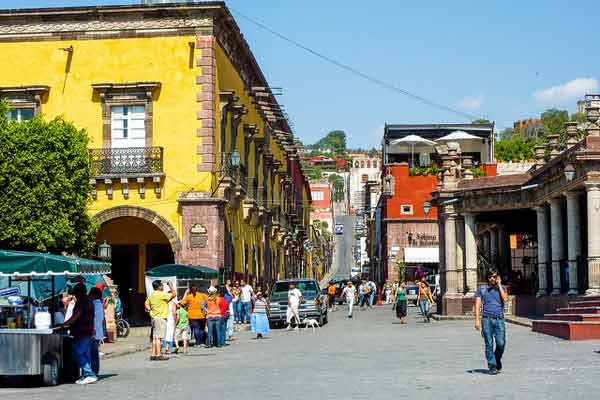 When I moved to San Miguel de Allende six months ago with my family, we were seeking a slower pace, a lower cost of living, and a chance for our children to learn Spanish. This beautiful colonial town, located in the mountains of Central Mexico—with its lively arts and music scene, world-class restaurants, and comfortable climate—attracted us from thousands of miles away. From our living room in Milwaukee, Wisconsin, the pros and cons of making this move seemed black and white.
Rent ranging from $300 a month for a basic one-bedroom apartment to $1,500-plus for large, fancier homes. Two al pastor tacos from a street stand for $1, a gourmet meal with a glass of wine for $20. Fast internet connections. An abundance of art, music, and dance classes; yoga; recreational sports teams; cooking classes; horseback riding lessons; archaeological, cultural, and historic tours; and language schools.
Our pros and cons list was heavy on the pros.
We've discovered, though, that the benefits of living in San Miguel de Allende extend way beyond that list. The pros are much more nuanced, more intangible, than what can be measured on a list.
How do I measure the time I've reclaimed by not having to keep up with the hectic pace of U.S. life? The time I can now spend doing things I truly enjoy, like yoga, reading, and writing. I'm a mother of four young kids and I have time to exercise, work, relax, and still take a leisurely walk for ice cream with my family in the evenings.
How do I measure the pleasure on my kids' faces when they ride down the trail, cheeks flushed with exertion and sunshine, after a horseback lesson in the countryside? They begged for years for horseback riding lessons—and now, because the ranch is only 10 minutes from our house, their school doesn't assign loads of homework, and the lessons are a fraction of the U.S. cost—they are finally learning to ride.
How do I measure the excitement of waking up every day in a city that feels alive and letting my day unfold naturally? Learning, little by little, to communicate in Spanish, chatting with my neighbors, discovering new foods and new ways to live, participating in traditions and celebrations, and finding myself in the street, at 10 p.m., invited to join in a procession with laughter, songs, and fireworks.
Some things can't be measured.
Related Articles
Everything you Need to Know About Mexico
---
The Countdown Is On! Discount Ends June 15
Right Now Is the Best Time in History to Start Earning as a Freelancer
If you crave the freedom and flexibility of a side income that allows you to earn when you want and play when you feel like it...we have a solution for you.
"Remote work" is here to stay, and we can show you how to capitalize on this trend and turn what you already know how to do into a side income online that can help fund a retirement that looks the way you want it to. Can you really afford to miss this?
Online Portable Income Masterclass
June 26-27, 2021
---