On my first morning in Malta, I peeked out my hotel window, unsure of what to expect. I had landed in Malta well after midnight and despite the sight of palm trees lining the road from the Valletta airport to my hotel in Sliema, it seemed hard to believe I was on an island in the Mediterranean.
That changed when I drew back the curtains to reveal a cobalt blue sea, shimmering in the sunlight. Yep, all was as it should be.

For lovers of southern Europe, the tiny island chain of Malta, just 93 miles south of Sicily, ticks all the right boxes: it's got a fascinating 7,000-year history that begs to be explored, long summers and short winters, incredible medieval architecture, all surrounded by dazzling waters, every shade of blue. The cherry on top? It's English speaking…and affordable.
Sliema was once a quiet fishing village named for the Maltese word for "peace" or "serenity." In the 19th century, it rapidly grew into a fashionable residential area, full of elegant stone villas and townhouses. But when the powers-that-be realized that travelers would love its prime seafront location and excellent view of Valletta's extraordinary skyline across the Marsamxetto harbor, the town developed into Malta's first tourist resort.
Today, Sliema is a thoroughly modern, laidback mix of some 15,000 Maltese, expats, and tourists. Those who might fear that life on an island would be too isolating need not worry. The restaurants are plentiful and feature a variety of cuisines, including traditional Maltese, French, Korean, Indian, New York-style burger joints, and more. You can easily have a delicious three-course meal for about $20. Sliema is also the island's main shopping hub, so plenty of shops, boutiques, and even a shopping mall or two abound. Free WiFi is available virtually everywhere, from restaurants to bus stops…a godsend for visitors desperate to avoid roaming charges.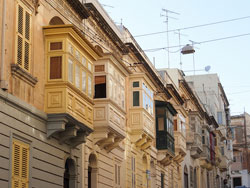 To be sure, Sliema's bustling. But the calm blue presence of the sea is just a few minutes walk away from almost any point in town. Just gazing at it, as I did every evening from a seaside restaurant with a glass of local wine in my hand, is soothing to the soul. You can also enjoy the sigh of the water by strolling along the red-brick promenade that runs the length of the waterfront, from the towns of St. Julian's to Msida, passing through Sliema along the way.
To my mind, it was too cool to dip in the sea in early May, although I did see a few swimmers and sunbathers. Expats tell me that from late May to late October, the immense rocky slabs that serve as Sliema's beach are strewn with water worshippers, with some locals even taking breaks on their lunch hour to splash around and soak up rays.
Speaking of expats, Sliema (and Malta in general) is a veritable haven for foreigners. I had the good fortune to join in on a weekly expat coffee meeting one morning at the delightful cafe Mint on Sliema's Tower Road. A mix of retirees and entrepreneurs, about 15 of them, they meet at least once a week usually in Sliema or the nearby town of St. Julian's. Not all live in Sliema, but since pretty much anywhere on the island is no more than a half hour away and Sliema offers so many pleasant cafes, bars, and restaurants, it's a convenient spot to meet.
Are there downsides to Sliema? Perhaps one. There's a lot of development going on—luxury high-rises are beginning to dot the shoreline—and some say it's too much and happening far too fast. Seafront properties are pricey too, costing upward of $1,600 per month for a two-bedroom apartment.
That said, I found the side and back streets away from the shore to be charming, many lined with honey-hued limestone buildings with vibrantly colored gallarija (enclosed balconies). And it's on these side streets where you'll find the best rental prices. You can rent a two-bedroom furnished apartment with a balcony for $600 to $700 per month. You probably won't have a sea view, but you can comfort yourself with the knowledge that you can easily walk to the waterfront in just a few minutes and have a beautiful seaside view…without paying an extra $1,000.
Get Your Free Malta Report Here:
Simply provide your email below to receive the Free report. You'll also receive a free subscription to our International Living Postcards – a daily e-letter that explores living, traveling and investing in Malta and other exciting countries from around the world.
Get Your Free Report Here