Over a decade ago, I first wiggled my toes in the soft white sands of Tulúm, Mexico…felt the warm sunshine on my face as gentle breezes rustled through the palms…and gazed at the gentle turquoise waters. Ever since, this Riviera has held a special place in my heart—so much so that these days I call it home for part of the year.
Since that first visit, the Riviera Maya (the stretch of Caribbean coast past Cancún to Tulúm) has changed beyond all recognition…and how I spend my time here also has changed. Now I feel and behave more like a local.
In the early days, I'd run to the beach at Tulúm whenever I got the chance. These days that's something I save for when I have visitors—the Riviera Maya is a place where friends and family are always happy to visit. When visitors come, Thai food right on the beach at Mezzanine is always on the agenda. It's fun to be a tourist in your home…I feel the same when friends visit me in Ireland.
But, on any given Sunday these days Mezzanine and the beach at Tulúm is too touristy…too busy…and a bit pricey.
I prefer the more low-key spots only the locals know about. The beaches where you stick your own umbrella in the sand and open up your own cooler…where it's more like a community get-together rather than organized fun in an all-inclusive resort.
Caleta Tankah has been a favorite of mine this past winter. It's a unique and special place.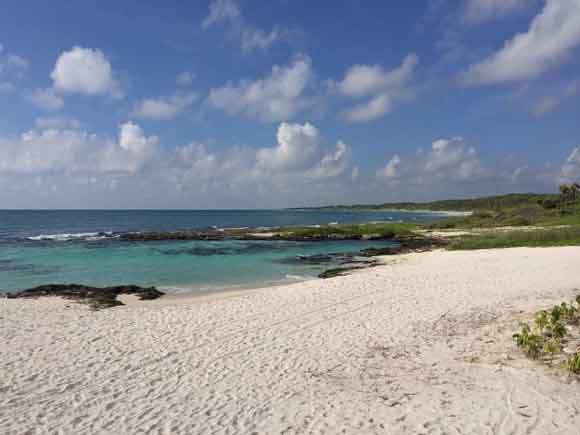 Right on the beach there's a cenote (a water-filled underground cave). Cool freshwater from deep underground rises and mixes with the warm Caribbean waters. To the left there is a long empty stretch of pristine white-sand beach. It feels completely undiscovered. Just like I remember Tulúm when I first visited.
See for yourself: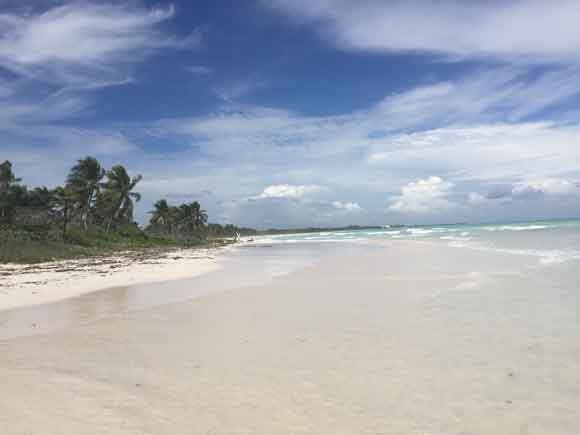 In the other direction, the beach turns to rocky shoreline and in the distance you can see the famous clifftop ruins at Tulúm.
It's more peaceful here than the beach at Tulúm. There are fewer people and cars…and you don't have the armies of hipsters on vacation with their bikes.
I would have never known about this cenote on the beach if a local friend hadn't brought me here one Tuesday afternoon. Our habit is to meet up somewhere like this. Instead of going for coffee somewhere, we catch up over a dip and stroll along the beach.
It's certainly healthier than standing in line and guzzling grande Americanos. Besides, I don't like to stand in line. And I can arrange my life on the Riviera Maya so I never have to. Great restaurants are popping up all over Tulúm town: pizza, Japanese, Chinese, French—you name it. There's great quality throughout and, if you stay off the main street, great value.
But Tulúm is moving out from the main street on both sides…block by block…
Let me give you an example. Eighteen months ago, a friend brought me to a great restaurant a block and a half in from main street. We had a great meal—and only shared the restaurant with a handful of other diners. But earlier this year, I dined here with a party of seven. Five new restaurants and cafes had sprung up on either side. I watched as the host turned away prospective diner after prospective diner. Soon this will be tourist central—and I'll have to move another block in to the next place.
Still, I'm sure I'll find something to enjoy just as much. I spend half my time on the road scouting real estate opportunities around the world. But there's nowhere I visit that serves up the same quality, variety, and value in food.
And, here you don't want for the First World conveniences either. Two minutes from my Riviera Maya home, there's a top-class driving range and (golf) shot game practice area. I like to start my day hitting some balls or going to a yoga or meditation class at the wellness center next door. There's great grocery stores and 20 minutes from my home in Playa del Carmen. Playa, too, has grown since I first visited this Riviera. It's now a vibrant city that's attracting mobile people from right across the globe. Pretty much your every need imaginable is catered for.
The Riviera Maya is more than a tourist locale; it's a great place to live and spend time. A place where you can come as close to having it all as anywhere I know.
Get Your Free Real Estate Report Now


Sign up for Your Own Home Overseas free e-letter and receive a special report "The Insider's Guide to Buying Real Estate Overseas."
This special report covers the 10 things you must know before buying property overseas as well as pointing you to some of the best places in the world to buy real estate…and it's yours free when you sign up for Your Own Home Overseas e-letter below.

Get Your Free Report Here