---
For just over a quarter of a century, IL has ranked, rated, and named the best retirement destinations in the world. Each year we've refined and improved the process, bringing new categories and considerations into play, gathering new data, and asking more and better questions of a greater number of expats.
We've added countries to the shortlist as they moved into the limelight, Malaysia in 2000…Colombia in 2007…and let others drop away. But one has been constant: Mexico. For the past 14 years, it has consistently ranked in the top 10 retirement destinations on the planet. And this year—for the fifth time—it takes the top spot once again in our Global Retirement Index.
Mexico has always offered arguably the easiest transition to expat life around: Low-cost, conveniently close, friendly locals and plenty of expats—Mexico offers an appealing balance of exotic foreign culture and familiar First-World lifestyle.
Over recent years, crime and insecurity across the border have made headlines—and yes, there are parts of Mexico we don't recommend. But this is a big country…and while the mainstream media may bash Mexico, we've actually noticed a trend of people gravitating there. Seasoned expats, folks who have lived in countries like Costa Rica, Ecuador, and Belize, are moving to Mexico.
After all, there's a reason over 1 million Americans call Mexico home. The cost of living is great—expats report living well for as little as $1,200 a month—and has gotten even better with the weakening of the peso against the dollar in recent years. Your dollars now buy nearly 50% more pesos than they did just a few short years ago.
The weak peso also means you can pick up great-value real estate (to buy or rent) for even less than you could a few years ago—an apartment that cost $1,300 to rent in 2014 costs $980 now. Those dollars also go even further when it comes to Mexican healthcare. You can get healthcare that's even better quality than what you're used to, and for one half to one third the price to boot.
English is widely spoken in popular expat spots like Lake Chapala and the Riviera Maya. This makes it easy for you to fit right in. And heck, you can drive down, or fly home for as little as $200 round-trip—so getting home is easy.
This proximity also makes it an ideal destination for snowbird living, perfect for escaping from the worst of the winter weather. And the diverse selection of climates spread out across this massive country, ranging from hot weather on the beach to spring-like in the highlands, means you're guaranteed to find weather that's perfect for you.
So, without further ado—after months of research, number-crunching, and fact-finding—allow the expats who live there to introduce you to the benefits of the world's number one retirement destination: Mexico.
Historic Good Value: Now Is the Time  
"The cost of living in Mexico allows me to live a fun life on my Social Security check," says San Francisco-native Jack Bramy. Living half a block from the beach in Puerto Vallarta, Jack's not scrimping. "There are great restaurants and tons of cool bars on the malecón (promenade). My rent is $575 a month for a two-bedroom apartment with a great modern bathroom and nice kitchen."
With the current low peso, Mexico—always good value—is now offering prospective expats historically low costs of living. IL Mexico Editor Glynna Prentice has lived in Mexico for 10 years. "Mexico is even less expensive today than it was when I moved here," she says. "Goods priced in pesos—including properties for sale or rent—are definitely cheaper. When I first moved to Mexico, friends in Campeche, in the Yucatán, rented a three-bedroom house for $500 a month. Today, even with 10 years' inflation, that house would rent for about $350."
Chicago native Steve Garcia, 67, has lived in Guanajuato, in Mexico's Colonial Highlands, for four years. "I live well here on Social Security. My expenses are $1,200 a month, including rent. I have a two-bedroom house with a terraced garden," says Steve. "With the dollar going up I've got 50% more to spend."
But even without the favorable exchange rate, Mexico has long offered outstanding value. For $15 to $20, a maid will spend four hours cleaning your house, for example. Eating out regularly and well is a major benefit of moving to Mexico. "A street taco—and street food can be great here—costs just 60 cents," says Glynna. "Mexico's comida corrida, or lunch special, is $3 to $7 in most places—for a full meal. And a steak dinner, with wine, can run you from about $15 a person." Food isn't the only bargain. "My water bill costs about $10 a month or less. I pay $20 to $25 for a tank of gas that lasts me a couple of months," says Glynna.
Patricia Padgett, 74, lives with her husband Nolan in the colonial city of Querétaro. "We pay one-third the cost of the U.S. for everyday expenses. For 20 pesos (just under $1) you can find a large tub of strawberries, blueberries, or raspberries for snacking, year-round. Farm fresh. For $10 you can easily purchase veggies for a week. Tomatoes, cucumbers, cabbage, carrots, potatoes, and the ever-present limes."
Patricia's is a common refrain. "We spend significantly less than back home, about 50% less," says Toronto native David Smolyn, who spends six months of the year in Puerto Vallarta with his partner Randy Hodgson. "And here we eat a meal out at least once a day, often twice."
IL Roving Latin America Editor Jason Holland recently drove with his family from the U.S. to take up residence on the Riviera Maya. "We live much better here than we did back in the U.S., and we pay less," he says. "Our two-bedroom condo in a lushly landscaped, gated community—with access to resort amenities like a private beach, several pools, gym, and more—is $1,100 a month. And we're a 10-minute bike ride to the beach. That's half what we paid in our seaside town in Florida five years ago. Our utility bill is $180—and we don't skimp on the air conditioning. Again, that's a bit more than half what we paid in Florida."
Don Murray and his wife Diane moved Cancún in 2014. Now IL Riviera Maya correspondent, Don says: "There is an abundance of modern shopping centers, as well as local, open markets where the values can be found. We can take our pick. A week's worth of fruits and veggies at the open market at Mercado 28 costs about $7."
Jerry Foote, who lives in Puerto Vallarta with his partner Cathy Rice, says, "We go to the movies, and the quality of the theater is just like the U.S. But it costs us $3. With popcorn and coke, it comes to $11 or $12. Going to the movies in the States cost us $50."
The 2017 Annual Global Retirement Index—Final Scores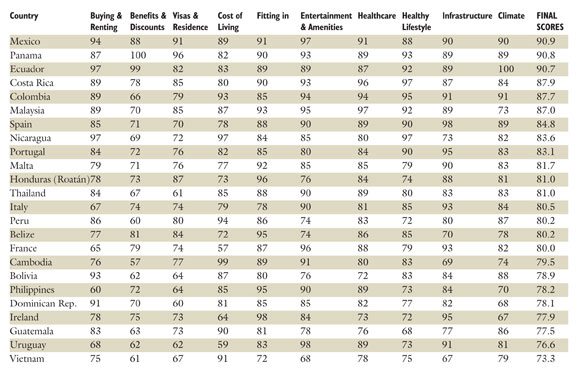 An Easy Place: Friends From Everywhere, Comforts of Home
"I made more friends here in a year and a half than I did in Stockton, California, in 10 years," says Rip Rupinski. "The expat community here is so connected."
Rip lives in Puerto Vallarta, home to just one of the large and established expat communities you can choose from in Mexico. Estimates are that more than 1 million North Americans have settled in Mexico. You'll find many of them on the shores of Lake Chapala, in the colonial towns two to four hours north of Mexico City, and along the Riviera Maya and in Mérida, on the Yucatán Peninsula.
"The biggest reason I love it here is the social aspect," says Richard Marazzi in Playa del Carmen. "For me, that's really important. There are several Facebook groups that host monthly events, and I've made many friends here. Three days after I arrived, I was playing the board game The Settlers of Catan with four other expats on a rooftop terrace 'till midnight."
"There's no separation into cliques or groups according to earnings or background," says Denis Asahara, who lives in Mazatlán, on the Pacific coast. "I love that. In fact, it's completely refreshing, and I have a very wide circle of friends because of it. For me, it's been much better than my social life in the U.S."
It's just one way in which it's easy to settle into life in Mexico.
"Mexico offers many of the same brands found in the U.S.," says Don Murray. "All the major brands are here, like Applebee's, TGI Fridays, Ruth's Chris, Bubba Gump, and others. It's nice to know that if I simply must have a bag of Reese's peanut butter cups, I can buy it."
"Living in a well-developed country like Mexico makes everyday living pretty easy," says Jason Holland. "There are big box stores here with plenty of brands from the U.S. My kids get their favorite peanut butter. My wife and I get our turkey bacon. Of course, we buy a ton of fresh produce, too. You can get a couple dozen limes (for margaritas) for $2. Carrots are 20 cents a pound, and a pound of tomatoes is 72 cents."
Good-quality internet is available almost everywhere, making it easier than ever to stream your favorite movie or TV show. "Fiber-optic cable was recently installed where I live," says Glynna Prentice. "My internet connection and phone service in Mexico is better than what my family has in the U.S. And it's definitely cheaper: I pay less than $20 a month for a plan that provides landline phone service and high-speed internet. And my long-distance calls are free to anyplace in North America; that's been standard in Mexico for more than a year now."
And Mexico is close to home. "With our family in Florida, it's easy to get back for visits," says Jason Holland. "Flights are regularly under $200 for a round-trip. And for those in Texas, California, and the Southwest, it's an easy drive to popular expat havens like Lake Chapala and San Miguel de Allende."
Even for Don Murray, in southern Mexico, getting home is easy. "Cancún is less than two hours from the States, and round-trip airfare is usually around $300 to $350 whenever we want to return."
Getting around Mexico is a cinch, too. "We've gone without a car for eight years. You don't need one," says Rosemary Chapman, who has retired with her husband to Querétaro. "Everything is accessible by bus or taxi."
"I gave up my car," says Glynna Prentice. "I can walk most places I want to go, and a taxi home costs me $2 to $2.25. That's less expensive—and certainly less bother—than having the car. And for trips around Mexico, there are discount airlines as well as inexpensive, first-class bus service. I've flown round-trip to Cancún from my home in the Colonial Highlands for less than $200."
Learning some Spanish will definitely enrich your life in Mexico, but getting by in English isn't tough. For example, says Rip Rupinski, "I'm big into biking, and Puerto Vallarta has a big biking community. There are about 100 bicyclists and 95% are Mexican. Most speak English as well as I speak Spanish, which is limited. They're so friendly, so supportive."
Mexicans are warm-hearted and hospitable, and folks of retirement age will find themselves respected. "You can get on the bus and young boys will get up to give you a seat," says Patricia Padgett in Querétaro. "People here look after each other."
Many expats report a small-town vibe like the 1950s in the U.S. "We live in a great neighborhood," says Jan McClellan, who's retired to Guanajuato. "There are two butchers, a little grocery store. There's a bus stop at the bottom of the hill. Everybody knows each other. People grow up on this street and live here their whole lives."
And Mexico has no shortage of great cultural offerings to enjoy.
"I can go to a cultural event every night if I want," says Glynna Prentice of her life in Guanajuato. "The symphony orchestra, plays, concerts, film series…they all cost no more than $4 to $5 each, full price. You could never enjoy this caliber of cultural life for so little money in the U.S."
Editor's Note: This article was taken from a past issue of International Living's monthly magazine. Delivered straight to your door each month, we delve into the details you need to take action. We share our contacts. We lay out the pluses and minuses. And we keep you up-to-date on the latest developments with the best havens abroad, including…7 Great Retirement Towns You've Never Heard of…
In 7 Great Retirement Towns You've Never Heard of Where You Can Live Better for Less we'll pull back the curtain and introduce you to communities where you can embrace the retirement of your dreams…and do it for less than it would cost you to stay home.
Subscribe to International Living today and you'll save 35% and receive this report for FREE.