Slowly sipping a delightful glass of local wine at my favorite Riviera beach café, engaged in some serious people-watching, my waiter abruptly races by, arms outstretched, to rescue a startled woman, perched atop her chair trying desperately to escape a renegade wave. Mission accomplished, and with everyone safe, a chorus of "bravos" briefly erupts from us café-diehards, braving Nice's October weather.
Keeping a vigilant eye out for the next errant wave, we quickly get back to the business at hand: happy-hour gazing at the Mediterranean seascape as dusk slowly rolls in. After all, "pourquoi pas?" (why not?). I have no particular place I must be other than right here on the pebbled beach, on the exquisite French Riviera.
At least once a year, I "shake it up a bit" and mobilize my freelance copywriting and travel writing business. For three months at a time, I adventure abroad to mix work and play in wildly popular spots like Barcelona, Florence, Lisbon, and Nice.
Four years ago, I decided to enrich my work-life balance by upping the "go for the gusto" factor. As a baby boomer, who's not retiring anytime soon and whose passion is travel, I decided it was definitely time to globalize my lifestyle. If not now, then when?
Working as a digital nomad has been life-changing. Being able to work from anywhere in the world results in longer travel escapades, deeper exploration and discovery, immersive cultural experiences, new friends, and lifetime memories.
One of my favorite homes away from home is drop-dead-gorgeous Nice, an iconic city along the world renowned French Riviera. Nice proved to be the ideal spot for working just about anywhere in the city with plenty of exciting things to do and see along the sun-kissed Riviera.
In the city, you can conveniently use your apartment, a favorite beach café, a library, or a floral garden park as your office.
And, when it's time to play, you're in one of the most beautiful spots in the world, where you can experience a world-class cultural scene, famous Mediterranean food variety, historic landmarks, walled hilltop cities, museums, art galleries, and more.
Every day I step out of my apartment building onto cobblestoned streets, I wade through countless tantalizing smells wafting from neighborhood crêperies, outdoor cafés, boulangeries, and pastry shops. Despite the temptation, I walk on for 10 minutes to arrive at the pedestrianized Promenade des Anglais. During my brisk three-mile sea coastline morning walks, gazing at blue skies brush-stroked with wisps of white cloud and colorful mountains in the near distance, I wondered what other excitement the day holds.
I usually work on my laptop until lunchtime, when the town virtually shuts down and cafés and restaurants overflow with hungry clientele. In Nice, everyone knows exactly when lunch begins, thanks to a 17th century custom of firing a canon burst at noon from the old Nice Fortress, alerting the town to stop what they're doing…it's lunch time. Schools, shops, and businesses close for one-and-a-half to two hours, with folks scurrying home or to their favorite café or restaurant. You actually feel as if Nice is giving you "permission" to cease work for lunch and play.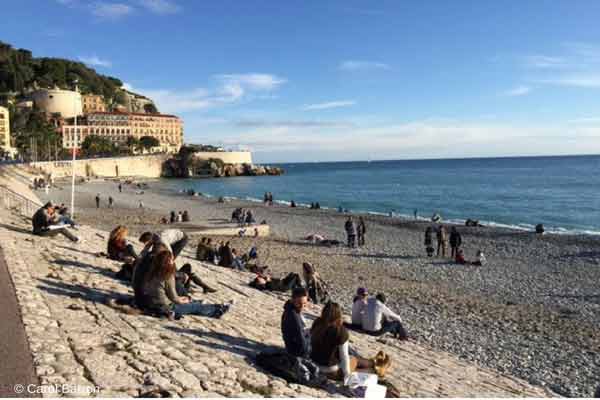 With a portable income Carol Barron can enjoy her lunch by
the beach in Nice for three months of the year.
For lunch, you can grab a ham and cheese baguette or a pizza nicoise and head for the beach, lounge at a beachside café, or browse the large open market offering fresh local fares. Depending on where I end up that day for lunch, I can resume work there or choose to walk the picture-perfect city and sightsee for a while.
Evenings are for socializing (normally at happy hour when food and drink are discount) or for staying in, cooking a small meal in the apartment and maybe finishing some work.
With Nice as your Cote d'Azur (Riviera) home base, it's easy to explore the provincial town at your own pace or day-trip to idyllic, breath-taking Riviera hot spots like Monte Carlo, Cannes, Saint-Tropez, Villefranche-sur-Mer, and Antibes.
Thankfully, Nice was within my Florida budget. By traveling in low-season; renting an apartment, months at a time (sometimes up to 50% cheaper in off-season); shopping local markets; fixing some meals at home; and enjoying great happy hour prices at sunset, you can significantly lower expenses. And the proverbial icing on the cake is that your income stream doesn't miss a beat while working in your overseas "office" as a digital nomad.
Need a Way to Fund a New, Better Life?

Join our Savvy Retiree Daily e-letter today and you'll hear from us daily, telling you about ways you can gain the freedom to live where you want, travel when you like and create a life you love. We'll also send you a FREE Report Fund A New, Better Life With These 6 Portable Careers...
Related Articles
My Yearly Visits to Paris Earn Me $10,000
Making a Passive Income From Travel Adventures
Break Free From the 9-to-5 Grind With a Portable Income