Sitting on my balcony just off the living room, I'm completely surrounded by 100-foot-tall, 200-year-old trees. Sipping my coffee early in the morning, there is one tree that always holds my attention as it's surrounded by fireflies. I'd never seen them before moving here and they're quite magical.
My wife Lisa and I live on the island of Penang, Malaysia, in the old colonial city of George Town. We've moved twice since arriving here almost six years ago. Our current apartment—all 2,000 square feet of it—faces the green hills of the Botanic Gardens. It was the first thing that I noticed when I walked in the door when we came to view it. Sure, the intricate parquet flooring and tall ceilings helped but it was the view that provided the hook.
Another thing that I love about where I live is being able to stroll to Gurney Plaza shopping mall, a mere seven minutes away, and just two minutes away there are three great little cafes.
Penang has a charm about it that has weaved its magic time and time again over the last 200 years. George Town is picture pretty with lots and lots of colonial architecture. That's a rare thing in Asia where everyone tends to prefer the new to the old, and cities like Singapore and Hong Kong have lost the charm that George Town has managed to retain.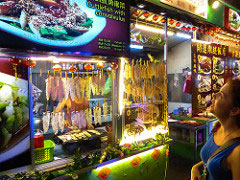 I spend a lot of time in George Town exploring its narrow streets, and in the Botanic Gardens exploring its pathways and trails. There are over 50 of them that I know and more that I don't. Just the other day I found a new pathway that took me to the most gorgeous waterfall.
Our apartment building is about 20 years old and there are only nine floors. Its high ceilings and fans keep it cool through the day. All the rooms are air-conditioned and our landlord is fantastic. We pay $639 a month and in the four years that we have been here she hasn't raised the rent once. The apartment also comes with two car spaces, a swimming pool, and a gym.
Although we do a lot of our own cooking, it's cheaper to eat out. Local Malaysian dishes can be picked up from street stalls for a couple of dollars. Half a dozen sticks of chicken satay with a rich peanut sauce cost just a few dollars. Dining at an international restaurant is also good value and we rarely pay more than $21 for the two of us.
Penang is famous for its food and there is no shortage of choice. Its street food is the best in Malaysia and some of the vendors are so sought after the lines for them go around the block. That being said burgers are popular here too and in the Tanjong Bungah area, just a 10-minute drive from where we live, there is a burger seller that sets up in the forecourt of a bakery when the bakery closes at 6 p.m. For just $3.50 you can have a burger with a full plate of fries and a salad. Now that's good value.
Penang is a fun place to live. Art galleries, live theater, daily and weekly markets, and more festivals than you can imagine. It's a holiday place that's easy to call home and an easy place to live given the cost of renting, living, and the language. (Oh, and did I mention that everyone here speaks English?)
Get Your Free Southeast Asia Report Here:
Learn more about Malaysia and other countries in our daily postcard e-letter.
Simply enter your email address below to sign up for IL's free daily postcards and we'll also send you a Free Asia Report – The Best Islands, Beaches and Cities – Southeast Asia's Top 6 Retirement & Vacation Destinations
Get Your Free Report Here