You walk out of a gleaming new shopping mall, where you've just caught the latest Hollywood release in English and enjoyed a Starbuck's coffee. You catch a taxi and head toward the edge of town. In less than 10 minutes your taxi stops, as a woman in traditional Andean dress—a skirt, short jacket, and multicolored wool shawl—guides her small flock of hesitant sheep safely across the road.
And that's Peru: a South American country with one foot in the modern world of international brands and smartphones, and another steeped in Andean and Amazonian traditions. I recently explored the places in this diverse country with the most potential as expat havens: places where both the new ways and old ways are valued and respected. And it's safe to say I'd have no problem settling down here.
As an expat in Peru, you can surround yourself with the contemporary and convenient or the holistic and time honored. Or choose a combination. Unlike Ecuador (its neighbor to the north), Peru does not yet have a large community of retired expats. But as an older traveler, I felt in no way out of place among the mostly younger (that is, 20s to 40s) North Americans living in Peru.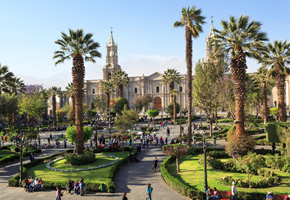 More than in other, more established expat havens in Latin America, a few words of Spanish are needed to get by. But if you make that small effort, there is no reason why you can't live a fulfilling and highly affordable retirement in Peru.
And that's one of the biggest benefits of a life in Peru… Of all the many places I've visited in Latin America, Peru has by far the most affordable cost of living. A couple can live in Arequipa—a city that has it all—for $1,000 a month, including rent. Many single expats live on much less.
You'll also find quality healthcare at a fraction of U.S. costs. One expat I spoke to paid just $35 to have a broken leg x-rayed and set at a respected private hospital.
Many consider Peru to be the foodie capital of South America, and having tried the local fare for myself, it's easy to see why. The cuisine here is the result of a 500-year fusion of Andean food traditions combined with the cuisine of Spanish, Italian, German, Japanese, and Chinese immigrants.
With its range of altitudes, you're sure to find a climate that suits you too. Cusco has average daytime temperatures in the upper 60s F, an average of 28 inches of rain and occasional hail. It also has the coolest nights—from the low 30s F to low 40s F. The Sacred Valley has warmer days, in the low 70s F and about 21 inches of rain per year.
Arequipa has year-round daytime highs in the low 70s F and more clear days, with just four inches of rainfall on average per year. People from all over the world visit Peru to see Machu Picchu, one of the wonders of the world, as well as history-rich Cusco and the archaeological sites in the Sacred Valley.
Each of the areas I visited has a distinct character, offering you an array of retirement options.
Get Your Free Peru Report Now
Learn more about Peru and other countries in our daily postcard e-letter.
Simply enter your email address below and we'll send you a Free Report: Peru – The Land of Incas…and Adventure.
This special guide is yours free when you sign up for our IL postcards below.
Get Your Free Report Here