Our list of crisis deals continues to grow…
First it was Panama, then Mexico's Riviera Maya, and now Uruguay's stunning Atlantic coast.
This week, I was telling you about a killer crisis opportunity available only to RETA members. An opportunity to lock down ocean-view lots, in a best-in-class community, close to fabulous Atlantic beaches, and with interest-free finance, for $31,356.
We got this deal because the current crisis has all but stopped sales for the developer…and with the strength of our group buying power, he was willing to negotiate a deal that gives us significant discounts on retail prices.
And because the developer purchased the land for this project way back in the 1990s, he had a lot of wiggle room in his pricing for us.
This is an opportunity to buy ahead of a Path of Progress, which will transform this destination. A Path of Progress is anything that makes a place more accessible or drives development—it might be a new airport or road, a bridge or a port. It's a tried-and-true strategy for buying smart and setting yourself up for real estate profits.
And on Uruguay's Atlantic coast, we've arrived ahead of the crowd.
An $11.6-million bridge opened up the region of Rocha just over four years ago. This is where the jet-set, looking for privacy and exclusivity, want to be. Rocha is an amazing place, home to nature reserves, wildlife, and cream-colored beaches.
The rich are already arriving—escaping the crowds in glitzy Punta del Este and chic Jose Ignacio—and they're paying up to $400,000 for three-quarter-acre lots.
Our RETA price is just $31,356. That's for an ocean view, close the one of the region's best beaches. Members can buy with a manageable down-payment and monthly payments of only $490. Cash buyers get an additional discount so only pay $26,652 for that same lot…a huge savings of $11,126 on the retail price.
Once the world recovers fully from the current crisis over the next few years, I expect these lots to be worth $50,000.
This is the moment when Real Estate Trend Alert's group buying power shines…
More members are joining every day. RETA's negotiating power has never been stronger.
The crisis deals are coming quicker and quicker…
And savvy investors are using this opportunity to diversify into deeply discounted assets that generate strong income.
If you're new to the RETA family, welcome abroad. If you haven't yet signed up, take this chance to do so.
Here's a taste of what's coming in the next week…
Flash Deals
You might remember I was in Nicaragua in February.
I was exploring the possibility of using RETA's group buying power to buy ocean-view lots for a song. And I was also looking for motivated sellers…
In the hills just above the town of San Juan del Sur on the southern Pacific coast, I cruised around with a local contact. I was especially interested in the primo neighborhood where stunning ocean-view homes are valued at between $500,000 and $800,000.
Find a deal here, I thought, and it could be a good one.
Well, I have one now. My contact just sent me the details and I've got a follow up call scheduled. It's a three-story, six-bedroom, six-and-a-half-bathroom house with spectacular ocean views that was listed at $789,000, and I reckon you could buy it now for $220,000.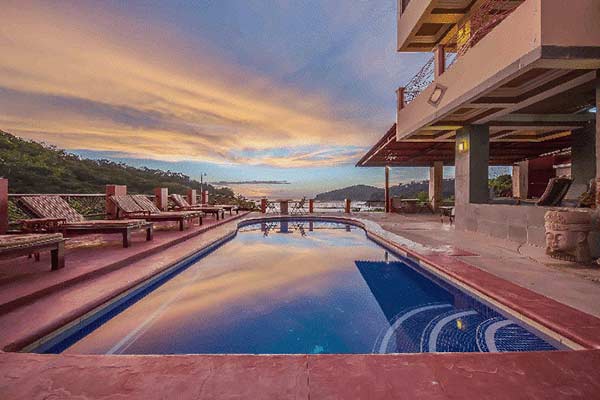 I'll be telling RETA members all about this home and giving them details for my contact in their alerts on Monday.
Major caveat: Buying in Nicaragua is for those with the stomach for uncertainty. I'm putting together a full analysis of the crisis-stricken country and my position on it for RETA members as well.
Buying in Nicaragua is for those who love to spend time there…love the surf, nature, and people…and if things stabilize you will be set for huge gains. But, you need to be comfortable with things if they stay uncertain. You also need to be able to tolerate that liquidity risk when you want to sell…
That said, this house is the kind of crisis deal that gets me or a team member on a plane—if we could fly right now.
Let's forget about the premium lot this house is on. Even today, I'd figure on $450,000 in construction costs…So, that means you could buy for 50% less than the cost of construction alone.
The owner passed away and the family, who have nothing to do with Nicaragua and no interest in it, took over the property. They just want to sell.
This is what I call a RETA Flash Deal.
A Flash Deal is a one-off opportunity that comes to me from one of my contacts around the world. It could be a motivated seller, or an undervalued property, something old and unloved that, with some care, could be turned into a serious income generator.
Over the years I've brought members some incredible Flash Deals.
For instance, in 2017, I told RETA members about a small project of 31 lots in Placencia, Belize. A developer had gotten his permits and started putting in the infrastructure, but only sold two lots before the bank foreclosed on him. The bank initially tried selling this project for $1.4 million. But I knew they'd go lower. The eventual buyer paid just $500,000, and then sold less than a year later for $1.1 million. An easy $600,000 profit.
Or take the five-bedroom guesthouse in Arenal, Costa Rica I wrote about in 2016. The list price was originally more than $200,000. The seller had slashed it to $145,000. But I reckoned there was still wiggle room. The eventual buyer paid just $130,000, spent $80,000 on renovation and listed it just two years later at $375,000. The most recent example: three apartments in Medellín's best neighborhood, going cheap.
My guy on the ground found a nice-looking, three-bedroom apartment there with an asking price of $178,392. A few months ago, around Christmas, the price was $221,875.
And this is no fluke…
He found similar interesting deals…
A four-bedroom apartment with a previous asking price of $185,938 which is now going for $149,497.
Another four-bedroom apartment that was $187,500 and is now $150,754.
All these apartments have balconies and are in buildings with 24-hour security and amenities. Now here's the thing…that's just the effect of the falling Colombian peso. But as the crisis bites you'll find more motivated sellers. Granted, not everyone will be in a rush to sell, but some folks will.
In the latest issue of Real Estate Trend Alert, I go into detail about how to find and deal with motivated sellers…anywhere in the world. (If you're not already a RETA member you can join today and get the full story—plus find an archive of Flash Deals on the RETA website.)
Full Steam Ahead for the Mayan Train?
After two years, two referendums, and multiple planning changes, Mexico's Mayan Train project has reportedly begun construction this week.
The Mayan Train is a proposed 948-mile stretch of railway that will traverse Mexico's Yucatán Peninsula, connecting cities, tourist towns, and historic Mayan sites, with the goal of increasing tourism and economic development in the region.
FONATUR, Mexico's national trust for the promotion of tourism, claims that the railway will attract an additional 3 million people to the region each year, in its first few years of operation.
The train, if completed, will link Cancún airport to Playa del Carmen, Akumal, and Tulum, drawing even more tourists and potential renters.
Whether the train ever leaves the station or not, the Riviera Maya's juggernaut Path of Progress is already driving enormous profits for RETA members.
For instance, in Santamar in Akumal, where RETA members bought last October, I saw that one penthouse is already showing paper gains of $125,200 on our RETA pricing. (I bought along with members in Santamar, and I'm negotiating to secure a handful of condos at the original RETA-only price for our second-ever Virtual Members-Only Scouting Trip…coming the week of May 11, so watch your RETA alerts if you are a member).
And in October 2017, members of my group could buy premium condos in the luxurious community of Tao Tulum. In June 2019, a price-list crossed my desk and a premium condo in Tao Tulum, that members could buy in 2017 for $230,556, was listed for $449,000. I bought along with members in Tao Tulum. I recently accepted $225,000 for my condo (the members-only price was $154,500).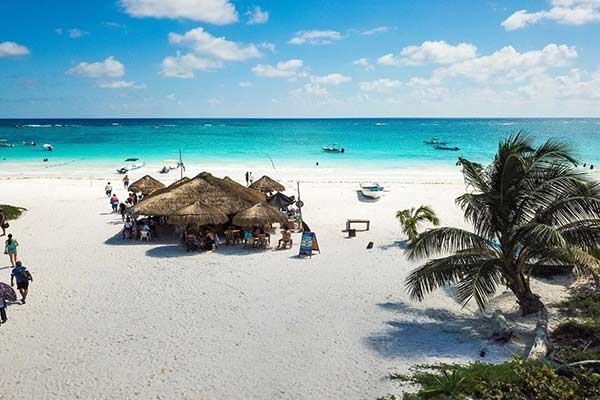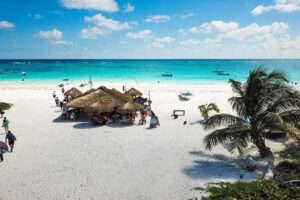 The number of international visitors to the Riviera Maya is staggering, regardless of the train. This is a global tourism hub. Last year, over 25 million passengers passed through Cancún Airport. The Riviera Maya is the perfect mix of year-round good weather, stunning beaches, culture, history, and activities. North Americans escape the winter…Europeans fly direct from London…Rome…Madrid…Brussels…and many more cities. And you'll find an increasing number of longer-term renters are staying…folks who can work from anywhere, who are location independent.
Mexican President Andras Manuel Lopez Obrador is determined to see this train become a reality, but the project has hit a number of roadblocks in the planning phrase. Even with it now underway, there are still no guarantees. Due to the current crisis, there have been calls to suspend works and redirect resources into other parts of the economy.
My analysis of our opportunity on the Riviera Maya never included the Mayan Train, because I didn't see it coming to fruition, at least not in its current form. But if it ever does become reality, it will be a nice sweetener on top of what has already been an incredible run of RETA deals along this 80-mile stretch of Mexico's Caribbean coastline.
Few, if any, Path of Progress events have been as spectacular (or profitable) as what we've seen on the Riviera Maya.
I own a townhome in the Gran Bahia Principe near Akumal. I rent it out when I am not using it. I bought in Tao Tulum and sold for profit. I bought in Santamar, and most recently I bought in Edena, our RETA opportunity to own spacious, detached homes in a pristine natural setting just minutes from Tulum town, close to the Gran Cenote for just $149,000. Within a year of delivery, I expect the homes will be worth $76,000 more…
Mayan train or not, the Riviera Maya is set to continue its juggernaut Path of Progress once this crisis is over. Our opportunity here remains as incredible as ever…and, along with many RETA members, I am on board.
Wishing you good real estate investing!
Get Your Free Real Estate Report Now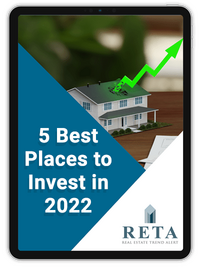 Sign up for our free daily Postcard e-letter and get a valuable free report on the The 5 Best Places to Buy Real Estate In 2022.
Related Articles
The 10 Best Places to Invest in Real Estate
Crisis Discount: Ocean-View Lots in Rocha from $31,356
3 Ways To Profit In South America's Best-Kept Secret