When Toni Munoz, 53, visited Panama in 2014, she did what no one should.
"I came just to look around, but I ended up buying a house!" she says.
Conventional wisdom says it's best to visit a couple times and maybe even rent for a while before buying but Toni's spur-of-the-moment decision to buy in the beach resort of Coronado turned out to be a good thing.
"I just fell in love with the community," she says.
With a string of beaches within easy reach, she couldn't have asked for a better location. Her home is just three miles from Punta Barco, one of Panama's most exclusive beach communities and a mile along the Pan-American Highway to the center of Coronado. With a nice new clinic, supermarkets, and shops and eateries galore, Coronado is increasingly more convenient.
"Yes, it was a good decision," she says. "My home was built to U.S. standards and there are a lot of services and activities in Coronado. I got here and thought: This is where I want to live. I don't like big cities. I wanted to be close to one, but not live in one."
In that sense, Coronado was a perfect fit. She can drive to Panama City, a cosmopolitan capital, in about an hour. From there, she can hop on convenient flights to just about anywhere in the world.
"I go back home once or twice a year, and I've enjoyed planning trips to other places like Colombia and Peru."
Toni also chose Panama for its quality healthcare and welcoming attitude toward foreigners wanting to work or do business here. As a physical therapist, she wasn't able to set up a practice, because medical professions are restricted to Panamanian nationals (a common practice in Latin America). However, she was easily able to parlay her skills into becoming a massage therapist offering alternative treatments such as reiki.
"Life here is cheaper than in the U.S., with all the U.S. amenities. I was used to good infrastructure, internet, cable…stuff that I couldn't live without."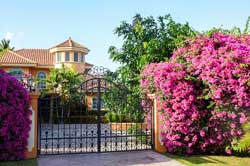 In Coronado, she found all the amenities on her checklist, and her monthly expenses are about 50% what they were in Sedona.
"Insurance here is really cheap," she says. "My home came with a 20-year property tax exemption, and in 15 years when I'm eligible for Social Security, I won't have to pay taxes to Panama on that income.
"Here, I don't need to see that many clients to pay my bills. I work a few hours a week and still have time to do other things. One of my reasons for moving here was the huge expat community, and it's really easy to make friends. There is a lot of stuff going on all the time. Happy hours just about every night…different meet-and-greet groups…there's even a new Red Hat Society called Panama Beach Babes."
Though she's been busy setting up house and networking for business and pleasure, Toni plans to spend more time at the beach.
"Eventually I would like to get my own paddleboard or kayak," she says. "An expat here does stand-up paddle-boarding groups on Mondays. We meet at a beach and go out together. I am also starting to paint. I never painted before in my life but there's a great art teacher here offering a design-and-dine class. We do lunch and then we paint together.
"Back home I worked at least 60 hours a week, including weekends. Here I get to enjoy trying new things."
With several golf courses, equestrian clubs, resorts, beaches, mountain towns and more, there's plenty to explore right in the Coronado region.
"I love my neighborhood, my neighbors are great, and I feel safe driving about or going to the beach all by myself," says Toni. "And by the way, my health is better. I lost weight without even trying. You just end up eating better food—not all the processed food I was eating in the U.S.—and being more active. My blood pressure has gone down. I had a lot of chronic pain from all the stress and work, and other issues due to my weight—that has all improved.
"So yes, I'm happy with my decision to move…very happy."
Get Your Free Panama Report Here:
Learn more about Panama and other countries in our daily postcard e-letter. Simply enter your email address below and we'll send you a FREE REPORT — Panama: First World Convenience at Third World Prices.
This special guide covers insider advice on real estate, retirement and more in Panama. It's yours free when you sign up for our IL postcards below.
Get Your Free Report Here