Remember back when you were young and everything was possible? You could do anything, be anybody, go anywhere.
In recent years, more than once, I found myself longing for those days and that feeling. After spending more than 30 years working in a high-pressure career as a healthcare executive, I'd had enough.
For several years I had been thinking about doing something different with my life. I lived in Maine and wanted a change of pace and thought that maybe moving to another part of the U.S. would give me a new perspective on life. Different climate, new city, new people. But was it really going to be all that different, or just a slight variation of the life I´d been living for the past three decades?
George Bernard Shaw said, "youth is wasted on the young." How true. Why is it that at a time when your mind is the most open to new things, your life experiences and bank accounts are practically empty? It doesn't quite seem fair. Wouldn't it be wonderful to get that in sync?
I had to do something that was going to have a significant, positive effect on my quality of life. I needed a "do-over" of my youth, now that I was wiser, knew what I wanted, and had better means to do it.
So what did I want? First of all, I wanted a better climate. After living my whole life in New England, I never wanted to see or shovel snow again. Secondly, I wanted to experience a new culture, learn a new language, and live with people who could enhance my life.
But most of all, I wanted to leave behind the work-eat-sleep-work pace that left me feeling trapped in a lifestyle that was no longer as fulfilling as it once was. It was becoming very clear to me that I needed to live in a place where the cost of living was much lower than in New England, so that I could afford this "do-over."
Settling in Medellin, Colombia has allowed me to live the life that I once only dreamed about. The "City of Eternal Spring" really has given me a re-birth with everything that I was looking for. The perfect year-round weather of daytime mid-70s to low-80s and evening mid-60s temperatures lets me enjoy spending lots of time outside and I live at 60% of what it cost me in Maine.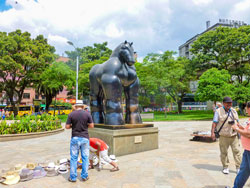 Now that I no longer have my hectic U.S. life, I have time to do the things I did when I was much younger. I can sit in one of the many parks soaking up the ambiance while drinking freshly made juice. I get to spend quality time with the many Colombian and expat friends I have here. Remember when being with friends was the focus of your day and not something you had to schedule in between business meetings, house responsibilities, and chores?
These days I make my own schedule. I teach English to a handful of business executives a few hours a week. It is the perfect blend of using my business knowledge and helping others achieve their goals. I am consistently amazed at how interested the Colombian people are in my story. They have great pride in their country and are truly pleased when a foreigner chooses to live here.
And as International Living Colombia Correspondent, I also get to share my story and all of the wonderful things about my adopted country with you.
Living in Colombia, I am free to choose what I want to do. Medellin has brought me opportunities that I never would have thought of before when I was caught in the cycle of "keeping up with the Jones'." It allows me to be at a point in my life where I can give back to others my knowledge, experience, and wisdom.
Get Your Free Colombia Report Here:
Learn more about Colombia and other countries in our daily postcard e-letter. Simply enter your email address below and we'll send you a FREE REPORT: Beautiful, Diverse and Safe – Take Another Look at Colombia.
This special guide covers real estate, retirement and more in Colombia and is yours free when you sign up for our IL postcards below.
Get Your Free Report Here