Over the past couple of days, I've been telling you why I believe real estate is the single best investment you can make.
And we know this crisis is presenting opportunities…it's already happening.
To take full advantage you need to know how to pinpoint the best deals for maximum profit potential, and that's where my D.E.A.L. system comes into play.
It's just four simple filters to run potential investments through, and decide if they're a buy or a pass.
I reveal everything in a special report called The D.E.A.L. System: My Four-Step Approach to Finding Profitable Real Estate.
I am giving this report to you today to help you in this historic moment. Buying the right kind of undervalued real estate now sets you up for the recovery and a lifetime of income.
For me, owning income-producing, fast-appreciating real estate is the perfect path to freedom, both financial and personal.
The freedom to go where you want, when you want. Freedom from worry and stress…to not care what happens in the stock market…nor about job losses…politics…
And whether you are a complete beginner or an investor with some real estate experience under your belt, I think my D.E.A.L System will help you save and grow your retirement…
Right now, all my net worth is either diversified in real estate or held in cash. (And I only keep cash so I can be ready to pounce on the right real estate deals).
In short, here's why:
Real estate is the best hedge against inflation that I know…
You can buy with other people's money using the miracle of leverage…
If you buy right, you can see values double in three years on top of your rental income.
And with a global outlook, there is always a destination where the buying moment is now.
Once you grasp the concept in this report, you'll have a clear roadmap for how to make six-figure gains on a single real estate deal.
Right now, we're in an unprecedented moment…the best buying opportunity of our lifetime. You don't want to miss out on this.
Read my D.E.A.L. System now and get ready to see a 100% gain on your next real estate investment…
Wishing you good real estate investing!
Get Your Free Real Estate Report Now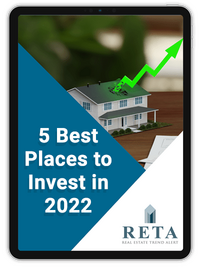 Sign up for our free daily Postcard e-letter and get a valuable free report on the The 5 Best Places to Buy Real Estate In 2022.
Related Articles
The 10 Best Places to Invest in Real Estate
The Real Reason I Invest in Real Estate…
The Best Long-Run Investment in Modern History