The famous white powdery sands that stretch around the islands of Phuket and Kho Phi Phi in southern Thailand have attracted international tourists for decades. But on the Gulf coast, just four hours from Bangkok is where you'll find my favorite Thai beach town…Hua Hin.
My wife, Nancy and I retired to the northern city of Chiang Mai a couple of years ago. We love it, but the one thing it lacks is the beach.
Luckily for us, we can fly from Chiang Mai to Hua Hin for as little as $28 return when we get the urge to look out over the ocean from a large terrace while sipping on icy cocktails or if we fancy a few days strolling along the beach.
Hua Hin has always been a popular Thai resort destination on weekends and holidays but its real claim to fame is that it is the location of the King of Thailand's permanent residence. Peaceful and shallow, the four-mile long beach is the main draw for expats who choose to call this area home.
On seeing the beach for the first time, our first thought was, "Where is everybody?" There was a distinct lack of…people. Apart from a handful of individuals strolling along the packed sand and a few kids splashing in the water near the seashore, the place was just a wide expanse of open beach in either direction.
On weekends and holidays, you'll see more people who come from nearby Bangkok for fun in the sun and a possible glimpse of royalty while driving through town.
On our most recent trip we rented a scooter and headed 10 minutes south to Khao Takiab, a small fishing village that has grown into the southern end of Hua Hin. Here we found a great mixture of local and international restaurants, shops and bars and a growing expat population.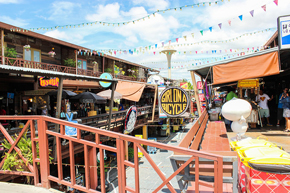 Bob Stanley is your friendly and welcoming Canadian host at Bobby's Bar and Restaurant, a well-known expat bar in the area. He hands out free barbecue ribs on Friday nights (if you spend at least 200 baht ($5) on beer) and also prepares a weekly Sunday Roast. Nearby is another expat hangout called the Thaiwai, which is owned by a displaced…you guessed it…Hawaiian. It's probably the only place you can order a North American pizza with spicy Thai toppings.
The wide flat sands of Khao Takiab beach extend almost three miles. A small hill called Monkey Mountain dominates the southern tip of the beach and hides another big stretch of beach behind it, known for its calm shallow water.
Not being a wild monkey lover, Nancy sent me up the steep hill alone. On the way up the dozens of stairs to the top, I passed a towering 60-foot gold adorned Buddha and a few rather large and curious monkeys who seemed to decide that I really wasn't worth pursuing. After an easy 10-minute climb, I was rewarded with a spectacular 360-degree panorama of the beach below and forested mountains in the distance that made it well worth the effort. It was easy to see from this vantage point why increasing numbers of expats are choosing this quiet corner of the country as a retirement destination.
A little later, we hopped on our trusty little scooter and wound our way 12 miles farther south through a variety of thick, green foliage and scattered open meadows, to emerge at Khao Tao. This charming seaside village is known for its small secluded beach called Hat Sai Noi. The beach here drops-off quickly, making it ideal for swimming. Once again…empty…except for a handful of expats relaxing in the shade of their beach umbrellas.
We ate at a small outdoor restaurant on the beach. It was hard to believe that a plateful of fresh steamed squid with lemon and chili sauce, and fried sea bass topped with sweet and sour sauce set us back less than $7.
The next day we headed north to Cha-am, a small village about six miles north of Hua Hin. We loved the fact that Cha-am's easily accessible beach hugs the pleasant tree-lined road through town.
You can hire one of the pink tandem bicycles you see all over Cha Am for about 70 cents per hour. They are a great way to explore the beach road and nearby area. The town offers lots of interesting and exciting things to do, and on the beach itself there are such diverse activities as horse riding, banana boats (a firm favorite in Thailand), jet-skis, and various beach games including football and volleyball.
With its relatively inexpensive and peaceful lifestyle near the beach and all the modern amenities close by, this stretch of coastline would be a great choice for some retirees.
Get Your Free Thailand Report Here:
Learn more about Asia and other countries in our daily postcard e-letter.
Simply enter your email address below to sign up for IL's free daily postcards and we'll also send you a Free Asia Report – The Best Islands, Beaches and Cities –
Southeast Asia's Top 6 Retirement & Vacation Destinations
Get Your Free Report Here