We considered ourselves serial expats even before moving to Ecuador. My spouse, Sara, had been an international aid worker employed for more than two decades in places as far flung as Afghanistan and Sri Lanka. I'm a writer and artist who sometimes went along for the intercontinental ride. We lived in post-earthquake Haiti, before moving to Cuenca, and in Vietnam the year before that.
We liked living as expats so much, we planned to retire overseas someday. However, as time went by we began asking ourselves the same question over and over again: "Why wait?"
On a cold December evening with temperatures dipping into the single digits Fahrenheit, we decided to sell our drafty Victorian in downtown Lexington, Kentucky and live less expensively in Ecuador…a decade sooner than we'd expected. We thought this would allow us to make decisions that weren't based entirely on economics. We chose Cuenca, more specifically, because of the climate. Perpetual spring looked good in the snowy dead of December, when it got dark before dinner.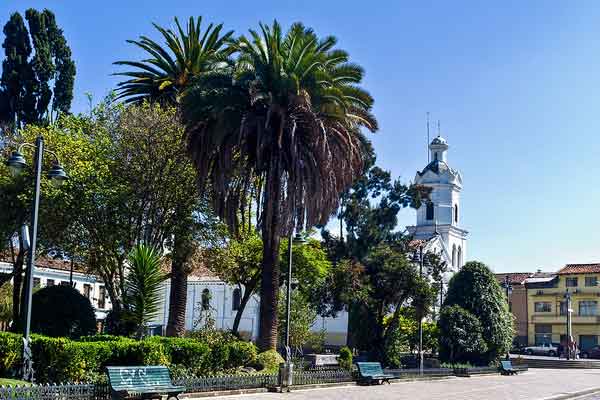 Four years and several apartments later, we still love the climate and low cost of living in Cuenca. Paying only $340 a month for a three-bedroom flat in the center of a colonial city still appeals to us, as does not wearing bulky jackets or cumbersome winter boots.
However, the biggest benefit of living here hasn't been the bang for buck. Though, being able to buy a week's worth of fruit and vegetables for $4.75 is a great perk. Making wonderful friends was the icing on the cake, the life-changing benefit of being here was something we hadn't anticipated.
Our extra dollars bought us lifestyle choices. They gave us hours, even entire days and weeks, to pursue interests we'd always had but were too tired at the end of long work days to explore. They also bought us the living space that the center of large U.S. cities couldn't have afforded us.
Get Your Free Ecuador Report Here:
Learn more about Ecuador and other countries in our daily postcard e-letter.
Simply enter your email address below and we'll send you a FREE REPORT – Ecuador: Live Like Royalty on Your Social Security.
This special guide covers real estate, retirement and more in Ecuador and is yours free when you sign up for our postcards below.
Get Your Free Report Here
Related Articles
Most Popular Facts about Ecuador